AL to give political space for oppositions: Quader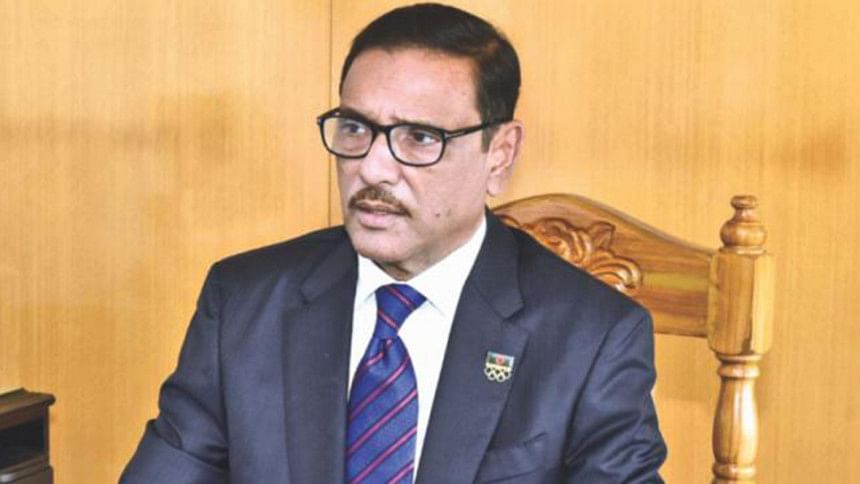 Vowing to make Awami League a smarter and modern party under the leadership of its President Sheikh Hasina, re-elected General Secretary Obaidul Quader today said that his party will do politics in a bid to establish a strong democracy in the country.
"We don't treat our political opponent as weak. We want to strengthen democracy and thus, we have tolerance to the opposition party. We want to give them space in politics," Quader came up with the remarks at a post council press conference at the party President Sheikh Hasina's Dhanmondi political office this afternoon.
Responding to a query, Quader, also road transport and bridges minister, said his party's main agenda to implement the pledges that placed by party President Sheikh Hasina before the December 30 national election.
"In her pledges, our Prime Minister Sheikh Hasina gave many commitments to the people, including the arrangement of employment for every family. We will fulfil those pledges before the next election and these are challenges for us."
Congratulating the newly elected leaders of the Awami League central committee, Quader said that the party has a lot of works to do in the coming days.
"Our main focus is on to implement the programme on the occasion of the 'Mujib Year'. Besides, the implementation of Vision-2021 and Delta Plan is also a challenge for us," he said.
Quader also expressed his gratitude to Awami League President Sheikh Hasina and the councillors as they elected him as general secretary of the party for the second term.
"I had no possibility to return back but I survived miraculously and with the blessing of the countrymen," Quader said recalling the memories of his illness.   
When asked about the full-fledged committee, he said, "Some post remains vacant. We hope we would be able to start working within one or two days after declaring the full committee."
 When asked about BNP's allegation that no direction came from the council for the restoration of democracy in the country, Quader said, "BNP doesn't practice democracy within the party. How they would understand the meaning and significance of democracy?"