Media was forced to publish lies after 1/11 changeover: Inu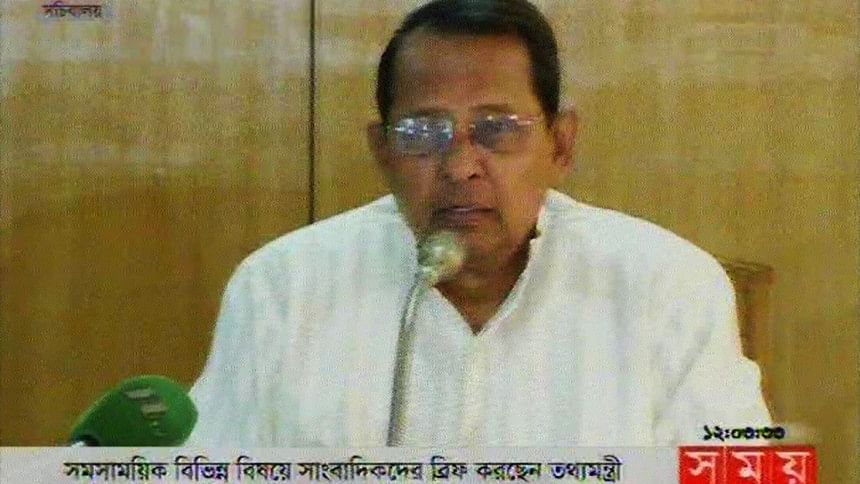 Information Minister Hasanul Haq Inu today said that The Daily Star Editor Mahfuz Anam's recent comment reveals that the mass media was forced to publish lies, and distorted and partial information during the 2007-2008 caretaker government regime.
"After the One-Eleven change-over, pressure was mounted on the mass media, which came out through the comment of Mahfuz Anam. It has now been disclosed how the mass media was forced to publish lies, distorted and partial information and incidents of character assassination," he said while addressing a press briefing at the Secretariat.   
Amnesty International did not issue any statement during that time criticising these abnormal incidents of repression on the mass media, the minister said as he was critising AI report issued on Tuesday.
Inu said the statements issued by several international organisations including Amnesty International on Mahfuz Anam are nothing but crocodile tears.
Terming Amnesty's report as "one-eyed", Inu said the organisation had taken position against Bangladesh's democratic system.
Amnesty report published Tuesday is fragmented, motivated and the real incident was not represented, the minister alleged.
The minister denied an Amnesty claim that no-one directly involved in petrol bomb attacks and violence during the anti-government movement by the BNP was brought to justice.
Total 597 people were caught red handed while throwing petrol bombs. Among them, 363 were activists of BNP while 205 of Jamaat—e-Islami and its student wing Islami Chhatra Shibir.
Inu said like politicians, newspaper editors also have to keep a minimum ethical standard. It politicians are criticised for their ethics, newspaper editors can also be criticised for it.
The prime minister's statement on Mahfuz Anam, the editor and publisher of The Daily Star, was not an expression of anger, it was about the undemocratic activities of the military-backed One-Eleven government, he said.
Referring to defamation and sedition pleas filed against the Anam, he said the government itself had not taken any step against the Daily Star editor. It is the aggrieved citizens who are filing those, he added.
Asked about an alleged directive to the private business owners on not giving advertisements to The Daily Star and Bangla daily Prothom Alo, he said that the government had not issued any such directive. "The government has no jurisdiction to control advertisement."
The minister also claimed today that the mass media is now enjoying highest freedom in the country's history. The government has no policy or taken any measures to control it, he added.