Make people conscious about RTI to curb graft: Anisul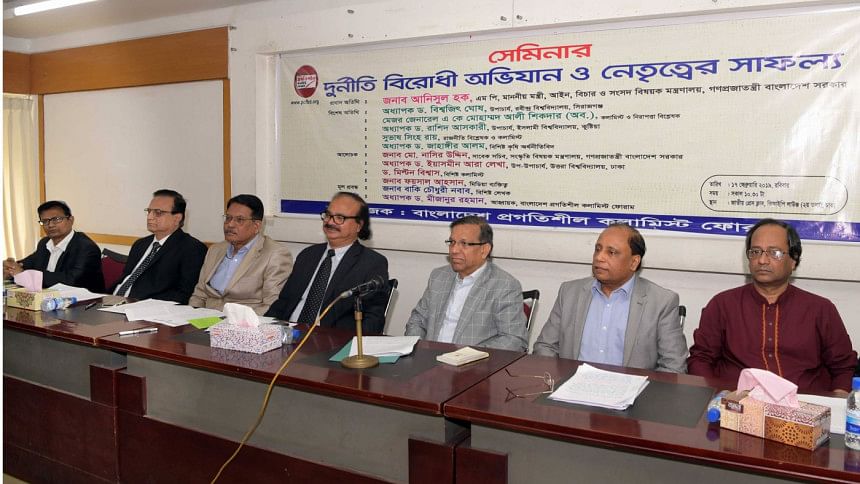 Observing that corruption has hurt the spirit and dream of the liberation war and damaged the country's development, Law Minister Anisul Huq today suggested for taking integrated initiatives including making people more conscious about the right to information (RTI) law and its full implementation for prevention of corruption.
"Corruption has created social degradation and discrimination. Ideology and principle from many professions have gone away due to corruption. Therefore, we have to prevent corruption at any rate," he said.
He came up with the observations while speaking as chief guest to a seminar on "Anti-Corruption Drive and Success of the Leadership" organised by Bangladesh Progressive Columnist Forum (BPCF) at Jatiya Press Club.
The law minister said the RTI ensure the free flow of information and can play an important role to bring transparency, ensure accountability and reduce corruption.
The RTI has empowered the people as it has acknowledged the people's right to information and therefore, it is possible to reduce corruption through making the right use of this law, he said.
Minister Anisul said a government information-stock can be set up for providing information about corruption.
At the same time the use of national identity cards with photos, fingerprints and database with signatures has to be increased for this purpose, he said.
The law minister said prevention of corruption in the country is a very challenging issue due to many reasons and it is possible to prevent corruption under the leadership of Prime Minister Sheikh Hasina.
"Political goodwill is needed for prevention of corruption which the Sheikh Hasina led government has already shown," he said, adding that the government has doubled the salaries and allowances of government officials and employees and made the Anti-Corruption Commission active to put the corrupt people to trial.
BPCF's Convener Prof Mizanur Rahman presided over the seminar where Rabdindra University Vice Chancellor Prof Bishwajit Ghosh, Maj Gen (retd) AK Mohammad Ali Shikder, former secretary Md Nasir Uddin, columnists Dr Miltan Bishwash and Subhash Singha Roy, among others, spoke.