Khaleda's motorcade attacked, 4 injured
'EC needs written allegations of obstructing Khaleda'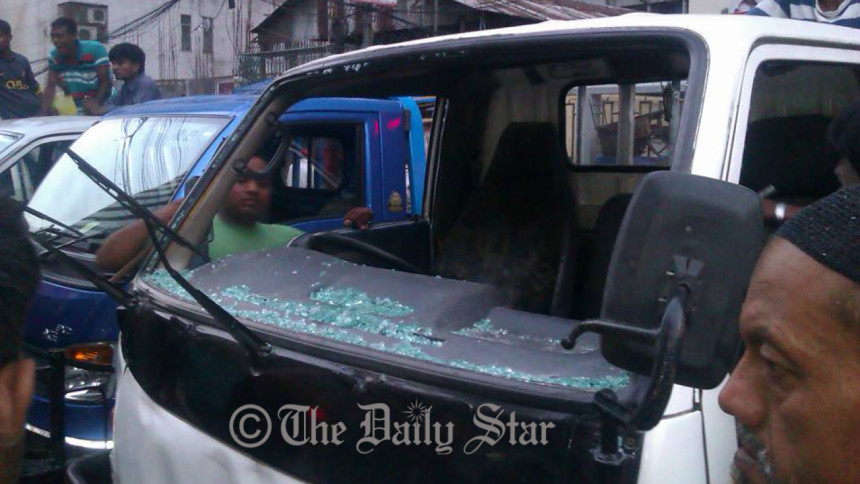 Miscreants attacked the motorcade of BNP Chairperson Khaleda Zia when she went to campaign for Tabith Awal, her party-endorsed mayoral candidate for Dhaka North City Corporation, at Karwan Bazar in Dhaka this afternoon, leaving at least four injured.
Khaleda remains unhurt. But at least five vehicles including hers were damaged during the attack near Petrobangla office around 6:00pm, our correspondent reports from the spot.
Khaleda was addressing a gathering at the scene, and a group of 15 to 20 alleged Awami League activists was chanting slogan against the BNP leader from the behind.
Later, a group of BNP men from the gathering chased away the former group which returned back with more men -- at least 50 – armed with iron rods, sticks and wood slices after some time.
Khaleda in her speech warned the group and said, "The consequence will be very dangerous."
As soon as she finished the sentence, the group swooped on Khaleda's motorcade and started vandalising the vehicles, reports our correspondent.
The injured are: Chairperson Security Force (CSF) members Fazlul Karim and Faruk Hossain, driver Shahzada Shahed and Khaleda's Personal Secretary ABM Abdus Sattar. All of them are admitted to United Hospital in the capital.
During the attack, the culprits also vandalsied several vehicles, including a microbus and a truck, parked in front of Karwanbazar Kitchen market.
Meanwhile, Khaleda Zia will hold a press conference at the party's Nayapaltan central office later tonight.
The decision to hold the conference came minutes after the attack on her motorcade.
Earlier this morning, policemen deputed for the security of the BNP chief's residence at Gulshan in the capital were withdrawn. The seven-member police team left the area around 7:00am, Syrul Kabir Khan, a staff of the BNP chief's media wing, told The Daily Star.
On the other hand, over 100 ruling party men carrying sticks with black flags in three separate groups chased her motorcade and blocked roads while it was passing Rajlaxmi Complex, Rajuk Commercial Complex and North Tower in Uttara yesterday.
Obstructed by the ruling Awami League men, BNP chief Khaleda Zia's campaign for Tabith Awal was abandoned midway in the capital's Uttara last night.
Her car had to turn into Airport Road around 7:00pm from House Building area of Uttara-7 instead of going towards Uttara-8 as 10-12 youths threw sticks with black flags at the her security personnel's vehicle at the front of the motorcade, eyewitnesses told The Daily Star.
EC Reaction
The Election Commission will look into the allegation of obstructing Khaleda during her electioneering yesterday if it is placed before the EC in written, EC Secretary Sirajul Islam told journalists today.
"We must look into if such allegations come to us. The allegations must come in written form. Because, we will not be able to work if the allegations cannot be substantiate. We will need proof and the measures will be taken accordingly," he added.