Khaleda's graft hearing adjourned till June 18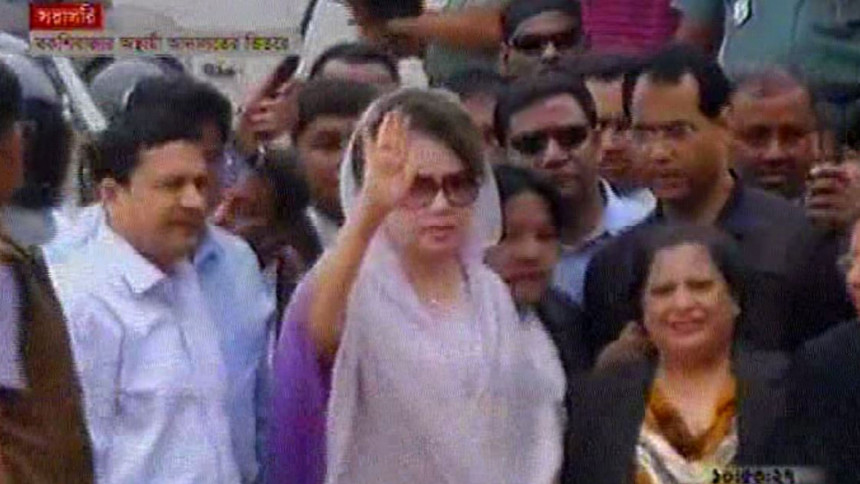 A Dhaka court today adjourned till June 18 the hearing of Zia Orphanage and Zia Charitable Trust corruption cases filed against BNP Chairperson Khaleda Zia and eight others.
Judge Abu Ahmed Jamadar of the Special Judge Court-3 passed the order in presence of Khaleda in the courtroom.
The court came up with the adjournment order in response to a petition filed by the defence seeking more time for cross-examining Harun-ur-Rashid in Zia Charitable Trust graft case.
Rashid is deputy director of Anti-Corruption Commission (ACC) and also plaintiff of both the cases.
Khaleda's counsel Khandaker Mahbub Hossain also submitted a petition for "expunging" the statements recorded by the court in absence of the BNP chief in Zia Orphanage Trust graft case.
In the petition, he said recording of the statements in absence of Khaleda was illegal.
So, the statements should be expunged, he added
After the court rejected the petition, the defence counsel said, "We will to go to higher court challenging the rejection order."
Earlier at 10:54am, Khaleda appeared before the court in compliance of its earlier order.
Security measures were beefed up in and around the court premises ahead of Khaleda's arriva. Huge contingents of Rapid Action Battalion, Detective Branch of police, Border Guard Bangladesh and other law enforcement agencies were deployed on the court premises to maintain law and order.
On April 5, Judge Jamadar granted her bail in the two cases, saying that she and the two other accused must appear before the court on every date.
The ACC had filed the cases in 2008 and 2011. According to the charge sheet in the Zia Orphanage Trust graft case, Khaleda, Tarique and four others embezzled Tk 2.1 crore by forming the charity that exists only on paper.
The other case statement said Khaleda and three others abused power during the 1991-1996 tenure of the then BNP-led government to collect Tk 6.19 crore for Zia Charitable Trust. The charities were named after late president Ziaur Rahman.