Court orders probe into sedition charges against Khaleda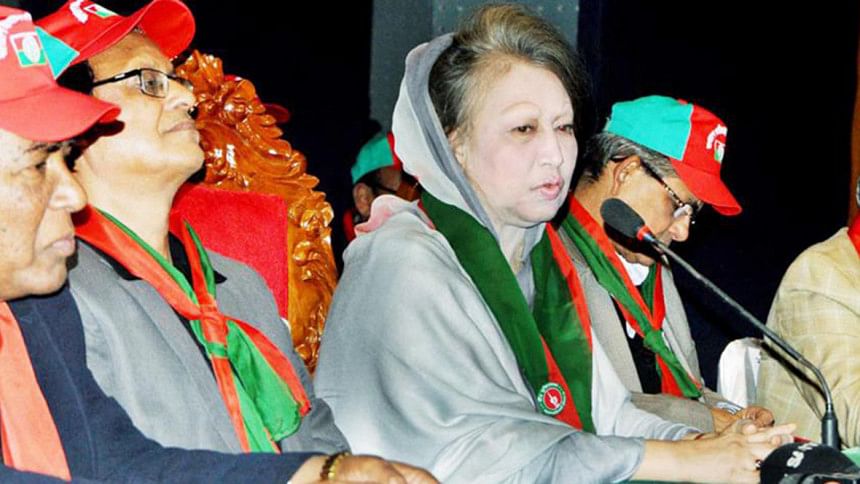 A Dhaka court today ordered for investigation into a sedition charge filed against BNP Chairperson Khaleda Zia for her comments on the count of 1971 martyrs.
Shahbagh Police Station's officer-in-charge has been asked to take legal action after investigation.
Metropolitan Magistrate Md Atiqur Rahman passed the order after Moshiur Malik, founding president of Bangabandhu Foundation, filed the sedition charge.
READ more on KHALEDA's remark on 1971 martyrs
On December 23, a Supreme Court lawyer served legal notice to Khaleda asking her to apologise to the nation by seven days or face legal consequences.
On December 21, Khaleda – in her first public address in more than a year – said "there are controversies over how many were martyred in the Liberation War."
Her comments drew widespread flak among pro-liberation forces in the country. Many slammed her as an "agent of Pakistan" and demanded that she leaves Bangladesh.
Also READ: Khaleda draws flak for martyrs remark
In her recent statements, she addressed Pakistani forces and their local collaborators as an ambiguous "hanadar bahini" – which has also come under criticism.
Her key ally, Jamaat-e-Islami has many convicted (some executed) war criminals of 1971 – some of which became ministers when Khaleda was in power.
READ MORE: BNP-Jamaat must explain what is Hanadar Bahini 
Her comments and statements came hot on the heels of Pakistan's denial of committing any war crimes or atrocities in Bangladesh during the nine-month bloody war.