Legal notice served on Khaleda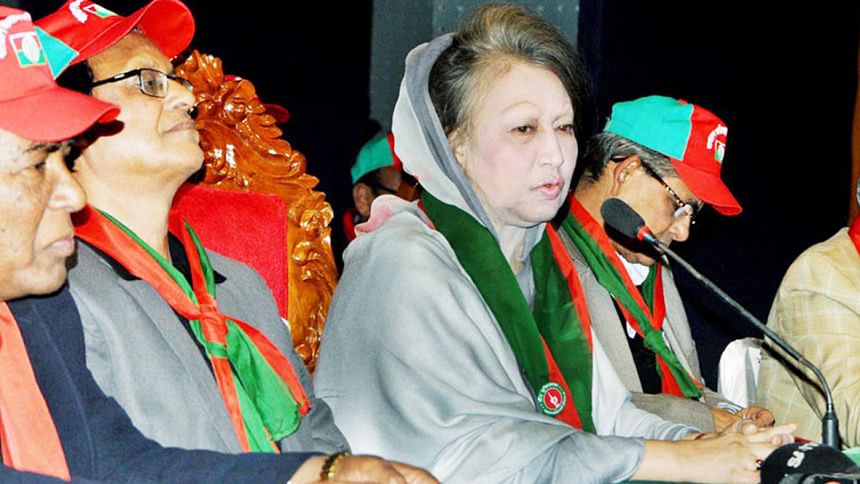 A Supreme Court lawyer yesterday sent a legal notice to BNP Chairperson Khaleda Zia, asking her to apologize to the nation for her comment questioning the number of martyrs in the country's Liberation War.
In the notice, Momtazuddin Ahmed Mehedi, former secretary of Supreme Court Bar Association, also demanded that the BNP chief withdraw her statement within seven days.
At a programme on December 21, Khaleda, in her first public address in more than a year, said, "There are controversies over how many were martyred in the Liberation War. There are also many books and documents on the controversies."
Her comment came hot on the heels of Pakistan's denial last month of committing any war crimes or atrocities in Bangladesh during the nine-month bloody war.
In yesterday's notice, the SC lawyer warned of filing cases against the BNP chief under both criminal and civil laws if she did not apologize and retract her statement within seven days of receiving the notice.
He also cited some newspaper reports that quoted Khaleda as saying, "Awami League is not a party of freedom fighters. They [AL] only talk about the Liberation War. [But] There is no freedom fighter in their party [AL]. Those who are there are all [the] fake [ones].
Momtazuddin went on: "Without naming Bangabandhu Sheikh Mujibur Rahman, Khaleda also said he did not want independence. Rather, he wanted to become the prime minister of Pakistan."
Her [Khaleda's] remarks on "Bangabandhu" and the number of martyrs have violated the constitution and demeaned the ideology and spirit of the Liberation War, which was achieved after three million people sacrificed their lives, and this is tantamount to sedition, the lawyer said in the notice.
KHALEDA SLAMMED
Criticising Khaleda, several ministers and ruling Awami League yesterday also asked the BNP chief to apologize to the nation for her remark on the number of martyrs in the country's Liberation War.
At a discussion in the capital, senior AL leader Suranjit Sengupta urged the BNP chairperson to submit evidence in support of the statement. "Begum Zia has echoed the statement of Pakistanis, nothing else," he said.
The AL also demanded taking legal action against Khaleda over the matter.
At a press briefing at party president's Dhanmondi office, AL Joint General Secretary Mahbubul Alam Hanif said, "The people of the country think she [Khaleda] will be identified as a collaborator of Pakistan."
Health Minister Mohammad Nasim, at another programme, said: "By making such a remark [on the number of martyrs], she [Khaleda] not only humiliated the martyrs, but also her husband Ziaur Rahman."
Besides, Sector Commanders Forum in a statement yesterday said Khaleda violated the constitution by coming up with such a remark.