Kamaruzzaman execution likely tomorrow: Minister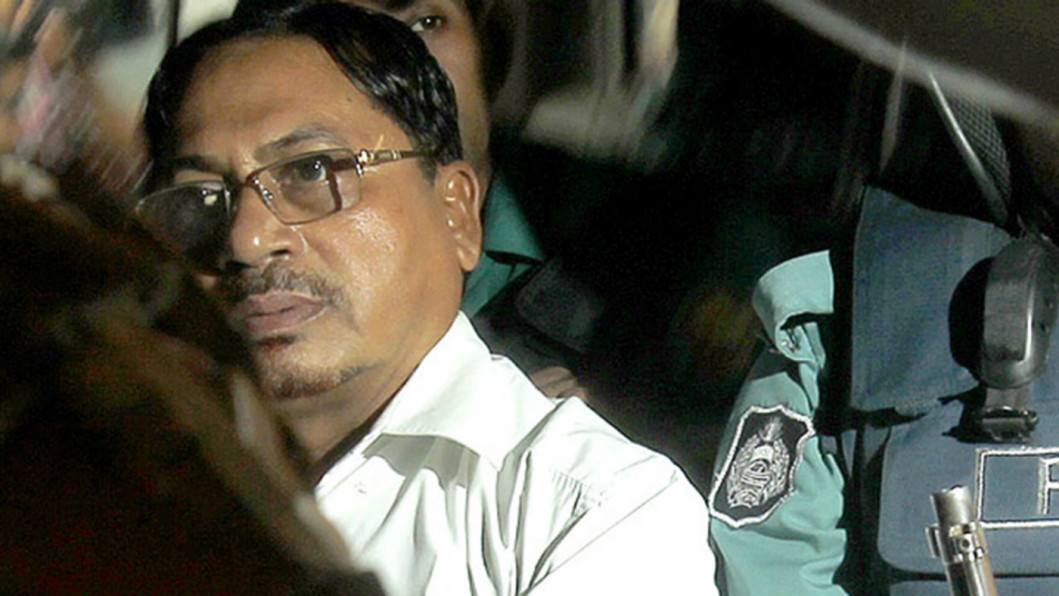 After a series of preparatory activities at the Dhaka jail that sent signals of move to execute death row war criminal Muhammad Kamaruzzaman tonight, a minister this evening hinted that the Jamaat leader's execution might take place tomorrow.
"Steps can be taken tomorrow so that his (Kamaruzzaman's) family can meet him for the last time at jail," State Minister for Home Asaduzzaman Khan told The Daily Star at 9:55 tonight.
Security around the Dhaka Central Jail, which was boosted suddenly, was relaxed after 9:15pm and traffic was allowed to ply there again.
The Jamaat leader, who was given death penalty for crimes against humanity during Bangladesh's 1971 Liberation War, sought time yesterday to make his mind about seeking presidential clemency – the only thing that can save him from gallows.
A sudden boost in security around the jail, visit of Dhaka's assistant civil surgeon, top police officials, and keeping an ambulance ready near the jail gate – all came shortly after the state minister told the media around 8:30pm that Kamaruzzaman would not be given any further time.
Talking to reporters after a programme at Shilpakala Academy in the capital, Asaduzzaman Khan further said that preparations were underway for execution of his death sentence.
As The Daily Star contacted Kamaruzzaman's family to be certain whether there was move to carry out the execution tonight, the convict's family members said that they were not officially informed about any such move.
Meanwhile, a large number of police and members from Rapid Action Battalion (Rab) were deployed around the Dhaka jail.
Deputy Commissioner Mofiz Uddin Ahmed of Lalbagh Division said Star that the move was made upon orders from the "higher authorities".
The law enforcers made the roads around the jail off-limits to public. An ambulance was brought and kept in front of the jail gate.
Units from different media houses rushed in front of the main entrance of the Dhaka Central Jail immediately.
However, after waiting there for quite some time, journalists saw lifting of restriction from the roads and gradual withdrawal law enforcers from there.
When The Daily Star contacted the minister again to inquire about the situation at 9:55pm, he said: "Preparation is on for his execution. But there are some procedures to complete before it. For this, the chance of execution tonight is very little."
Earlier in the morning, Kamaruzzaman was asked whether he would seek mercy. He however did not give his decision.
"The government will inquire him again before taking action in this regard," state minister Khan said in the morning. "If he doesn't say anything even then, the government will take necessary action."
Two magistrates were seen appearing at the jail in a white car around 9:50am. One of them was wearing a pink shirt and the other cyan blue.
They stayed inside for about an hour and left the prison premises without talking to waiting journalists outside.
"Two magistrates came to the jail for official reasons," Farman Ali, senior superintendent of Dhaka jail, told The Daily Star. He did not say if the work was related to Kamaruzzaman.