Interpol issues red notice on Tarique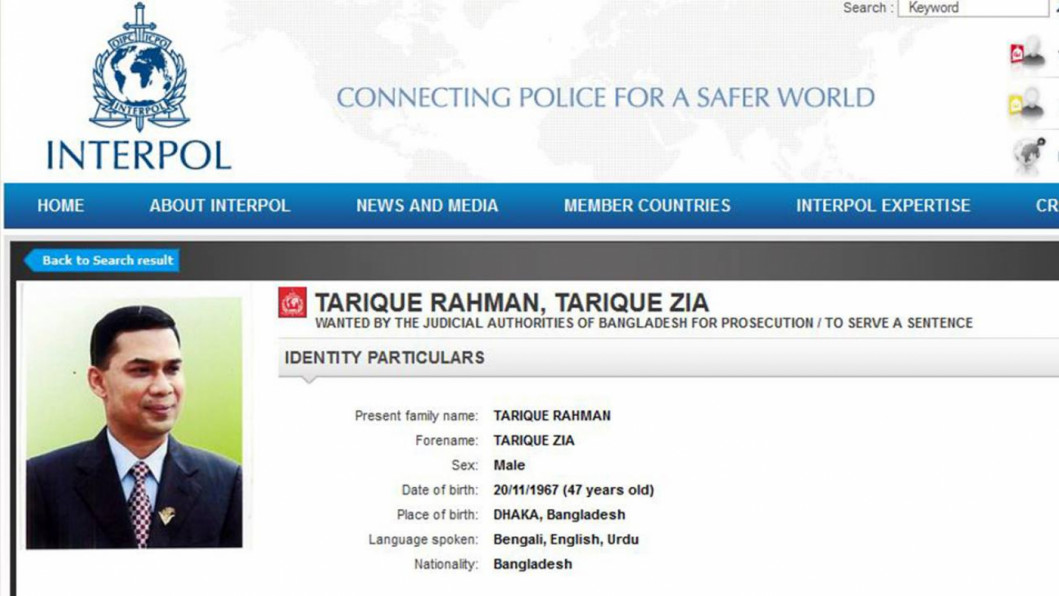 Interpol issued red notice upon BNP senior vice chairman Tarique Rahman in connection with August 21, 2004 grenade attack on Awami League rally that left 24 people dead.
The red notice have been issued upon the BNP leader on charge of 'murder and explosion of hand grenade in the Awami League meeting', according to the Interpol website.

The name and details including photograph of Tarique, now staying in London, have been posted as a wanted person on the Interpol website.

However, there is no date mentioned in the red notice issued by the international body of the police.
The grenade attack left 24 AL leaders, including President Zillur Rahman's wife Ivy Rahman, and workers dead, and nearly 300 others injured. Sheikh Hasina, then leader of the opposition, narrowly escaped death.
A Dhaka court on March 18, 2012 framed charges against former prime minister Khaleda Zia's elder son Tarique and 29 other accused in the supplementary charge sheet of the case filed for killing 24 people.
Earlier in 2008, the same court charged another 22 people with murder, attempt to murder, causing hurt, criminal liability, conspiracy and blasting grenades in two cases -- one for murder and another for bomb blast -- filed with Motijheel Police Station following the grenade attack.
According to the charges, leaders of banned militant group Harkatul Jihad al Islami (Huji) held two meetings with Tarique. Both the meetings were held at Hawa Bhaban, widely considered the alternative centre of power during the last BNP-Jamaat coalition rule.
In both the meetings, Huji leaders sought support in executing their plans to assassinate Hasina and other top AL leaders.
Tarique assured the Huji men of an all-out support.