Impeachment of SC judges: Cabinet okays draft law in principle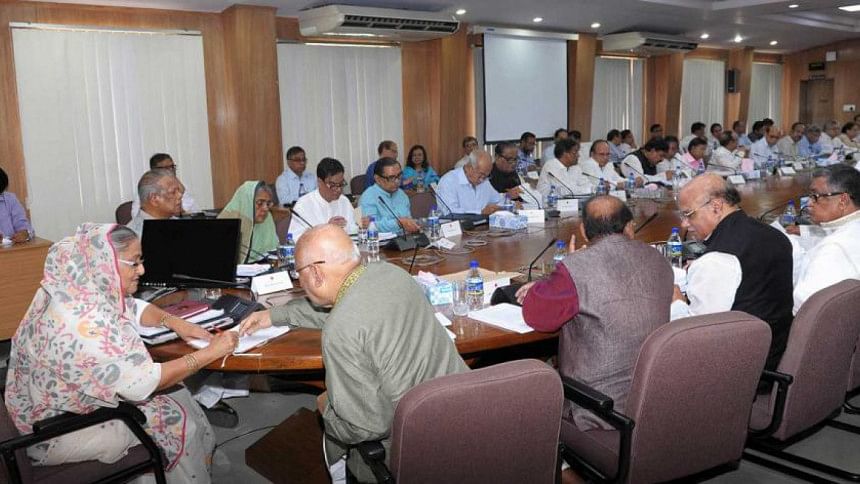 The cabinet today approved in principle the draft of Bangladesh Supreme Court Judges (investigation) Act 2016.
The law will specify the procedure for the Jatiya Sangsad to impeach a judge of the highest court if allegation of misconduct or incapacity is proved.
A hearing on the issue is scheduled to be held with the SC on May 5.
The approval was made under a constitutional obligation as parliament on September 17, 2014 unanimously passed the 16th constitutional amendment bill, empowering itself to remove SC judges for misbehaviour and incapacity.
Also READ: JS regains power to impeach judges
The 1972 constitution empowered parliament with this authority. But the House was unable to exercise the power as the then government did not formulate any law. Rather, the then AL-led government curtailed the power through the fourth amendment to the constitution in January 1975. 
Then military ruler Gen Ziaur Rahman introduced the Supreme Judicial Council (SJC), amending the constitution through a martial law order which was ratified by the fifth amendment to the constitution in 1979.
READ more: HC verdict on empowering parliament on May 5
Today, the development came at a regular weekly meeting with Prime Minister Sheikh Hasina in the chair, Cabinet Secretary Mohammad Shafiul Alam said at a press briefing after the meeting.
The same law will be applicable for physical and mental incapability of a judge, added Alam.
The cabinet will give its final nod to the draft after a discussion is held with the stakeholders on the issue, he said.
The draft law says any citizen with evidence will be able to submit allegations of misconduct or incapacity against an SC judge to the Speaker of the House.    
A 10-member JS body will investigate the allegations and submit a primary report to the Speaker within seven days. Later, the Speaker will form a high-powered committee with former a SC judge, a former attorney general and noted jurists to review the primary report, the cabinet secretary said.
The recommendations of the committee will be placed before the JS for further discussion, he said. 
If anyone comes up with false allegations against any judge, he will be jailed for two years and fined Tk 5 lakh for the offence, the draft says.
The cabinet secretary told journalist during the briefing that such law is in practice in many countries including the US, the UK, India and Australia.
Meanwhile, a draft of National Housing Policy 2016 was also approved in the meeting.
A proposal to form a Container Company of Bangladesh was approved to facilitate railway container transport service to operate independently, the cabinet secretary said.