Huda-led alliance to join 14-party: Nasim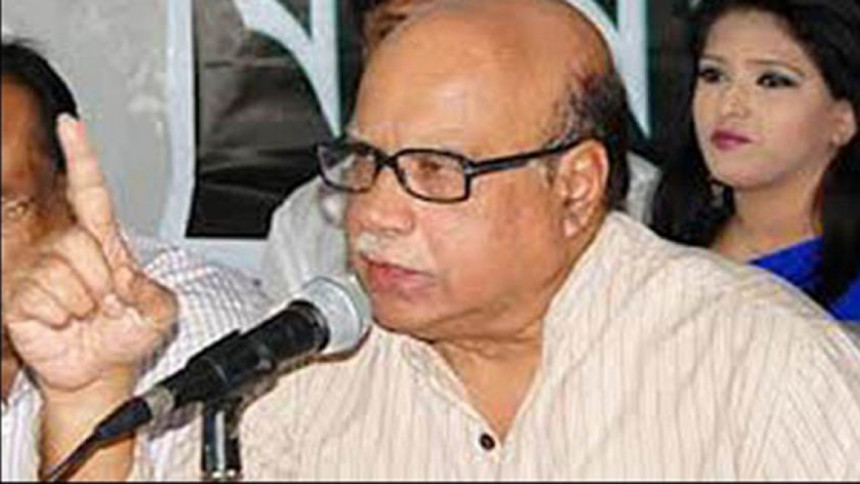 An alliance of 31 parties headed by former BNP leader Nazmul Huda will join the Awami League-led 14-party combine, Health Minister Mohammad Nasim said today.
The senior ruling AL leader said this while addressing a programme marking the first founding anniversary of the Bangladesh National Alliance, a platform of 31 political parties, at the Supreme Court Bar Auditorium in Dhaka.
It means a new combine of 45 political parties is in the offing, said Nasim, also an AL Presidium member and 14-party alliance coordinator.
During the last year's political turmoil, Huda announced to form the alliance comprising 31 name-only political parties. Neither of the parties has registration with the Election Commission. 
On November 20 last year, Huda, a former vice-chairman of BNP, floated "Trinomul BNP" for what he said to "begin a new journey of BNP". It was the fifth party launched by the former minister since he quit BNP in June 2012.
He still is the chairman of Bangladesh Manabadhikar Party and also head of BNA.
Neither of the organisers including BNA spokesperson today could mention the names of more than 12 components in the alliance.
Names of some components in BNA are: Trinomul BNP, Aam Admi Party, Aam Janata Party, Baksal, Bangali Janata Party, Swadhin Party, Desh Premik Party, Gono Andolon Party, Protobadi Janata Party, Jago Bangalee, Jago Dal and Socheton Hindu Party.
Huda could not attend the programme due to the demise of one of his close relative.
Nasim in his speech said Bangladesh National Alliance will join with the 14-party platform. "You [BNA] are with us and will be with us. I along with the 14-party leaders will sit with you [leaders of BNA] soon to this end," Nasim, coordinator of the grand alliance added amid clapping of the audience.
Nasim, however, gave three conditions to the BNA leaders saying they will keep believing that Bangabandhu Sheikh Mujibur Rahman is the father of the nation, will have to work under the leadership of Prime Minister Sheikh Hasina and they will keep no relation with the anti-liberation war elements.
The BNA leaders at that time welcomes Nasim's announcement.
Nasim assured the BNA leaders of giving all kinds of assistance so that alliance can work with the 14-party alliance and the government.