Saved by the grace of Allah: Khaleda
Says govt should quit over Pahela Baishakh sexual assault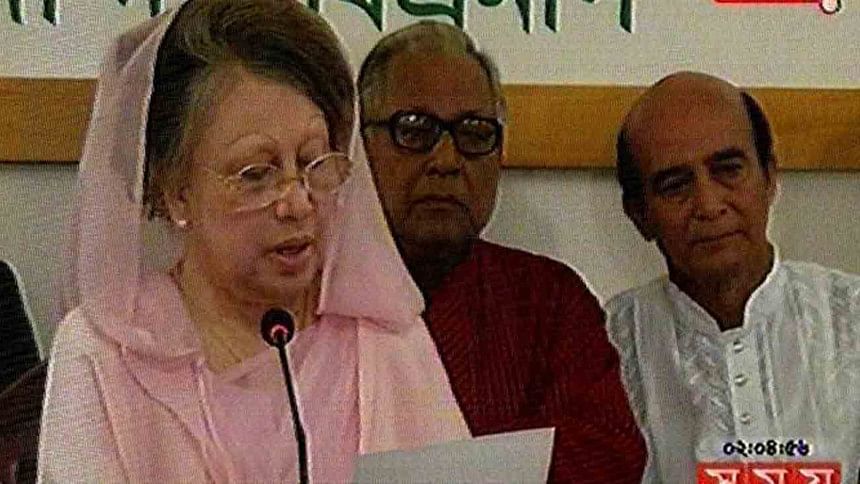 BNP Chairperson Khaleda Zia today said the pro-government people raised several attacks to kill her during citycorporation electioneering, but she was "saved by the grace of Allah".
The attacks were made as part of a conspiracy to kill her, Khaleda said at a press conference at her Gulshan office in the afternoon, blaming Awami League, Sramik League and Bangladesh Chhatra League men for it.
While talking on sexual assault that took place during Pahela Baishakh celebration, she said the government should resign for what she said failing to ensure security to the people.
The former premier also called upon the Election Commission to deploy army on the election day for the sake of holding free, fair and credible city polls.
"If not, we will think that the government wants to snatch people's mandate by rigging the polls," she added.  
Khaleda called upon the people of Dhaka and Chittagong city corporations to go for a "silent revenge" through voting in favour of the BNP-blessed candidates in the polls.
"I believe, people will give a befitting reply to the government if they get the chance to do so," Khaleda said.        
She further said, "We will accept the polls result if it is held in free and fair way. But if not, I urge you (people) to take to the streets."
The BNP chief also urged people not to leave the polling centres until the end of the vote counting.   
She blamed the ruling AL-backed candidates for spending huge amount of money to buy votes. "You (people) receive the money but cast votes applying your senses," she said.
The government declared the Dhaka and Chittagong city corporation polls when the countrymen are struggling for reinstating democracy and sovereignty in the country, she added.
"The city corporation polls are going to be held under an Election Commission which is completely loyal to the government," she blamed.
People are confused whether the election will be free, fair and transparent under the supervision of the incumbent EC," she said.  
About the EC's stance over the army deployment, she said Awami League is treating the armed forces as a barrier on its way to manipulate the elections.
Accusing Prime Minister Sheikh Hasina of grabbing power through illegal means, she urged the PM to change her aggressive attitudes towards the opposition.
"You (Sheikh Hasina) have committed several wrongdoings and misdeeds," she said asking her to give up those paths for the country's smooth political atmosphere.