Bangladesh, India to fight terrorism together: Jaishankar
Bangladesh and India will closely work together to counter violent extremism and terrorism, visiting Indian Foreign Secretary Subrahmanyam Jaishankar said today.
The two countries will further strengthen their existing structure in the future in this regard, the Indian foreign secretary said while talking to the media at State Guest House Padma in Dhaka.
Earlier, he held a bilateral meeting with his Bangladeshi counterpart Md Shahidul Haque.

Also READ: Minority repression likely on agenda
"I am also here to convey the government of India's strong support to government of Bangladesh as it is battling terrorism and extremism," Jaishankar said.
This is an issue which is of a direct concern to as never and we are in touch and we will work bilaterally and closely together on the matter, he added. 
Bangladesh Foreign Secretary Md Shahidul Haque said that terrorism will be fought together and for this existing mechanism between the two countries will be further strengthened."
The Indian foreign secretary and his Bangladesh counterpart also discussed other bilateral issues including the energy cooperation and connectivity between the two countries.
They reviewed the progress of the agreements made during Indian Prime minister Narendra Modi's visit to Bangladesh last year.
The developments in the energy and connectivity between Bangladesh and India in the last few months have been unprecedented, flawless and have taken our regional cooperation to a new level, Md Shahidul Haque said.
Earlier in the morning, the Indian foreign secretary held a breakfast meeting with a group of eminent citizens at Hotel Sonargaon.
During the meeting, he said Bangladesh and India can resolve their pending bilateral issues through maintaining good relation.
Professor Anisuzzaman, rights activist Sultana Kamal, former lawmaker Prof Abdul Mannan, Dhaka University Vice Chancellor Prof Dr AAMS Arefin Siddique, Shamsher Mobin Chowdhury, Syed Fahim Munaim, Zafar Sobhan, Altamas Kabir, Dr Kazi Khaliquzzaman and Barrister Tania Amir, among others, attended the meeting.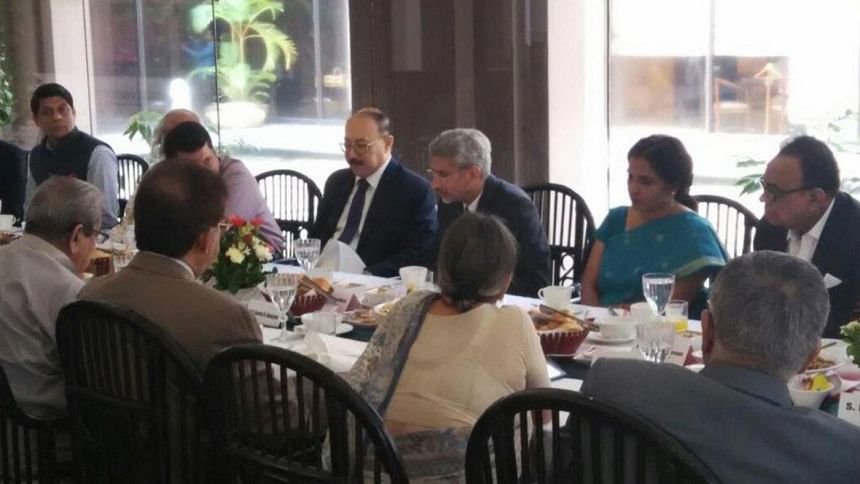 On the
US and India agreement to work together with Dhaka to counter extremism
in Bangladesh, the Indian secretary said he learned about it from the newspaper reports, Prof Anisuzzaman told journalists quoting Jaishankar after the meeting.
Prof Anisuzzaman suspects that there is no base in such agreement.
The participants discussed the pending issues and concerns like river water sharing, border killing and complications regarding Indian visa with the Indian foreign secretary.
Then, the Indian secretary discussed with them on the process of water sharing with Bangladesh, they said. 
Jaishankar assured the delegate that India is trying to bring down the number of deaths in the bordering areas between the two countries, the eminent citizens said.
The Indian authorities are working on easing up the visa issuing process for Bangladeshi people, they said quoting Jaishankar.
Jaishankar told the participants that India will continue to provide assistance to its neighbouring country Bangladesh.