Form commission to probe 1/11 incidents: Nasim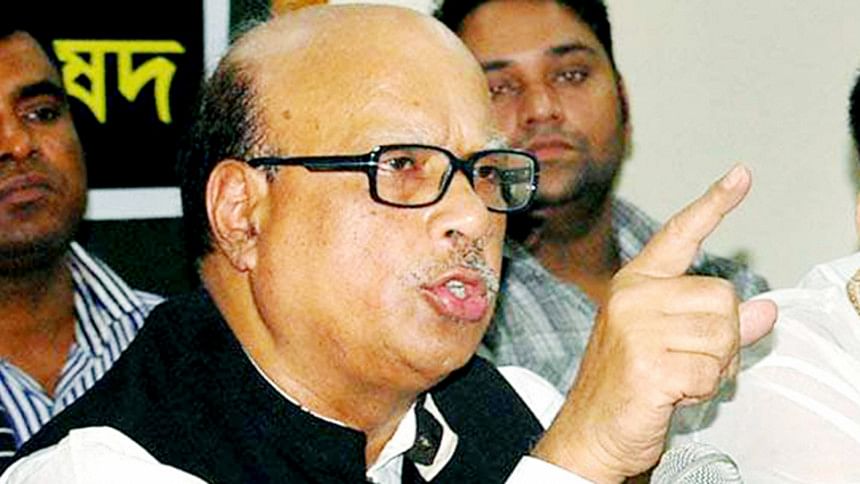 Health Minister Mohammad Nasim today demanded that a commission should be formed to investigate the incidents centring the One-Eleven political changeover during the last caretaker government's regime.
If the incidents are not probed by a commission, those will take place again, Bangla daily Prothom Alo quoted the minister as saying.
The veteran leader was addressing South Asian Neurosurgical Congress and eighth International Scientific Conference at a hotel in the capital, Dhaka.
Highlighting yesterday's speech of Prime Minister Sheikh Hasina, Nasim said: "The prime minister has spoken the truth very clearly. Those who were villains then are now becoming heroes."
In her speech, the PM blasted The Daily Star Editor and Publisher Mahfuz Anam for publishing reports based on information supplied by Task Force Interrogation Cell during the last caretaker government.
Demanding resignation of the Star editor, Nasim said, "Mahfuz Anam has admitted his mistake. Admitting mistakes won't suffice. He should have resigned."
"A plot was being hatched to remove Sheikh Hasina and Khaleda Zia from politics after the 1/11 changeover. Some evil quarter wanted to grasp the power. But Sheikh Hasina has brought back democracy efficiently."
Stressing the need for the commission, Nasim said it is impossible to forget the past. "We cannot move ahead if we don't learn from the past."
"To come out of the dark of past, a commission should be formed to unearth what happened during the 1/11 changeover," Nasim said.