Fakhrul for unity to save nation from militancy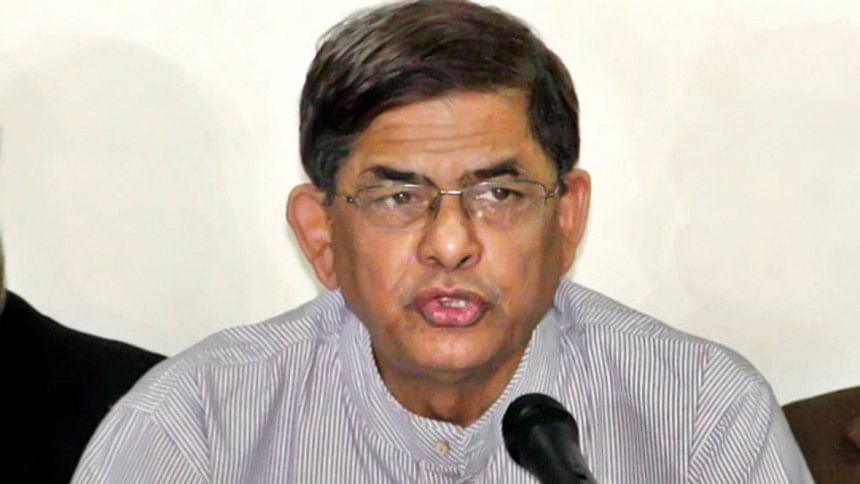 BNP acting secretary general Mirza Fakhrul Islam Alamgir today called upon the government to forge a national unity to save the country from religious extremism.
"Different talks are taking place regarding the IS's presence here. We think there is no scope to take militancy issue lightly," he said while speaking at the council of a faction of Dhaka Union of Journalists in the capital this afternoon.
"The government is denying the existence of the Islamic State (IS) in the country. But, interestingly four people who had been arrested from Kishoreganj are being tried as IS members. It's a contradictory position," the BNP added.
He criticised the government for its contradictory position on IS' presence and militant activities in Bangladesh.
Undemocratic and extremist forces get chance to carry out their activities when democracy does not prevail in a country, when people cannot think and talk freely and the media cannot write independently, he added.
Referring to the recent attacks in different districts, he alleged that the incidents have panicked the while nation.
"We're again urging the government not to take the issue lightly. It's a national problem. Iraq, Syria, Afghanistan and Lebanon have been badly affected by this problem and many people of these countries are now living the life of refugees."
"We all should get united and forge a national unity to contain such terrorism in our country," the BNP leader further said, urging the government to take effective measures to eliminate militancy in the country.
He accused the law enforcers of making stories over taking action against militants, saying that they arrest some people as militants and present them before journalists with a new story.
He also claimed that the ruling party is carrying out propaganda against BNP to brand it as terrorist and militant party in order to thwart its democratic movement to restore democracy in the country.