EC picks 6 seats for EVM use
Sets up 122 enquiry bodies to prevent pre-polls irregularities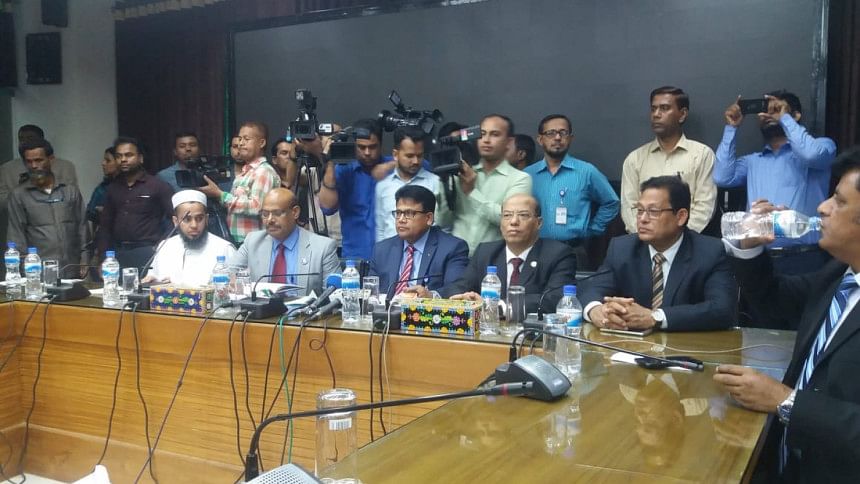 Electronic voting machines will be used in Dhaka-6 and-13, Chattogram-9, Rangpur-3, Khulna-2 and Satkhira-2 constituencies in the upcoming parliamentary election.
The Election Commission selected the six constituencies by lottery in the presence of journalists and EC Secretary Helal Uddin Ahmed in the capital's Nirbachan Bhaban.
It had decided to pick one constituency each from Dhaka south, north, and Chattogram city corporation areas, two seats from other city corporation areas, and one seat with a district town.
Helal Uddin said they had full preparation to use EVMs in the six constituencies. "We will get an adequate number of EVMs by November 30."
Despite strong opposition from opposition Jatiya Oikyafront, the EC in a meeting on Saturday decided to use EVMs in six constituencies.
In September, the EC moved hurriedly to amend the Representation of the People Order for using the EVMs in the national polls.
The commission later sent a proposal to the planning ministry for its approval to procure 1.5 lakh EVMs at a cost of around Tk 3,800 crore.
ENQUIRY COMMITTEES
In a circular yesterday, the EC said 122 electoral enquiry committees, consisting of judicial officers, had been formed to ensure prevention and control of pre-polls irregularities.
Each committee was constituted with two members -- a joint district judge and an assistant district judge.
The committees, on the basis of allegations, will look into the irregularities and make recommendations to the EC for taking necessary actions.
Besides, the EC yesterday concluded a three-day briefing for 691 executive magistrates, who would be posted during the election for maintaining the electoral code of conduct.
The commission asked them to work with the local administration, presiding officers and law enforcers.
"Do your duty with patience and work neutrally during the election," Chief Election Commissioner KM Nurul Huda told the executive magistrates of Rajshahi, Rangpur and Khulna divisions on the last-day of the three-day event at the Nirbachan Bhaban.
He also asked the magistrates to keep their eyes open so that the electoral code of conduct was not violated. "It is your duty to ensure that all the candidates are treated equally."
'VIOLATION OF CONSTITUTION'
In a letter to the EC, Supreme Court Bar Association (SCBA) yesterday alleged that the EC violated the constitution by unilaterally taking the decision of using EVMs in the polls.
SCBA Vice-president Golam Rahman Bhuiyan and Treasurer Nasrin Akter handed over the letter to EC Secretary Helal Uddin Ahmed. 
The commission has "violated the constitution" by unilaterally deciding to use EVMs in the election as there is no reference anywhere in the constitution to hold elections with the EVMs, the SCBA said in the letter.
The SCBA urged the EC to play an independent and impartial role in the interest of the country's people and withdraw its unilateral decision of using the EVMs.