Govt to finalise Digital Security Act in Aug
Says law minister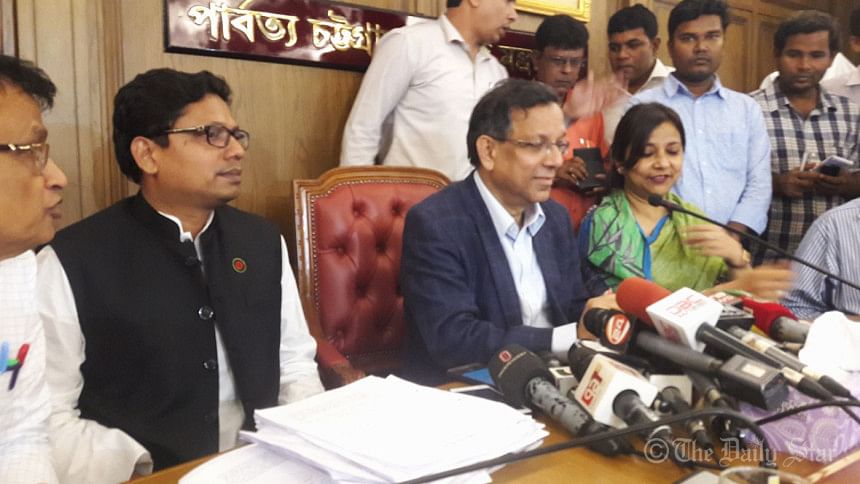 The government will finalise the draft of Digital Security Act in August, Law Minister Anisul Huq said today.
And the much-talked about section 57 of Information Communication and Technology (ICT) Act will remain in force till August when the government will take decision in this regard, the law minister said.
Also READ: Not holding out much hope
"We will hold a final meeting on the issue in mid August to finalise it," the minister said while talking to reporters after holding a view exchange meeting on proposed Digital Security Act at the secretariat in Dhaka today.
There is an ongoing debate over the alleged misuse of the section 57 of the Information and Communication and Technology Act-2006 and human rights activists and journalists are demanding repeal of the section.
The law minister on several occasions earlier said that the government will scrap the section and interpret it in the proposed digital security act.
Asked about repealing section 57, the minister said, "We will take decision in August… case can be filed under section 57 until it is scrapped."
If the government even scraps the section 57, a similar provision is going to return in the proposed Digital Security Act approved by the cabinet last August. 
Asked, the minister said, "I will not make comment in this regard as the proposed act is yet to be finalised."
The meeting was attended by Zunaid Ahmed Palak, State Minister for ICT Division and State Minister for Post and Telecommunications Tarana Halim among others.
According to the section 57, if any person deliberately publishes any material in electronic form that causes deterioration of law and order, prejudices the image of the State or a person or causes to hurt religious belief, the offender faces jail term for a maximum of 14 years.
Legal experts have unequivocally been saying section 57 goes against the people's right to freedom of expression and free speech. Vague wordings in the section can easily be used and misused against newsmen and social media users and would have a chilling effect on free discourse necessary in a democratic society.