PM has instructed on bringing back Bangladeshis from China: Shahriar Alam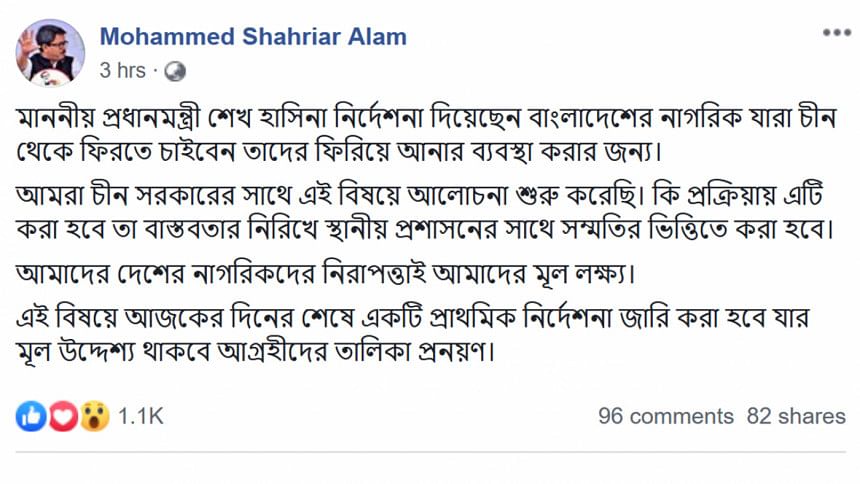 Prime Minister Sheikh Hasina has given directives to bring back Bangladeshi nationals who are now in coronavirus-stricken China and want to return, State Minister for Foreign Affairs Shahriar Alam said in a Facebook post this morning.
"I have already started discussion with the Chinese government in this regard," the state minister said in the post.
The process to bring back the Bangladeshis will depend on the local administration's consent in the context of the current situation, he said.
"Our main target is to ensure security of the citizens of our country," the state minister said.  
A preliminary instruction will be issued later in the day over preparing a list of the Bangladeshi nationals willing to return from China.
Earlier, Bangladeshi students under lockdown in China's Wuhan city, the epicentre of the Coronavirus outbreak that has claimed 80 lives so far, appealed for help through social media, saying they want to return to Bangladesh.
The Bangladesh Embassy in Beijing then said it has established contact with the ministry of foreign affairs in China in case emergency support was needed by Bangladeshi expatriates in Wuhan. According to a press release, there has been no news of any foreigner being infected by or dying from the coronavirus.