312 Bangladeshis return from China; 8 sent to hospital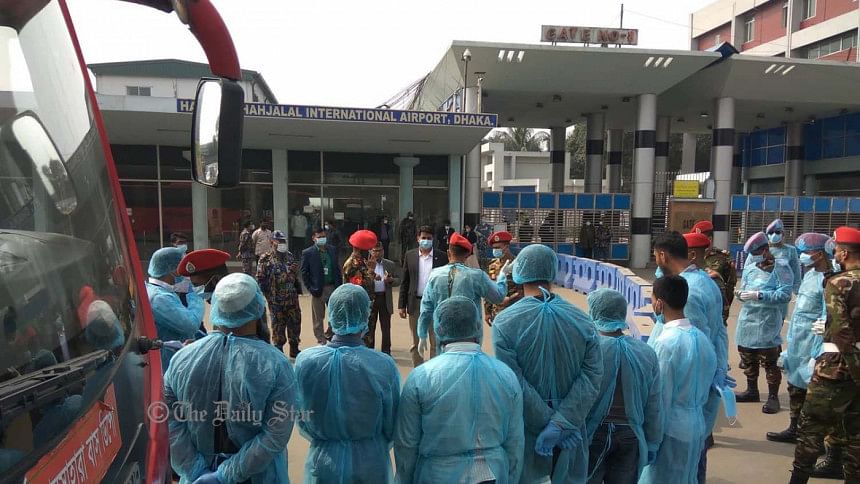 A total of 312 Bangladeshis, who were stranded in the coronavirus-hit Chinese city Wuhan, returned to Dhaka today and eight of them were sent to hospitals.
Eight of the returnees were running high temperature, sven of whom were sent to Kurmitola General Hospital while one to Combined Military Hospital (CMH), said Prof Meerjady Sabrina Florasenior, director of the Institute of Epidemiology, Disease Control and Research (IEDCR).
Rest of the returnees were taken to Ashkona Hajj Camp directly in a special bus, she said.
A special flight of Biman Bangladesh Airlines carrying them reached Hazrat Shahjalal International Airport around noon, Dr Zahirul Islam, a physician at the airport, confirmed to The Daily Star.
The special flight headed for Wuhan from Dhaka around 5:30pm yesterday.
Four doctors -- three from Bangladesh Army and one from the airport health department -- accompanied the cabin crew.
The returnees would be kept quarantined for 14 days in the rooms on the second floor of Ashkona Hajj Camp.
Bangladesh Army will supervise the camp during the quarantine period, Health Minister Dr Zahid Maleque told journalists yesterday.
The returnees include 18 children.