JS body submits report on road transport bill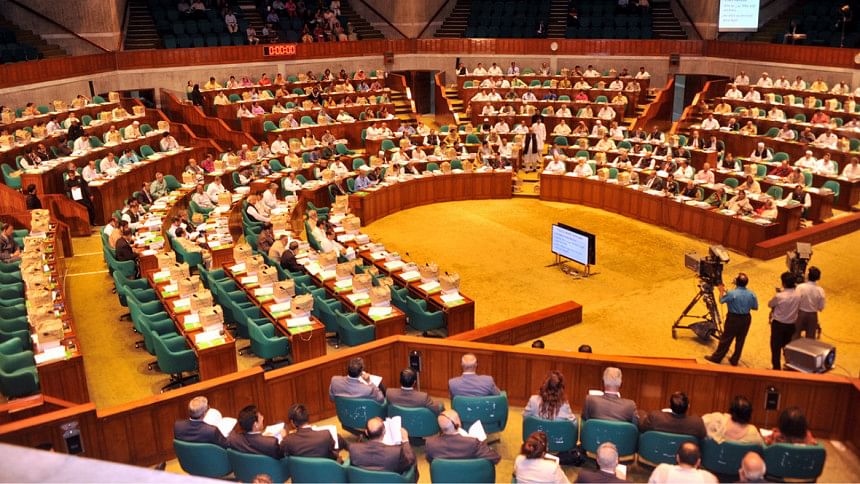 A parliamentary committee yesterday placed its report to the parliament on the much-talked about Road Transport Bill, recommending some changes in the proposed law.
It, however, did not address criticisms against the act, including the "lenient" nature of punishment over deaths caused by reckless driving.
Scrutinising the bill, the standing committee on road transport and bridges ministry at a meeting on Saturday decided to recommend changes to sections 25(2), 43(4) and 54 of the proposed law.
Akabbar Hossain, chief of the JS body, yesterday placed the report before the house.
The proposed law is likely to pass in the current session of parliament scheduled to continue till September 20, sources at the parliament secretariat told The Daily Star.
On Thursday, Road Transport and Bridges Minister Obaidul Quader placed the bill in parliament, which then sent it to the parliamentary standing committee for scrutiny. The House body was asked to submit its report within a week.
PROPOSED CHANGES
Section 54 deals with formation of a trustee board to manage funds for the injured in road accidents, or family members of those killed. The committee recommended incorporating a representative from civil society in the trustee broad.
Section 43 (4) says the government or a government-appointed body can impose "fine at gradually-increasing rate" for overloading.
Instead of "fine at gradually-increasing rate", the committee recommended using the term "fine at specific rate".
Section 25 (2) says if any government employee issues fitness certificate to an unfit vehicle, departmental steps can be taken against the official.
The committee recommended clarifying it, as similar things were mentioned in another section, a participant said.
CTG TRANSPORT OWNERS PLACE 6-POINT DEMAND
Meanwhile, leaders of 'Chattogram Jela Sarak Paribahan Malik Group' yesterday placed six-point demands including the formulation of 'Motor Vehicle Ordinance 2017-2018' similar to the act of 1983. They made the demands in a press conference at Chattogram Press Club, threatening to suspend all kinds of vehicle movement in the district if the demands were not met within 72 hours.