Innocent must not face torture, harassment
PM asks police personnel to be careful while on duty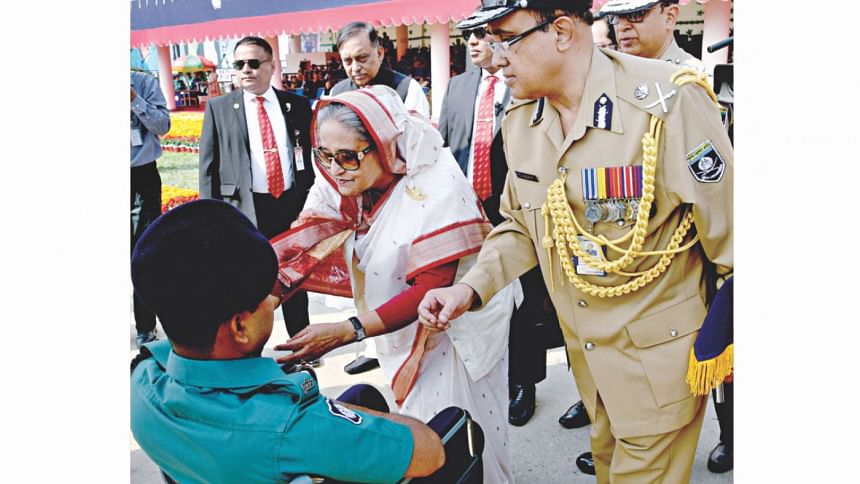 Prime Minister Sheikh Hasina yesterday asked police to remain careful while discharging duties so that innocent people are not harassed or tortured.
"You need to keep in mind that no innocent person should fall victim to torture and harassment by you," she said.
Addressing the inauguration of the five-day Police Week-2019 at Rajarbagh Police Lines, Hasina said it was the duty of police to protect people from any form of harassment.
She said all policemen had to perform their duties with sincerity and honesty to gain people's confidence and turn the police into a pro-people force.
The PM said maintaining law and order was urgently needed for improving the fate of people and building a prosperous Bangladesh. "It is our country and it is your duty to maintain peace and discipline in the country."
Mentioning the police's "zero tolerance" policy against terrorism and drugs, she said the ongoing drive against drugs has to be continued.
"Besides, mass awareness about road safety has to be created among the people as there is a lack of awareness about it among pedestrians."
Referring to curbing terrorism, Hasina said a terrorist has no religion, creed and country. The drive against terrorists has to be continued because the government wants peace, discipline and stability in the country, she told the programme.
The PM said Bangladesh Police symbolises peace, security and discipline. "Imbued with the spirit of the Liberation War, its members have been carrying out their responsibilities to maintain law and order with utmost professionalism and unflinching bravery."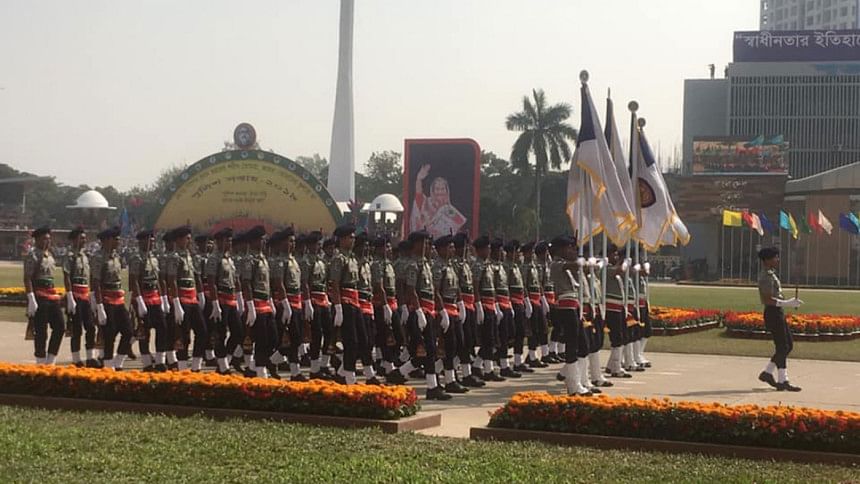 In the December 30 parliamentary election, members of Bangladesh Police performed their duties with professionalism to ensure peace, she mentioned.
Hasina briefly described various development initiatives taken by previous Awami League governments.
Different police contingents took part in a spectacular parade, led by Police Super Abida Sultana, to mark the Police Week-2019 with the theme -- "Build unity of police-people, eliminate drugs-militants". The PM, riding in an open jeep, inspected the parade.
Ministers, lawmakers and senior government officials witnessed the programme.
On her arrival at the venue, Hasina was received by Home Minister Asaduzzaman Khan and Inspector General of Police Mohammad Javed Patwary.
Afterwards, the PM handed over awards in four categories to 349 police and Rapid Action Battalion personnel for their outstanding performance in combating crimes, cracking important cases and showing bravery, efficiency, honesty and discipline.
Rab Director General Benazir Ahmed, Dhaka Metropolitan Police Commissioner Asaduzzaman Mia, DMP Additional Commissioner and CTTC chief Monirul Islam, DIG at the Police Headquarters Anwar Hossain, Rab additional DGs Col Anwar Latif Khan and Col Md Jahangir Alam, Chief of Special Branch Mir Shahidul Islam, additional IGPs Mainur Rahman Chowdhury and Iqbal Bahar, Deputy Inspector General Habibur Rahman and Deputy Commissioner of CTTC Proloy Kumar Joarder were among the recipients of the awards.
Besides, late inspector Jalal Uddin and constable Shamim Mia, who were killed while in service, were awarded posthumously.