HC transfers Moudud's graft trial proceedings to another court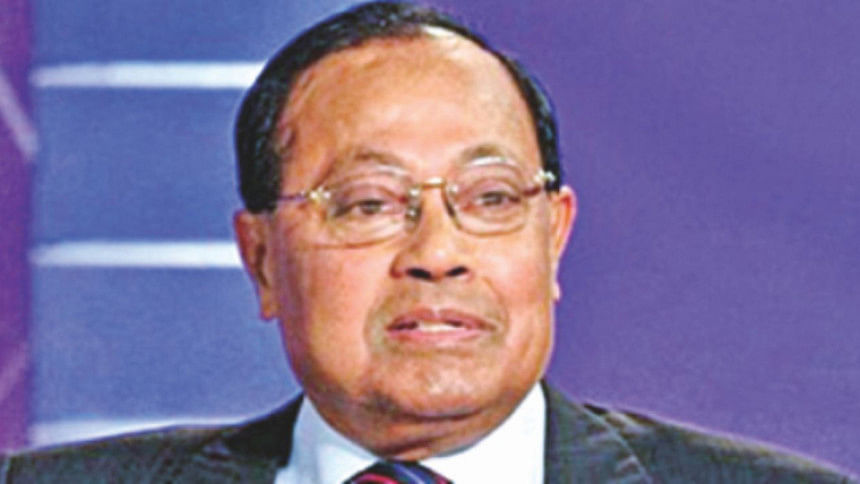 The High Court today transferred the trial proceedings of a corruption case against BNP leader Barrister Moudud Ahmed from the Metropolitan Senior Special Judge's Court of Dhaka to another court.
The bench of Justice Obaidul Hassan and Justice SM Kuddus Zaman passed the order following a petition filed by Barrister Moudud seeking transfer of the case from the court of Judge KM Imrul Kayes of Metropolitan Senior Special Judge's Court to any other court.
The HC, however, did not disclose the name of the court where it transferred the case, Barrister Moudud told The Daily Star.
The name of the court will be known when the HC releases the full text of its order, he said.
Earlier in July last year, Moudud Ahmed had expressed no confidence in Judge Imrul Kayes.
On July 25 last year, Moudud said that the HC had transferred this case from the court of Judge KM Imrul Kayes to the court of the then Metropolitan Senior Special Judge of Dhaka Kamrul Hossain Mollah.
Later, Judge Kamrul Hossain Mollah got appointed as a High Court judge and Judge KM Imrul Kayes succeeded him as the judge of Metropolitan Senior Special Judge of Dhaka, he said.
The Anti- Corruption Commission (ACC) had filed the corruption case against him in order to harass him, he added.
On September 16, 2007, the ACC filed the case against Moudud with Gulshan Police Station on charges of amassing wealth beyond the known sources of his income and withholding information about his assets.
The first information report (FIR) of the case said Moudud showed movable and immovable properties worth over Tk 13.23 crore in his wealth statement submitted to the ACC on July 23, 2007.
On May 15, 2008, the ACC pressed charges against Moudud in the case alleging that he amassed wealth worth over Tk 7.38 crore through illegal means and concealed information about wealth worth over Tk 4.40 crore from the commission.
Barrister Moudud Ahmed himself moved the petition, while Advocate Khurshid Alam Khan appeared for the ACC.