Gulshan attack a stain on country's image: PM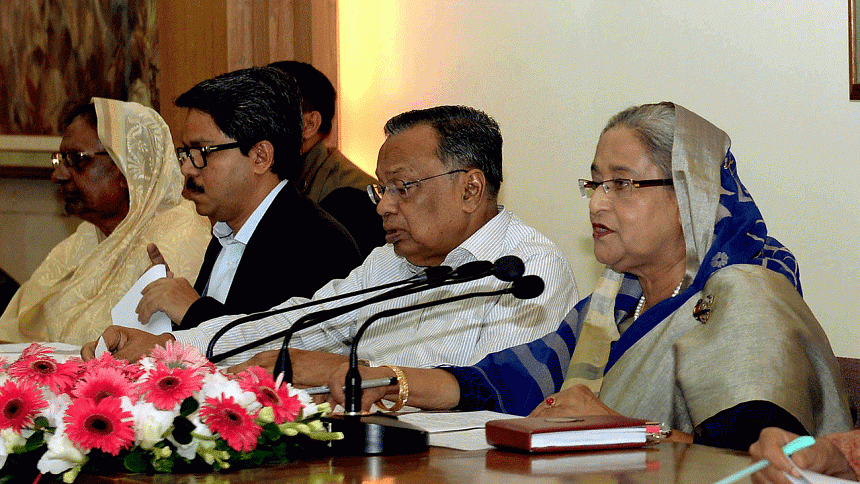 Prime Minister Sheikh Hasina today said the Gulshan terror attack and subsequent incidents were carried out by a quarter with vested interest aimed at maligning the bright image of Bangladesh as 'a role model of development' which the country has earned over the years through persistent endevour of her government.
Gulshan attack has undoubtedly harmed Bangladesh's image outside though terrorism and militancy have now emerged as a common global challenge, she said in a press conference at her Gono Bhaban residence.
The issue of terrorism and militancy in the aftermath of recent terror attacks in Bangladesh and other countries came up dominantly in the press conference arranged to inform the media about the participation of the prime minister in ASEM11 Summit in Mongolian capital Ulaanbaatar on July 15-16.
The prime minister said militancy and terrorism is not a concern of any single country. The whole world is reeling on the dreadful situation and a global consensus has already taken shape against the terrorists and militants.
However, the prime minister said in Gulshan terror attack there might have been hand of the ulterior local and foreign groups which could not accept our development amidst global economic slowdown.
Sheikh Hasina said a national consensus has been created among the people of the country against terrorism and extreme violence, except those who have link with militancy and terrorism and have records of war crime and burning people alive.
"But unity of the common people which is truly required for eliminating terrorists, has already been forged and this unity will continue," she said.
Denying the notion that international media exaggerated the terror news of Bangladesh, the prime minister rather blamed it on local media saying international media is not so curious like local ones in broadcasting live the incidents.
"They broadcast an incident carefully avoiding its horrific side. But our media don't care about it and they even disclose and bring in live telecast of the preparation of the law enforcing agencies against the criminals," she said.
The world media always use local media as its source, she said adding that during Gulshan terror attack international media including CNN have rallied the news and pictures of Bangladeshi television channels. "So whom we will blame?" she asked.
Sheikh Hasina said her government is giving importance on sharing intelligence information with foreign countries to identify the persons who are behind motivating the sons of well-off families to be radicalized as well as their financier, arms suppliers and trainers.