Vested quarter plotting abroad against govt: Quader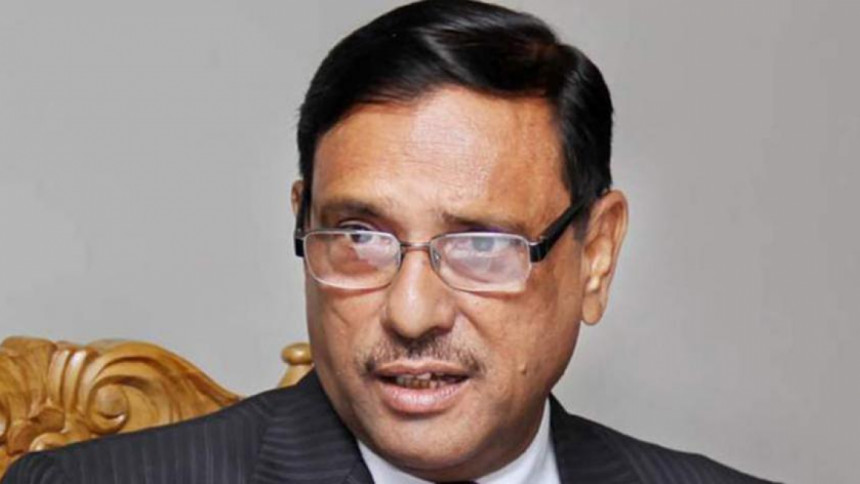 Awami League General Secretary Obaidul Quader today said that a group of vested quarter is drawing a plan abroad in a bid to grab state power after plunging into a severe political setback.
"Who is going where from London and Bangkok and what they are talking about? I know everything about those are maintaining key mediating role for this purpose. Just be careful," Quader made the warning pointing finger at BNP Chairperson Khaleda Zia, now staying in London for treatment purpose.
After coming out of a hole, BNP has started doing excessive centering the Supreme Court verdict that declared the 16th amendment to the constitution illegal, Quader said while addressing the programme at the Institution of Engineers, Bangladesh marking the National Mourning Day.
Claiming that the upcoming general election will be held in a free, fair and tangible manner, Quader said BNP will meet the severe setback in the voting politics and thus it has chosen the path of foreign level conspiracy.
He also called upon the party's youth front leaders and activists to be united to pay the evil forces appropriately and said BNP along with Jamaat activists is planning to engage in politics of atrocities ahead of the 11th national election.
About political dialogue, Quader also a road transport and bridges minister said, "Khaleda Zia has hurt us by cutting cake to mark her fake birthday. On which ground, we will sit across the table with them?"      
He also criticised BNP men as they did not stand besides the flood victims but stage photo session without distributing relief materials.