History can't be erased: PM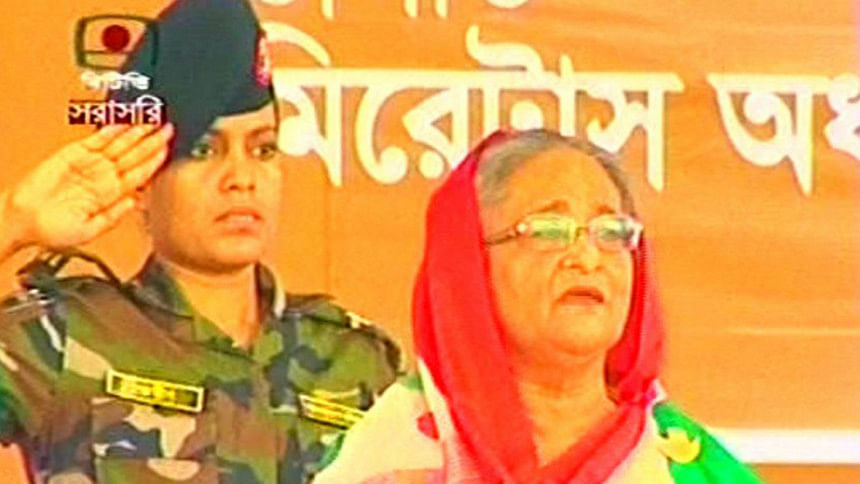 Prime Minister Sheikh Hasina today called upon the countrymen and the pro-liberation forces to remain alert so that the defeated forces of Pakistan cannot get the scope to distort the history.
"A group of people were trying to erase the name of Father of the Nation Bangabandhu Sheikh Mujibur Rahman and his 7th March speech. History cannot be erased and they could not be able to do this," Hasina said.
Claiming that the publicity of the 7th March speech was prohibited for long by the evil force of Pakistan, Hasina said the history takes revenge if anyone wants to distort it.
"Don't they feel embarrassed after the recognition of the Unesco? They are evil forces of Pakistan indeed though they now are living in Bangladesh," Hasina said.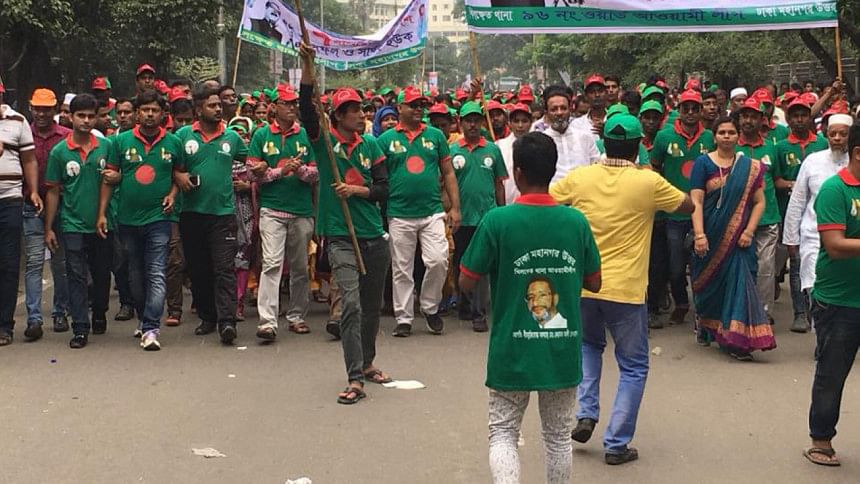 The premier said the people, who were trying to erase the speech of the 7th March, killed Bangabandhu Sheikh Mujibur Rahman along with his family members on August 15, 1975.
Hasina, also president of the ruling Awami League, called upon the countrymen and the pro-liberation forces to remain alert so that the anti-liberation forces cannot emerge in the country ever.
She also thanked the Unesco and its member countries, who have voted in supporting the recognition of the 7th March speech, and said this is not only a recognition, rather it is an honor shown to those were killed in the War of Independence in 1971.
Referring to several historically recognised speeches of different famous leaders across the world, Hasina said all the speeches were written while the 7th March speech of Bangabandhu was unwritten. 
"There was no any note in his (Bangabandhu) hand when he was addressing the rally at Suhrawardi Udyan on that day," she said.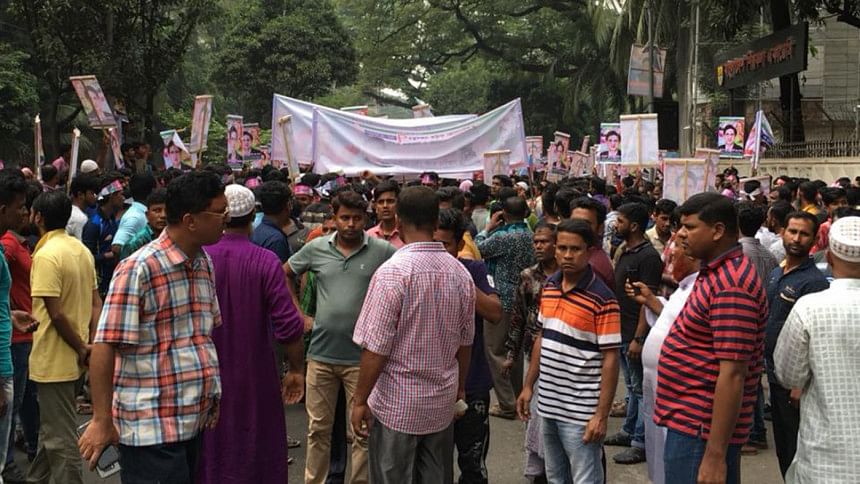 She was addressing a rally at Suhrawardy Udyan in Dhaka organised to celebrate the recognition of the historic 7th March speech of Father of the Nation Bangabandhu Sheikh Mujibur Rahman as a world documentary heritage.
Awami League organised the rally under the banner of Nagarik Committee. Professor Emeritus Dr Anisuzzaman presided over the programme.
AL general secretary Obaidul Quader and other top leaders also addressed the rally.
Several thousand leaders and activists of the ruling party thronged the venue in processions with banners, placards and festoons.
On October 30, the United Nations Educational, Scientific and Cultural Organisation (Unesco) recognised the Bangabandhu's historic March 7 speech as part of world's documentary heritage.
Unesco Director General Irina Bokova announced the decision at the Unesco Headquarters, Paris.
According to the decision, Bangabandhu's 7th March speech has been included in the Memory of the World International Register, a list of world's important documentary heritage maintained by the Unesco.