Aslam shown arrested in 2 arson cases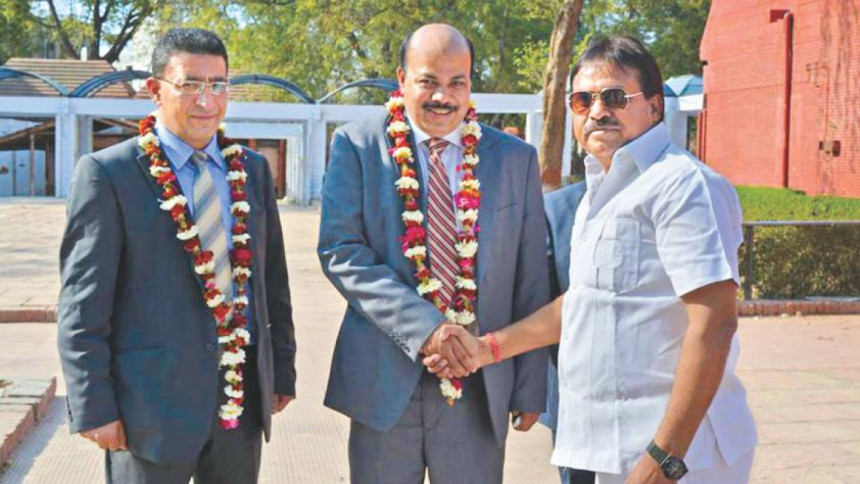 BNP leader Aslam Chowdhury has been shown arrested in two arson cases filed with Motijheel and Lalbagh police stations in January last year.
Metropolitan Magistrate in Dhaka Maruf Hossain granted the petition submitted by Anwar Hossain, a sub-inspector of Detective Branch of police, to show Aslam arrested in the arson case filed with Motijheel Police Station.
The SI, also the investigation officer of the case, prayed for a seven-day remand for Aslam but the court fixed May 30 for hearing the petition.
Meanwhile, another Dhaka court granted a petition filed by DB Inspector Emamul Islam, also the IO of the case filed for torching a vehicle in Dhaka's Lalbagh area on January 4 last year.
The IO prayed for Aslam's 10-day remand but the court is yet to fix any date to hear it.
Earlier in the day, Aslam was produced before the court of Metropolitan Magistrate Loshkar Shohel Rana on completion of his seven-day remand in connection with a case over alleged plot with Israel to topple Bangladesh government.
The court sent him jail after rejecting Aslam's bail petition.
Aslam who had drawn controversy after meeting an Israeli political leader in India early this month, was arrested by detectives Dhaka on May 15.
Known to be a trusted lieutenant of BNP's senior vice-chairman Tarique Rahman, Chittagong-based businessman Aslam came under severe criticism both in and outside the party after several photographs went viral in social media showing him with Mendi N Safadi, a leader of Israel's Likud Party and chief of International Diplomacy and Public Relations.
Several photographs posted in the Facebook page "Mendi N Safadi Center -- for International Diplomacy and Public Relations" show the two attending programmes in India early this month.