PM urges party leaders to know real problems of the masses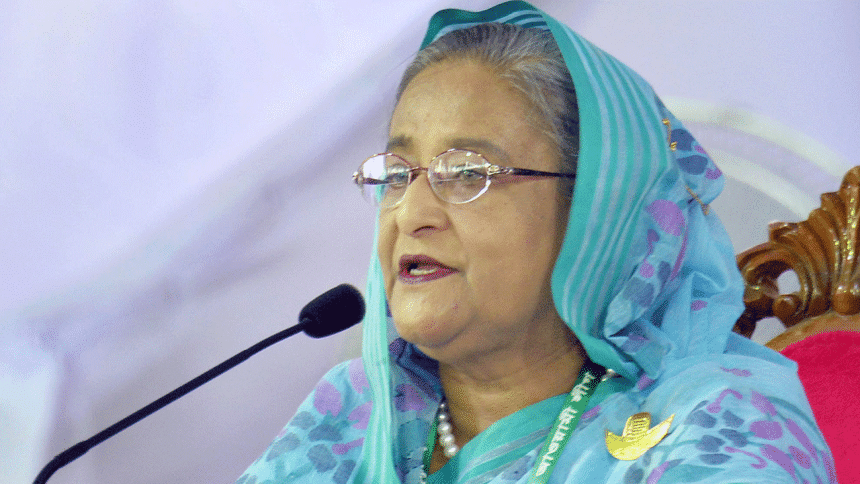 Prime Minister and Awami League President Sheikh Hasina today urged the party leaders to establish their close link with common masses to know their real problems and inform those to top level of the government so that steps can be taken for their solution.
"The main responsibility of the party leaders is to know the real problems of the people and let us to know those problems," she said while addressing the first meeting of the newly constituted presidium of Bangladesh Awami League ( AL) at her official residence Gonobhaban here this evening.
Pointing out the steps taken by her government for country's socioeconomic development, the prime minister said we would take steps for development and the party's duty is to help us in doing this," she added.
Prime minister and president of the Awami League Sheikh Hasina presided over the meeting.
The prime minister said Bangladesh's socioeconomic progress is now very visible. So foreign leaders who took part in the national council lauded Bangladesh's progress.
"We have to remind that Bangladesh was born as an independent state to live keeping its head high amidst the world community, the prime minister said.
The national council of Awami League held on October 22 and 23 last constituted its new presidium.
Names of 16 members of the presidium out of 19 were announced immediately after the council. Names of three others would be announced later.
Presidium members Sayeda Sajeda Chowdhury, Matia Chowdhury, Sheikh Fazlul Karim Selim, Mohammad Nasim, Kazi Zafarullah, Sahara Khatun, Engineer Mosharraf Hossain, Nurul Islam Nahid, Dr Abdur Razzak, Faruk Khan, Abdul Mannan Khan, Ramesh Chandra Sen, Pijush Kanti Bhattachariya and general secretary of the party Obaidul Quader attended the meeting.