FIVE YEARS AFTER RANA PLAZA TRAGEDY
'We will mourn the dead and struggle for the survivors'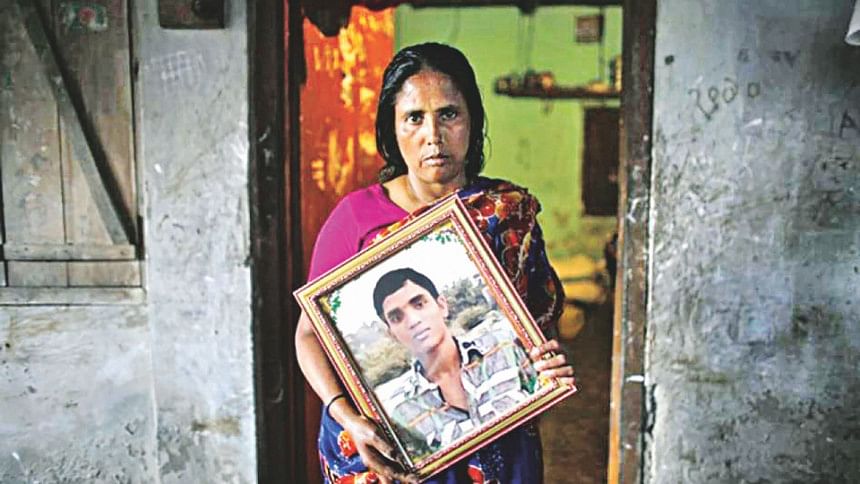 This Garment Sramik Sanghati slogan is a response to Rana Plaza—a death trap for 1,135 workers, and many more injured and disabled. A tragedy caused by a corporate violation of rules, neglect of responsibility in a global chain that starts in the villages of Bangladesh and reaches the world's capitals.
But Rana Plaza has also set an example of humanitarian rescue by local volunteers, surgical and prosthetic interventions in local hospitals and international cooperation between governments, brands, local manufacturers and trade unions to protect workers' right to compensation and safe work.
In the post-disaster management, innovative initiatives were taken to support workers. The Rana Plaza Trust Fund set up in 2014 was coordinated by ILO and received voluntary financial contributions (amounting to about 30 million dollars) from global brands, BGMEA and the PM's relief fund. It set up an elaborate arrangement to assess each claimant's needs following ILO standards. Sadly, the delay in raising the funds deprived workers of immediate support and may have left them indebted. Several organisations such as CRP and BRAC accepted responsibility for long term medical care for about 2,015 badly injured workers. Two coalitions ACCORD and ALLIANCE were formed under pressure from national and international trade unions and NGOs for the inspection and remediation of factories where necessary. The workers were to be paid for any loss of wages due to remediation. These initiatives promised that Rana Plaza would not happen again.
Five years on, while some of this work is ongoing, workers' legal claims for compensation (both for the dead and injured) have yet to be established by the courts. While Sohel Rana, owner of Rana Plaza, was stopped from crossing the border surreptitiously and has been detained in jail, legal procedures for establishing responsibility for violating building codes that led to the disaster or enforcing worker attendance by five factories have been slow in progress. These lapses in the workings of public institutions need to be overcome so that the Rana Plaza chapter is closed and the garment industry is made safe for workers.
Compensation claims
The process for determining fair compensation has dragged on. The High Court on April 30 2013 (in a suo motu rule) had directed the GOC of Ninth Division Savar to set up expert committees for assessing compensation claims and medical needs of workers. These directions were acted upon in September 2013. The GOC set up two committees, one to decide on modalities for compensation claims and the second to assess rehabilitation needs of the injured. After studying various precedents in other countries, the Compensation Committee recommended Tk 1.5 million for families of the dead, missing and severely injured, and one million for the disabled. The committee also recommended that funds be contributed by the brands, BGMEA, factory owners, government in the proportion of 45:18:28:9.
The Expert Committee's estimates were considered modest by IndustriALL Bangladesh and SKOP, who proposed a higher compensation ceiling based on the life expectancy of young workers supporting a family of four to six persons, cost of medical care, rehabilitation as well as pain and suffering. Even before the Rana Plaza disaster, trade unions had demanded that the Bangladesh Labour Act 2006 be amended to raise the archaic amount of compensation of Tk 1 lakh inherited from colonial legislation.
The committee submitted its recommendations by the end of the year, but five years on a High Court bench has yet to examine this report and establish legal claims to compensation. Unless the courts fulfil their responsibility and ensure payment by employers, workers are being denied their rights to compensation in case of accidents at work. The court's decision in the Rana Plaza case would be a precedent and establish a standard for compensation for a diversity of damages.
Corporate negligence
The systemic lapses responsible for the building collapse have yet to be determined by the courts, although several criminal charges have been filed against Sohel Rana for using the land for industrial purposes, for building nine floors when he had permission for a lower building, and for allowing the placing of heavy machinery on at least five floors. According to investigative fact-finding reports, heavy machinery used by the export garment factories was located on five upper floors. The court also issued instructions to the Bangladesh Bank to freeze the accounts of the five factories in commercial banks, except to pay workers.
Once again, the court hearings and verdicts are yet to come. There can be little doubt that political influence was used to violate building rules, including obtaining permission for impermissible construction. The factories too have been questioned by the trade unions for intimidating their workers into attendance on the morning of the collapse. These deaths could have been avoided by timely monitoring by regulatory mechanisms, but the labour inspectors and fire departments have generally evaded responsibilities and overlooked corporate lapses in fire safety rules or neglected labour department inspection.
Safety at work
Because these traditional audits had failed to ensure workplace safety, transnational governance had been taken on by ACCORD and ALLIANCE, (two coalitions of brands) to undertake remediation processes where necessary. This initiative of transnational governance came about following Rana Plaza, as a result of concerted pressure from European trade unions, NGOs and local trade unions. Their reports may indicate if workers laid off during closure of factories were given compensatory wages.
Subsequent to this, a National Tripartite Plan of Action on Fire Safety and Structural Integrity was adopted as the main framework document for improving working conditions in Bangladesh's garments industry. Key activities identified in the integrated NTPA include assessment of the structural integrity and fire safety of RMG factory buildings, strengthening labour inspection, worker and management training and awareness of occupational safety and health and worker rights and rehabilitation of disabled workers.
Profits play a decisive role in the global chain of garment exports and are often made at the costs of workers' rights. But if the garment export industry is to remain a lifeline for Bangladesh, and workers are an essential part of a global chain, their safety and conditions of work must take precedence over other concerns.
We need to ensure that the garment industry grows not at the cost of workers' lives but as a model industry compliant with all health and safety regulations, as prescribed under national and international law.
Let us do more than pay homage to the graves of the Rana Plaza victims by ensuring that adequate compensation is fixed and amounts disbursed without delay to all workers.
Let us ensure that standards for compensation are legislated and implemented without delay.
And let us not calculate profits when deciding on making the industry safe for workers.
---
Hameeda Hossain is Convenor, Sramik Nirapotta Forum.
---
Follow

The Daily Star Opinion

on Facebook for the latest opinions, commentaries and analyses by experts and professionals.
To contribute your article or letter to The Daily Star Opinion, see our

guidelines for submission

.
---