The Modi Decade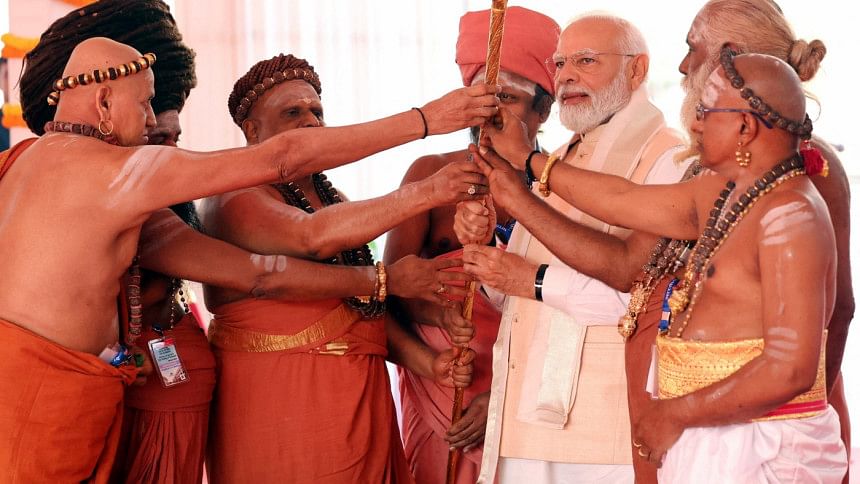 Last week, Indian Prime Minister Narendra Modi's government inaugurated a new parliament building in New Delhi. It was supposed to symbolise the vision of a "new India" that Modi and his ruling Bharatiya Janata Party (BJP) claim they have been realising during their nine years in power. But the building has proved highly controversial, with 20 opposition parties boycotting the inauguration ceremony – the latest manifestation of the seemingly irreparable breakdown in relations between the opposition and the government.
As a member of the opposition, I, too, have strongly criticised the Indian government's policies, rhetoric, and functioning. But the fact is that Modi reportedly enjoys the highest approval ratings of any world leader. As we approach the beginning of an election year, it is worth considering the sources of this support.
The Modi government can claim some notable accomplishments. The most obvious has been the rapid construction of much-needed infrastructure, including new airports, ports, and highways, enabled by streamlined procedures, quick approvals, and extensive reliance on private contractors. The infrastructure boom has changed the face of many parts of India, and the work continues, with large new investments in modernising India's railway network – one of the world's largest, but among its creakiest.
The government has also strengthened the social safety net for millions of poor Indians. Though Modi campaigned in 2014 against the previous government's welfare schemes, which he claimed were colossally wasteful and bred a culture of dependence, his government has presided over the provision of toilets, cooking-gas cylinders, cash transfers to farmers, and access to electricity and clean drinking water in rural India.
Such initiatives are not perfect – toilets lack enough running water, women are unable to afford to refill gas cylinders, and electricity supplies are erratic. But they have undoubtedly improved the quality of rural life, especially in the poor states of the northern "Hindi Belt."
The Modi government has also overseen progress in the diffusion of technology. The proliferation of smartphones with cheap data plans has connected nearly a billion Indians to the internet. The much-vaunted "India Stack" – comprising government-backed application programming interfaces (APIs) – has enabled private companies to build the online commons. A startup culture has developed, mainly in the tech domain, and several unicorns (startups valued at more than $1 billion) have emerged.
When a Pakistani video blogger gushes about Indian street vendors offering Paytm QR codes on their tea carts, or bankers rave about India's Unified Payments Interface (which transfers money directly between bank accounts), India gains in global esteem. The government's claim to have reduced "leakage" by delivering welfare payments directly to beneficiaries' accounts is credible.
Finally, Modi has invigorated Indian diplomacy, traveling tirelessly around the world, hugging world leaders, and addressing raucous rallies of Indian expatriates in foreign capitals. India's relations with the United States and its allies have never been better, and cooperation with key Gulf countries has never been closer.
But these successes have been offset by far less admirable policies. The BJP's belligerent Hindutva nationalism – which promotes a narrow interpretation of history and demonises India's minorities, particularly Muslims – can be likened to a toxin injected into the veins of Indian society.
With BJP leaders and their acolytes in the Hindutva "Parivar," or "family" of associated organisations, regularly spouting inflammatory and divisive rhetoric, it should be no surprise that violence has surged. Muslims have faced lynching by so-called cow vigilantes, and some Christians have been subjected to vandalism and assault during the Christmas season.
Though Indian elections remain free and fair, anti-democratic trends have taken hold between votes. Dissent is framed as disloyalty, with criticism of government policies labeled "anti-national." The tax agencies and financial police have been unleashed against opposition leaders and their supporters, and "bulldozer justice" has been dispensed mainly against Muslim protesters – whose homes and businesses are literally bulldozed – without due process.
Moreover, the autonomy of Indian institutions – from the Reserve Bank of India to the Election Commission – has been weakened. Even the judiciary has come under pressure. Parliament has been reduced to a bulletin board for government decisions.
The Modi government has also fallen far short on economic policy. Despite the progress in areas like transport infrastructure and technology diffusion, India has a long way to go on many fronts, particularly schooling, skills development, sanitation, and public health-care facilities.
Likewise, the benefits of economic growth have failed to reach the poor and lower-middle class. Unemployment is at record highs, and female labor-force participation is plummeting. Many small and micro-enterprises had to be permanently closed after the disastrous demonetisation of 2016. Farmers are struggling to cope with falling incomes. Budgetary allocations for many essential welfare programmes, including the National Rural Employment Guarantee Scheme, have dwindled. Crony capitalism is rampant.
The Modi government's response to the Covid-19 crisis also left much to be desired. Though Indians were eventually vaccinated, images of migrant workers trudging homeward during a nationwide lockdown still haunt the country. And while the government claims that less than 500,000 people died, the World Health Organization estimates that the real figure is 10 times higher, raising questions about the reliability of official statistics.
The jury is still out on the Modi government's handling of several other challenges, from the Ukraine war to Chinese encroachments along the disputed Himalayan frontier. It is far from clear that India is prepared to handle a conflict with China or Pakistan (or both). The 2015 deal to buy 36 Rafale fighter jets from the French company Dassault Aviation continues to draw controversy, owing to contractual irregularities.
India's first prime minister, Jawaharlal Nehru, is the only one to have won three successive terms in office. Next year, the Indian people will weigh Modi's mixed record and decide whether it warrants making him the second.
Shashi Tharoor, a former UN under-secretary-general and former state minister, is an MP for the Indian National Congress. He is the author, most recently, of Ambedkar: A Life.
Copyright: Project Syndicate, 2023
www.project-syndicate.org