Well done, BCL sisters!
People are now finally noticing how good our young women are in cricket – especially after their consistent wins in international tournaments which made them more impressive than their male counterparts. Not that they were treated with the same pampering and reverence that our male cricketers get from the state or society. At least their prowess and skills are being acknowledged.
But now we must recognise a different arena where some women are "excelling," with the apparent support of the powers that be. These are the female student cadres of the ruling party who are following the playbook of Bangladesh Chhatra League (BCL) to the T.
Remember last year in Eden College, when two factions of BCL's women members got into violent clashes? A student leader was accused of torturing two female students (also members of the BCL) for six hours. There was a video of the ancient act of chula chuli (tearing each other's hair out), associated with long-haired banshees, as well as reports of universal torture tactics like punching, kicking, and even a case of asphyxiation using a scarf.
The latest news of female thuggery comes from the Islamic University in Kushtia, where a woman Chhatra League leader and several of her cohorts allegedly took a female student to a common room and tortured her for four hours, because she had stayed in the dorm without informing them. According to the student's formal complaint, the attackers clamped her mouth and continued to beat her up while verbally abusing her and threatening to kill her. They used the common language of political thuggery, "Do you have any idea who we are, how bad we can get?"
In typical gangster style, they allegedly kicked her, gagged her, choked her with a scarf while spewing creative expletives at her. At one point, these female Attilas stripped their victim, took videos and threatened to release them on social media if she dared to disclose what had happened to her. The victim, despite being terrified enough to escape to her village home, still displayed the courage to file a complaint.
Not surprisingly, the leader of the gang completely denied the allegations, saying she had always helped other female students and looked out for their interests. She told the media that she had also submitted a written complaint to the university administration against the student who was allegedly tortured, and had filed a separate complaint against her, signed by many of the resident students.
If you think this was a one-off incident, think again.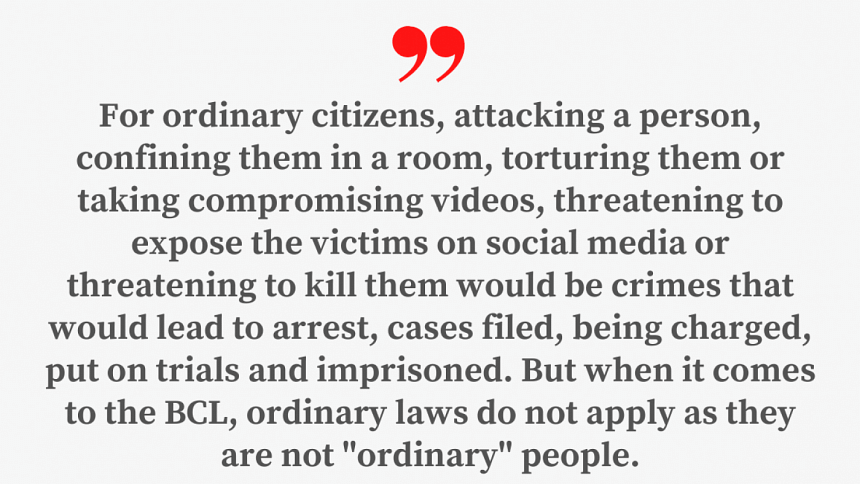 According to a Prothom Alo report, other students who were approached but who would like to remain anonymous (and perhaps alive), said the student leader and her gang tortured another student last year.
Interestingly, the Chhatra League brothers have also been active again despite all the negative publicity from the Abrar Fahad murder in Buet in 2019, when the level of terror wielded by the university mafia was on full display by the media, leading to public outrage and a befitting court sentence.
This time, the "show of strength" came from BCL's Chattogram Medical College chapter. Four students were beaten to a pulp as they were suspected to be members of Islami Chhatra Shibir. Of course, that seemed like enough reason to attack, torture, and send individuals to the ICU, as was the case with two of the victims. The "aggrieved" cadres even went inside the ICU and threatened the two again. The two were shifted to a cabin and had to have security outside the door, lest the angry men came back for more blood.
Like the war cry of the Sentinelese (one of the most aggressive tribes of the world), the instructions to attack and annihilate "the enemy" – however far-fetched the perceived threat may be – are reaching educational institutions in other districts, too. In Rajshahi University, BCL leaders allegedly confined a student and tortured him, accusing him of belonging to Islami Chhatra Shibir and threatening to kill him. When the victim said that he was Hindu, which made him an unlikely member, the attackers allegedly said, "Then nobody can do anything if we kill you."
These examples of "showing brawn" may not just be the regular practice of controlling the university residential halls that have survived and prospered over the decades, leaving the university administrations – especially the authority of the hall supervisors and proctors – quite redundant. Such practices may be part of a well-thought-out election-year strategy to re-establish the BCL's "supremacy" in the form of terror, and justify violence through labelling individuals who show the slightest signs of nonconformity as belonging to Shibir. If this is the case, we will be hearing or reading about regular incidents of students being tortured or thrown out of halls for being "Shibir members," although the real reason is as simple as not showing enough "respect" to the Boro Bhais or Apas.
For ordinary citizens, attacking a person, confining them in a room, torturing them or taking compromising videos, threatening to expose the victims on social media or threatening to kill them would be crimes that would lead to arrest, cases filed, being charged, put on trials and imprisoned. But when it comes to the BCL, ordinary laws do not apply as they are not "ordinary" people.
The image of women as nurturers and champions of peace and non-violence is taking a heavy hit in the wake of these bellicose female cadres. Their wrestling and fighting skills would have been better utilised in Wrestle Mania matches or for commando operations in the armed forces. But one thing is for sure: when it comes to complete disregard for academic environment, the law, or basic humanity, they are fast catching up with their "bros."
Aasha Mehreen Amin is joint editor at The Daily Star.