Why are we paying so much for healthcare?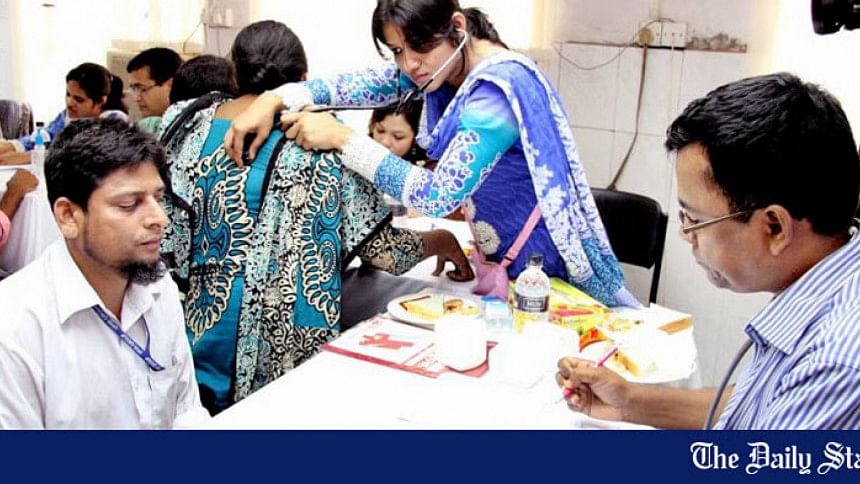 Why do we see people begging on the streets or in front of mosques? Some beg to buy clothes or food. But there are others who beg out of desperation, in order to finance the medical expenses of themselves or their loved ones.
One study, based on data from the Bangladesh Bureau of Statistics (BBS), found that the catastrophic health expenditure (CHE) among households in Bangladesh stood at 26 percent in 2016-17. A household faces CHE when its out-of-pocket (OOP) spending on healthcare exceeds 10 percent of their total income or expenditure. An estimation based on the BBS' Household Income and Expenditure Surveys shows that the CHE is rising. And, each year, around five million people in Bangladesh fall below the poverty line due to high OOP healthcare spending.
However, Bangladesh aims to achieve Universal Health Coverage (UHC) by 2030. This means that all citizens of the country would have access to quality healthcare and financial protection. Undoubtedly, this is a much-needed initiative to achieve our Sustainable Development Goals while also ensuring the constitutional obligation of the government to provide healthcare services to all citizens.
In line with achieving this goal, the Ministry of Health and Family Welfare (MoHFW) published the Health Care Financing Strategy 2012-2032 in 2012. The strategy was designed as a framework for how the UHC would be achieved. It identified three broad challenges in health financing in Bangladesh: inadequate health financing, inequity in health financing and utilisation, and inefficient use of existing resources. The plan also proposed three key strategic interventions as a way of countering the challenges and increasing financial protection for the population.
Eleven years since the report was published, let us briefly break down the progress we have made in overcoming the challenges. The distribution of the total health expenditure in Bangladesh can be divided into out-of-pocket expenditure (from citizens), government financing, and private financing. In 2012, the government expenditure on healthcare was 26 percent, and the goal was to increase this to 30 percent by 2032. Instead, it has declined to around 23 percent. In 2012, there was no social health protection scheme, but the target was that it would constitute 32 percent of total health expenditure by 2032. Unfortunately, a national social health protection scheme is still not in existence. One such scheme, the Shasthyo Suroksha Karmasuchi, was launched in 2016 on a pilot basis in Tangail and is only now being expanded on a limited scale to six other districts.
OOP expenditure, which constitutes the lion's share of total health expenditure in Bangladesh and is a reason why so many people face CHE, was 64 percent in 2012. The goal then was to reduce it to 32 percent in 2032. However, OOP medical spending stood at 68.5 percent in 2020. In short, we seem to have gotten worse over the last decade.
So, why have we not been able to overcome the challenges outlined in the government's health financing report? The reasons behind this are numerous and complex. According to the World Bank, there are bottlenecks in Bangladesh's public financial management system, which are hampering the implementation of the Health Care Financing Strategy. Removing the barriers in the system – which would not require much resources – can significantly improve the value for money in the government's health budget. The health budget has consistently remained below six percent over the past decade. This is problematic because the WHO's recommended allocation for this sector is 15 percent. Moreover, the problems are further exacerbated because 20-30 percent of the allocated health budget remains unspent each fiscal year.
We need to remove existing barriers and implement the interventions mentioned in the Health Care Financing Strategy. However, we must also add supplementary innovative solutions that can help increase financing protection. For instance, the Institute of Health Economics at Dhaka University found that levying a monthly fee of Tk 21.5 on each active mobile phone subscriber can generate financial protection of Tk 500,000 for at least 60,000 cancer patients. This minimum charge can be used to provide health protection for patients of other leading non-communicable diseases as well. Similarly, CMED Health is using AI-driven health kits and trained paramedics to provide preventive healthcare through doorstep health screening in various districts of Bangladesh. Their comprehensive services can be availed at only Tk 100.
If the government can collaborate with such startups, which are providing cost-effective solutions, a lower number of households will have to face catastrophic health expenditure as they will be able to identify non-communicable diseases early on and prevent them. Healthcare financing is a crucial facet for a country aiming to obtain universal health coverage. It is time for collective efforts to be made by the government and stakeholders, and for innovative ventures to pave the way for a healthier and more prosperous future for Bangladesh.
Mohammad Ihtesham Hassan is a health economist and a research associate at AIMS Lab, UIU.