Two weeks in the dysfunctional megacity of Dhaka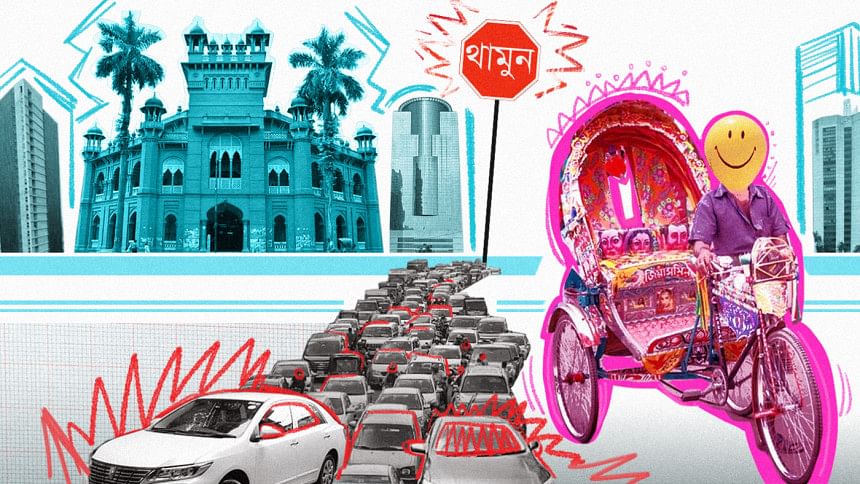 Ever since leaving Dhaka in 1975, I would visit Bangladesh once every two to three years. But this time around, after a gap of six-and-a-half years, thanks to Covid-19 and a major medical procedure I had to undergo, my wife and I left New York in the late evening hours of April 4 and reached Dhaka in the wee hours of April 6.
The first thing that struck me about Dhaka is the sheer number of people. When I left Dhaka for the US 48 years ago, it was a small city of 2.2 million souls in a poor and underdeveloped nation, where life was simple but beautiful. Today, Dhaka is a dysfunctional megacity, an economic hub that has grown chaotically – outwards and upwards – to absorb more than 20 million people who live there, and hundreds of thousands more arriving each year. The explosion in Dhaka's population has visibly contributed to the shrinking of public parks and environment-friendly green spaces. Yet, bursting with so many people living in a concrete jungle, Dhaka is a boisterously noisy and chaotic city, bubbling with never-ending energy.
As always, Dhaka experiences huge volumes of traffic every day, leading to congestion problems. Frequent traffic jams made travelling around the city annoying and time-consuming. Despite our driver performing some questionable manoeuvres, a drive from our house in Dhanmondi's Road 4 to the Curzon Hall took nearly 90 minutes.
The traffic is dominated by endless streams of cars, vans, motorbikes, unroadworthy buses, CNG-run auto rickshaws, scooties, bicycles, and rickshaws, alongside pedestrians, all of which often meet near-accident situations. All these modes of transportation violate traffic rules and regulations, move haphazardly, park unsystematically, and, above all, cause fatal accidents.
The strategy of the drivers is to keep their vehicles moving no matter what, even in chock-a-block conditions. When they cannot propel their vehicles forward, they move sideways, cross lanes, and nose their way in between vehicles even if the only movement possible is of an inch or two. Furthermore, vehicles make right turns from the left-most lane, a no-no in other big cities of the world. And the traffic cops, clueless about what to do, while away their time surfing the net on their phone.
I found the average traffic speed equivalent to the walking speed of a pedestrian, or at times slower, resulting in a loss of millions of working hours per day. Moreover, even though there are several flyovers at some of the busiest intersections of the city, they do not seem to have any significant effects on traffic.
During my stay, Dhakaites were staring at another sizzling summer, with daily temperatures flirting with 40 degrees Celsius, and the capital recording its highest temperature of 40.2 degrees (44 degrees with heat index factored in) in 58 years on Pahela Baishakh, the first day of the Bangla new year. Although people here are resilient in a way that both humbled and inspired me, the record-setting heat and humidity prevented us from witnessing the Mongol Shobhajatra and other outdoor festivities and cultural events of the day. Like it or not, unbearable heatwaves are here to stay and will progressively get worse.
Dhaka has the dubious distinction of being one of the 10 most polluted cities in the world, with the Air Quality Index invariably close to 200, thereby reducing average life expectancy substantially. According to the World Health Organization, "Since 1998, air pollution has increased by 39 percent, reducing the average life expectancy of a Bangladeshi citizen by 2.1 years."
Hence, we had to be extra careful in choosing the days to be outdoors.
There was virtually no escape from noise pollution, no matter where we were – in our homes and gardens, on the streets, inside our cars, at parks, and in other public places. Most of the noise is due to the cacophony produced by the horns of vehicles plying the roads, highways, byways, and lanes of the city, in addition to construction equipment (such as jackhammers, compressors and bulldozers). Oftentimes, the sound intensity level was very close to the threshold of pain, which is 120 decibel. This is the maximum loudness humans can be subjected to, after which sound can be felt rather than heard.
As if Dhaka's air pollution, oppressive heat, traffic and noise problems are not enough to make life unpleasant, Dhakaites must also cope with the staggering quantity of solid waste generated by an increasingly affluent society that habitually attempts to throw away their garbage in the most eco-unfriendly way. We found garbage everywhere in Dhaka – by the roads, on the roads, around the parks, in the parks, surrounding the playgrounds, in the playgrounds, by the lakes, in the lakes, inside the trash cans, and outside the trash cans. Consequently, we had a difficult time defending our sensitivities from these unsightly and smelly midden heaps.
While visiting the Curzon Hall, we were appalled to see the front lawn littered with leftover food, plastic bottles and cutleries, straws, paper cups and plates. Additionally, plastic bottles and other forms of trash blatantly unveiled themselves at the banks of lakes and rivers. As is well-known, plastic pollution is a prelude to the greater story unfolding further away in the world's oceans.
Notwithstanding that my time in Dhaka was brief, I was nevertheless highly impressed with the direction the country is headed. I was happy to learn that a large percentage of people are attending schools, colleges, universities, and vocational institutes.
I noticed a significant increase in female participation in the economic growth of Bangladesh. Now, besides the readymade garments industry, women are working in Bangladesh Civil Service, multinational corporations, NGOs and banks, aviation, media, information technology, defence and police forces, as well as operating trains. More importantly, in high-profile professions, such as civil service and businesses, some of them are at top-tier managerial positions, playing influential roles as decision-makers.
Unlike the hustle and bustle of unruly traffic in the city, the smooth, seamless drive on the Bangabandhu Super Highway and across the mighty Padma River on the newly-built bridge – an engineering marvel – was a pleasant surprise. Also, buying hilsa from an auction market at the Mawa ferry ghat was exciting.
I was delighted to see that rickshaw art at the back of rickshaws – the quaintest and most ubiquitous of all the vehicles on Dhaka's streets – still exists. The art represents an impressive canvas of plebeian dreams, aspirations, and obsessions, all skillfully painted onto the metal bodies by local street artists. Popular motifs are lush vistas of rural Bangladesh, scenes of idyllic pastoral life, ornate renditions of birds, animals, and fish, and ruddy-cheeked portraits of cinematic heroes, heroines, and villains.
Dhaka may not be a place for tourists to go on a holiday to shoot pretty pictures and post them on social media, but the countryside is still laidback and gorgeous. We spent a restful day at a farmhouse in Sarabo (between Savar and Ashulia), amidst a bucolic environment that was cooler, more peaceful and serene.
Finally, I think wherever we are, life is a juggling act, and we have to work hard to keep the juggling balls going around smoothly and in sync. However, in Dhaka, no matter how hard I tried, it was extremely difficult to juggle the balls smoothly. Perhaps if I had stayed long enough, I would have started to move with Dhaka's rhythm and truly embraced the furiously beating heart of the Bangalee lifestyle that is different from the one I left behind about five decades ago.
Dr Quamrul Haider is a professor of Physics at Fordham University in New York, US.