Moving mountains together
On December 11, we marked International Mountain Day, a day to reflect on mountains, their ecosystems, and the environment. We have the Chittagong Hills, which are the only significant hill system in the country, contain at least 75 mountain peaks, which range in altitude approximately from 600-1,000 m (2,000-3,300 ft) above sea level. Thus, the day has a deep relevance to the country.
Along with Bhutan, India, Nepal, and Pakistan, Bangladesh lies on the leeward side of the Himalayas. The Padma and Brahmaputra rivers flow down from the glaciers of the Himalayas and run into the Bay of Bengal through Bangladesh's national borders. The health of the Himalayan ecosystem impacts Bangladesh's weather and its access to clean water. And, as importantly, the climate crisis is affecting Himalayan ecosystem and these countries in multiple different ways.
Climate change does not respect borders, neither do pandemics, global commodity price shocks and economic instabilities. It is a global and regional challenge. Therefore, it is vital for countries in the region to act together on key cross-border challenges. This could include transboundary disaster risk mapping and disaster prevention, climate change mitigation, and energy trade among others.
Recognising the impact of mountain ecosystems on the environment, livelihoods, and disaster risks, Bangladesh, with seven other states including Afghanistan, Bhutan, China, India, Myanmar, Nepal, and Pakistan became a founding member and a core support contributor of the International Centre for Integrated Mountain Development (ICIMOD). The ICIMOD works in partnership with Bangladesh's government institutions, non-governmental organisations, academia, and the private sector.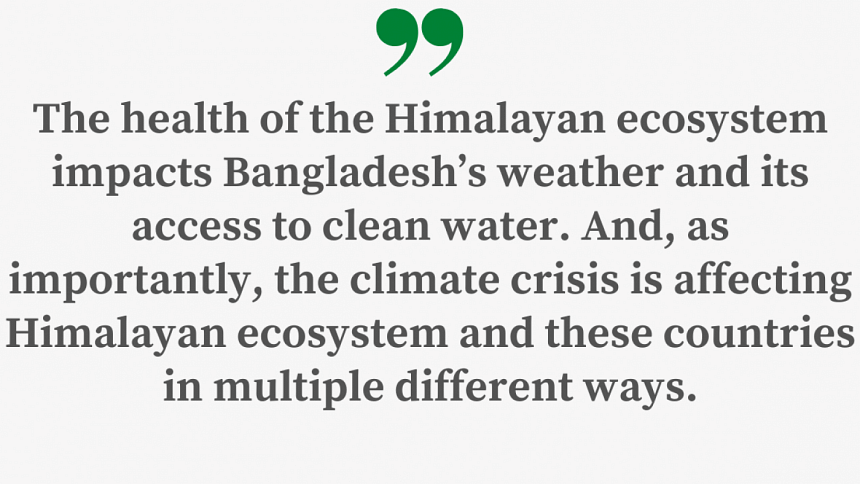 Climate action, biodiversity and ecosystem conservation and gender equality are key sustainable development goals of both the Bangladesh government and the UN. The theme of this year's Mountain Day is "Women move mountains." The UN in Bangladesh has several initiatives to support Bangladesh's government and communities to enhance the resilience of women to climate change, and promote their participation and leadership in disaster risk reduction. The National Resilience Programme, for instance, is a partnership between the government and UN agencies including the United Nations Development Programme (UNDP), UN Women, and the United Nations Office for Project Services (UNOPS) for gender-sensitive resilience building and disaster risk management and reduction.
In November 2021, the government and the UN in Bangladesh co-signed the UN Sustainable development Cooperation Framework, in which strengthening women's empowerment and resilience to climate change are strategic priorities.
Empowered women can move mountains. Empowered women drive solidarity across nations on critical challenges like climate change and disaster response. Celebrating International Mountain Day, we call for cross-border collaboration on the greatest challenges of our times, and for strengthening women's leadership on these challenges.
Together we can move mountains.
Md Shahab Uddin MP, is Minister of Environment, Forest, and Climate Change, Government of Bangladesh. Ms Gwyn Lewis is the UN Resident Coordinator in Bangladesh.