How can we expect farmers to survive on rice alone?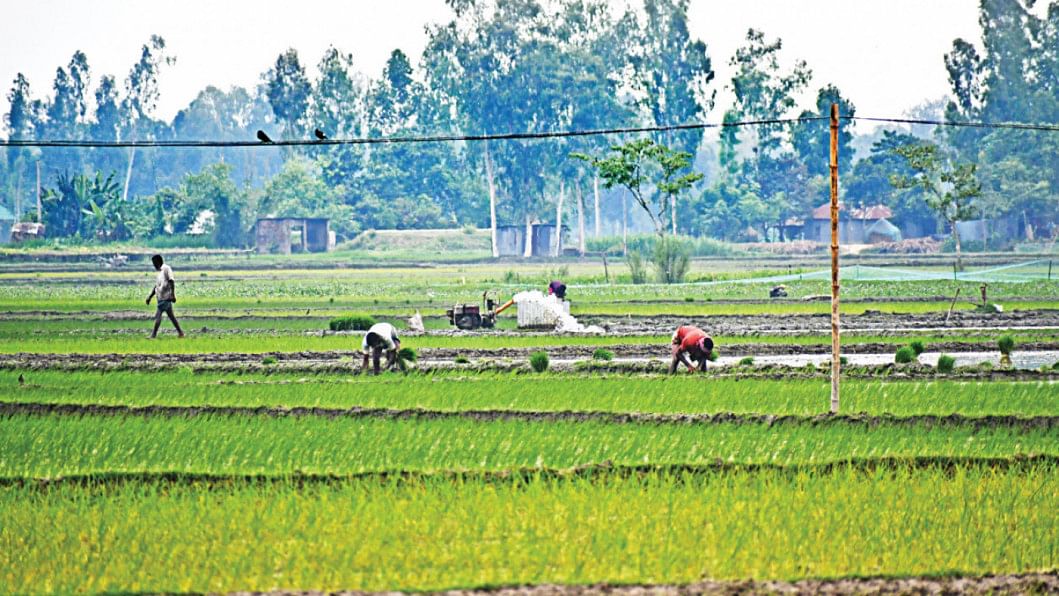 Farmers in our country are unable to make profit even if they cultivate paddy year after year. In the last five years, the cost of paddy farming has doubled in the northern districts, but the price and yield of rice have increased at an insignificant rate.
According to the Department of Agricultural Extension (DAE), Bogura, the cost of Aman production was Tk 11,495 per bigha (33 decimal) five years ago, and now it's Tk 18,607 per bigha. But farmers from Bogura, Gaibandha, Joypurhat and Dinajpur said the cost of production of one bigha of aman paddy is now more than Tk 20,000 to Tk 22,000.
Every time you ask a district's top agriculture official why marginalised farmers are not making any profit from paddy farming and why they should cultivate paddy, the answer is always the same. They say that farmers will grow paddy even if there is no profit because they have to survive by eating rice. Paddy farming ensures food security for farmers' families, and they can't give it up as they inherited the profession from their forefathers. Do you think that's a good enough answer?
One does not have to be a doctor or a researcher to understand that food security is not just about having rice three times a day. In very simple terms, food security means the availability of all types of nutritious food required by the body, which the farmer is deprived of every single day.
Along with rice, prices of other nutritious food like vegetables, meat, milk, and eggs have doubled after the pandemic and amidst the Russia-Ukraine war. Therefore, thousands of low-income farmers (landless, marginalised farmers) in village areas have been forced to cut down on food variety.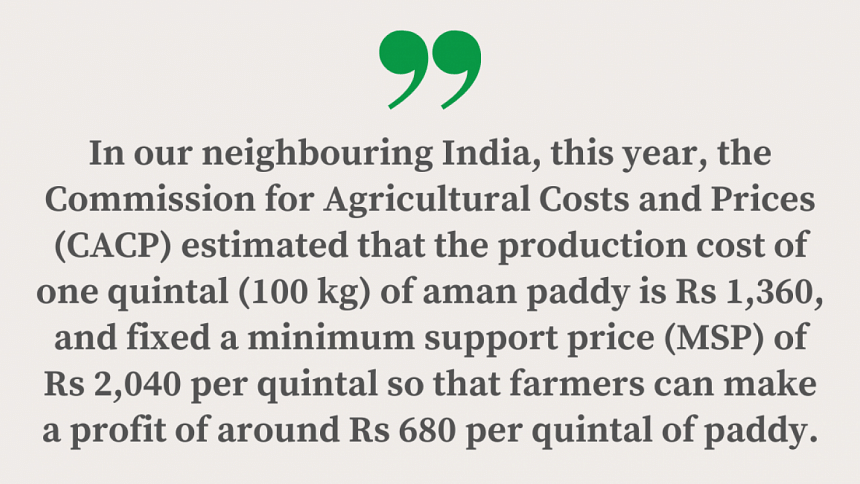 When commodity prices are high, farmers become more helpless. Due to the sharp increase in the means of production (input services) like seeds, tillage, irrigation, fertilisers, pesticides, fuel, and labour wages, their struggles increase.
On September 17, The Daily Star's Weekend Read published a report titled, "All, except farmers, profit from paddy farming". According to it, the Bogura regional office of the DAE recently estimated the cost of aman cultivation in Sirajganj, Pabna, Joypurhat and Bogura districts. The cost of producing Aman paddy per bigha (33 decimals) has been estimated at Tk 18,607, the yield of which has been estimated at 617 kg (about 15.5 maunds) per bigha. If the farmer sells all of it (15.5 maunds) and the straw at the current government price, he will get Tk 19,659 after four months of hard labour.
According to the DAE, the cost of producing one kg of paddy in the ongoing aman season is Tk 30 and Tk 1,200 per maund. The current government price for one kg of paddy is Tk 27. If farmers sell their paddy at the current government rate, they will suffer a loss of Tk 120 per maund.
The DAE has estimated that the cost of producing one kg of rice is Tk 50 during this aman season. When this one kg of rice reaches the consumers from millers and traders, its price will increase to around Tk 80 per kilogram. That means, from one kg of rice, brokers, traders and millers at different stages will earn much more than the farmer and in a very short time.
In our neighbouring India, this year, the Commission for Agricultural Costs and Prices (CACP) estimated that the production cost of one quintal (100 kg) of aman paddy is Rs 1,360, and fixed a minimum support price (MSP) of Rs 2,040 per quintal so that farmers can make a profit of around Rs 680 per quintal of paddy.
In response to why farmers in Bangladesh are not able to profit from paddy farming, many experts opined that businessmen control almost all the materials required for paddy farming, except for labour. Thus, no one cares whether farmers make a profit or a loss.
In an interview with The Daily Star, agriculturist Mohammed Masum, who is the chairman of Supreme Seed, a leading seed company in the country, said that the private sector controls 95 percent of the hybrid seed market in the country. The government should build a high-quality hybrid research institute that can compete with seed companies. That way, the cost of production will decrease and the production of paddy will increase. He went on to say that farmers will not be able to profit without increasing the production of paddy.
On the other hand, according to experts, only subsidies and small incentives in the agricultural sector will not change the fortunes of farmers. "Political will" is needed for them to benefit. Reforms in both the input market for paddy production and the market for rice as a commodity are urgently needed. Otherwise, farmers will lose interest in paddy farming and the country will face severe food scarcity.
Mostafa Shabuj is the Bogura correspondent of The Daily Star.