Here's why feeding stray dogs may be far from a heroic act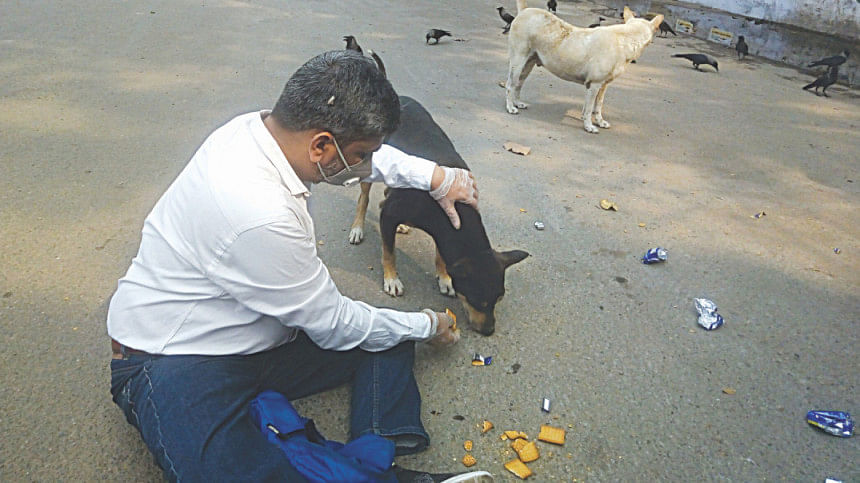 "Your reason and your passion are the rudder and the sails of your seafaring soul. If either your sails or your rudder be broken, you can but toss and drift, or else be held at a standstill in mid-seas. For reason, ruling alone, is a force confining and passion, unattended, is a flame that burns to its own destruction." – Kahlil Gibran, on Reason and Passion.
A link to a documentary produced by Channel I popped up on my newsfeed recently. The story was of a woman who feeds and cares for hundreds of street dogs and cats in Dhaka. She spends nearly Tk 3,000 per day, has sold off her assets and properties to sustain her activities and has now turned her home into a shelter of sorts. She was lamenting over how unkind her community and neighbours have been to her. And the documentary, needless to say, was narrated to depict the fight of this selfless woman against a ruthless society. 
Sadly, the age-old narrative of the "crazy cat lady" is all too common, fails to address the nuances of a very complex situation, and does a huge disservice to the field of animal welfare. 
Take this woman for instance. She is bleeding herself out to feed and care for these animals; has possibly turned her home into a health hazard for the community, and when her finite resources run out, she will be left with dozens of animals to care for with no money. I have seen many animal hoarders in my line of work and they all have these traits in common – they are all traumatised, emotionally, financially, and socially bankrupt, and have no understanding of what they are doing to themselves and the animals. It doesn't help that society rewards and glorifies self-destructive behaviour in the name of altruism, especially if it's that of a woman. 
There are other, larger repercussions to consider. 
Our team has been carrying out a dog population survey in Dhaka city every year since 2016. Despite irregular and inadequate CNVR activities, the dog population of Dhaka has remained more or less the same between 2016-2020. This is expected as dog populations don't change significantly in such a short time unless there has been an aggressive positive (CNVR) or negative (culling) intervention. 
However, our 2022 survey reveals that the dog population in Dhaka city has doubled since 2020. Experts suspect that indiscriminate feeding of street dogs, which started in 2020 could be one of the contributing factors. 
A large number of people started feeding dogs during lockdown (it was necessary at the time), and never stopped. Long-term feeding of street dogs not only makes them dependent on humans for their survival, but also contributes to breeding. This is a dangerous situation. If this continues, no amount of CNVR will be able to curb Dhaka's dog population.
The majority of dogs in Dhaka have always maintained good health simply through scavenging. We know this because one of the parameters of the dog population survey is the health condition of dogs. Our city waste is "enriched" with animal protein due to the rising number of restaurants. Our dogs have not only been surviving and thriving on that, they also contribute to the natural waste management cycle by eating this waste. 
We have also been noticing a rise in conflicts between "animal lovers" and "animal haters" in the community over the issue of feeding dogs. 
Imagine a neighbourhood which has, say, 30 dogs. These 30 dogs have their own designated areas for scavenging. They eat really early in the morning when people aren't around and sleep through the day, keeping mostly out of people's ways. Maintaining a low profile makes them "mostly invisible" and therefore safe. 
All is hunky dory until one day, a well-meaning animal lover in the neighbourhood decides to start feeding these dogs because they saw someone else doing the same on social media in their own neighbourhood. 
All of a sudden, these 30 dogs, who were previously dispersed throughout a relatively large area, congregate in "one" location, in the middle of the day, to eat. Fights break out. Children are scared. The neighbourhood is alerted and community leaders feel compelled to "do something" about this new nuisance. Both parties turn against one another and start lodging complaints with the city authorities as well as the police. 
Those who love dogs are ostracised. Many who otherwise felt neutral about dogs are now against them. And why wouldn't they be? If living next to an "animal lover" means dealing with noise and stench 24/7, I would be, too. 
Sure, some animals do need our help as we often need theirs. But most of them are doing perfectly well on their own, and our failure to recognise that not only undermines their natural instincts and intelligence, but can also send us down the rabbit hole of martyrdom and hero syndrome, which we all can do without. 
What can you do instead? Invest in creating a healthy street dog population by vaccinating and sterilising them. Feed dogs only if absolutely necessary (if they are ill or injured) and only for the short term. Don't draw too much attention to yourself when feeding dogs, and try to feed them when there are fewer people around. Don't post photos of yourself or others feeding dogs on social media. Treat ill and injured animals without moving them from their location and engage community members to help you. Definitely do not pick fights with people and avoid unnecessary drama at all costs. Most importantly, take care of yourself before helping others. An empty cup cannot pour. A bottomless pit cannot hold.
Rubaiya Ahmad is the founder and chairman of Obhoyaronno – Bangladesh Animal Welfare Foundation.