An anticlimactic Paris Summit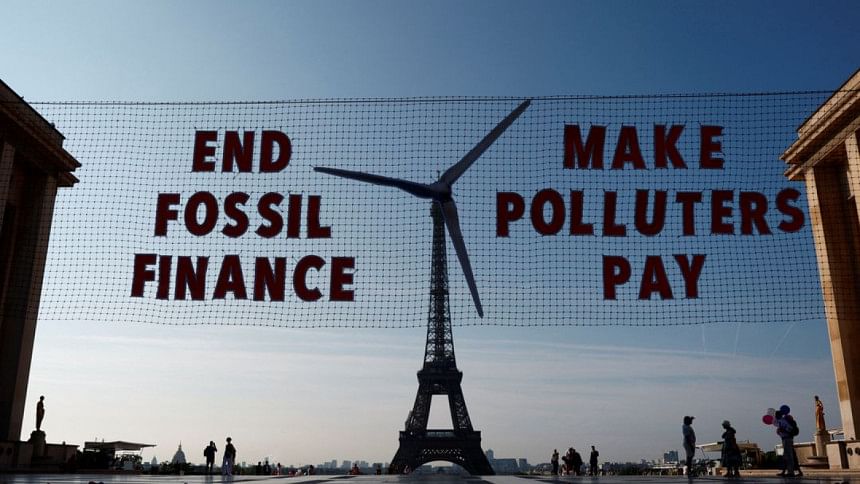 In June, over 35 world leaders came together in Paris, France to address reforms that would help combat the climate emergency. The two-day meeting put a major focus on reaching a deal to impose a tax on greenhouse gas (GHG) emissions produced from international shipping. Essentially, French President Emmanuel Macron proposed taxes on shipping, aviation, and potentially wealth to fund climate action. Other leaders, such as Luiz Inácio Lula da Silva, Brazil's President, emphasised the need to reform institutions to reduce inequality between the richest and the poorest. In contrast, US Treasury Secretary Janet Yellen announced that the Biden administration would consider the shipping tax. However, it was ultimately not approved.
Mia Mottley, the prime minister of Barbados, was the one who first proposed this meeting. Even though multiple countries attended the summit, determining which countries were supporting the proposal proved challenging. Macron suggested that several key European countries, along with China and the US, were not aligned with the new proposal. He emphasised that, without the involvement of these countries, implementing taxes on the mentioned activities would have limited impact.
It is worth noting that the imposition of taxation on shipping and related activities has the potential to generate funds that could be directed towards supporting developing countries. The funds would enable these nations to address the challenges posed by climate change and its impacts effectively. It is estimated that if a global shipping tax were imposed, it could raise about $5 billion a year.
According to the International Maritime Organization, shipping activity is responsible for nearly three percent of total GHG emissions. Although this figure may appear low, the European Parliament has issued a warning that failing to address this issue could lead to a significant increase in emissions by 2050. As Macron pointed out, the shipping sector currently operates tax-free, and there is no good reason why taxes have not been imposed yet.
Among the suggestions put forward by Macron, one of the most significant proposals was to revise the calculation of risk for projects in the developing world. Additionally, the financing of such projects using local currency was emphasised.
There are currently over 50 countries that are unable to pay back their debts, mostly due to high interest rates and the strength of the US dollar. One of the purposes of the Paris summit was to ensure that rich countries would help poor countries relieve their debt through actions such as loan cancellations. Another topic addressed was the potential inclusion of a debt suspension clause for countries affected by extreme climatic events.
Despite world leaders agreeing that they wanted to transform their current approach to the world, as well as help countries escape poverty, the reality is that the Paris Summit ended without any major announcements. Instead, a roadmap (promised earlier) was released, which intends to fulfil Macron's suggestion of reforming the international finance system over the next two years. Consequently, climate NGOs and activists witnessed a lack of ambitious responses to combat climate change and address the world's inequalities. Walter Mawere, an advocacy coordinator for Care International in Somalia, expressed his disappointment because the summit did not provide sufficient support for nations that bear the brunt of climate impacts.
Additionally, the World Bank has decided to offer support by pausing debt repayments for countries grappling with climate disasters. However, this will only apply to future loans. The UK will follow the World Bank's initiative for its existing loans, but only for twelve countries in Africa and the Caribbean. An estimated $100 billion will be allocated to less developed countries through the utilisation of Special Drawing Rights (SDRs), which are a type of currency provided by the International Monetary Fund. More developed countries, such as France, Japan, and the UK, will contribute $80 billion of their SDRs to support these countries. Additionally, the United States will provide support amounting to $21 billion, given the White House can secure approval from Congress.
Many leaders stressed the fact that we live in an unfair world when it comes to climate justice. For instance, Patience Nabukala, a member of the Fridays for Futures Uganda group, insists that it is impossible to achieve climate justice without making polluters pay. Mitzi Jonelle Tan, a climate justice campaigner from the Philippines, expressed her liking for climate finance but, according to her, if the fossil fuel industry is not stopped, then it is just a temporary solution.
Throughout history, poverty and climate change have impacted our planet, particularly the poorest countries. Actions need to be taken, and it seems that the Paris summit was not enough. The idea of imposing a tax on shipping, like on the majority of other activities out there, seems to be a good one. On one hand, it would incentivise countries heavily involved in shipping to reduce their shipping volume or seek greener alternatives, leading to a significant decrease in pollution. On the other hand, if those countries don't decrease their shipping volume, more money would be collected due to the tax imposition. As proposed in the Paris summit, that money would go to countries struggling to fight poverty and climate change due to their scarce resources.
The most powerful nations, however, would be the most harmed by this initiative – and they seem reluctant to do so. These countries may feel that they already contribute enough to the cause, or that it would cost them a significant amount of money and, more importantly, their global supremacy. It's high time they changed their attitude. Millions of people die every year as a direct consequence of poverty and climate change. For that reason, it is important for nations to come together and work towards the same goal of eradicating these severe issues.
M Kabir Hassan is a professor of Finance at the University of New Orleans, US.
Jose Antonio Pérez Amuedo is a PhD student at the University of New Orleans, US.