In times of crisis, journalists must double down on facts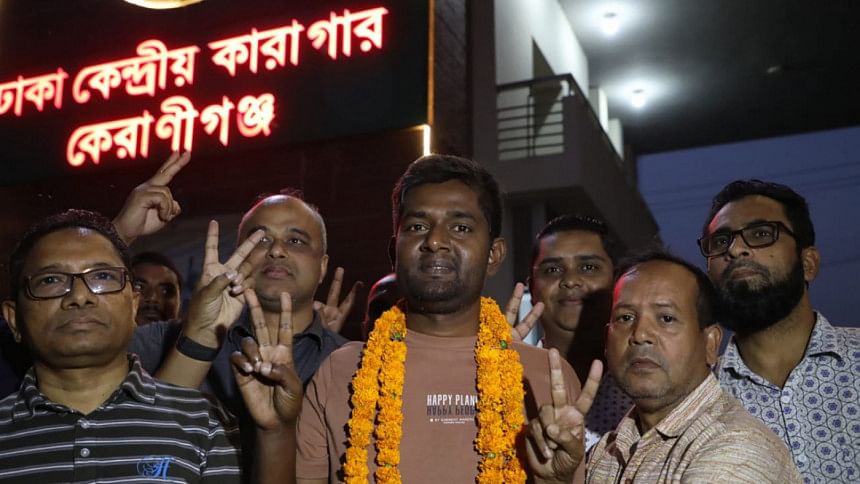 Since this issue has rumbled on longer than most issues in Bangladesh are allowed to do, with new players butting in every other day, let us revisit some facts to put things back into perspective.
Fact 1: A report by Prothom Alo correspondent Samsuzzaman Shams on the poor people's struggle to cope with high food prices was published online on March 26. Fact 2: A social media card based on the report caused a stir after an apparent photo-quote mismatch was detected in it, which as a reporter Shams had nothing to do with. Fact 3: He was forcibly picked up from his home by plainclothes CID officers for that which he had nothing to do with. Fact 4: He was charged under the Digital Security Act (DSA) for that which he had nothing to do with. Fact 5: He was hauled before a court, denied bail, and thrown into jail – all for something that he had nothing to do with.
These are all facts, and incontrovertibly so. Everything else about this story is just a reaction to events as they unfolded. You can question the authenticity of the quotes used in the report. You can take issue with the timing of the publication. But it will all be insinuations unsupported by facts, unless otherwise vindicated by a competent authority – the Press Council, for example – which is yet to happen. The truth, therefore, remains that a journalist was harassed and punished for no offence recognised by law.
What crime did he commit then? Why are some people still fixated on that minor, insignificant mismatch, when far more serious concerns have been left unaddressed? Why do they keep throwing shade at the supposed failure of one media organisation, while ignoring the very obvious failure of several state organisations to uphold vital human rights?
On Monday, in her sharpest criticism yet of Prothom Alo, and as the latest to weigh in on this issue, the prime minister called the paper "the enemy of Awami League, the enemy of democracy, and the enemy of the people of the country." While addressing a special session of parliament, she questioned the motive behind the report, "To hand Tk 10 to a small child, to make him tell a lie, to get some words from the child's mouth… what were the words? [We] want the independence of [having] rice, meat and fish." This line of argument supports a theory misattributing said words to the child, although the report itself was crystal clear about whom those words belonged to: an adult day labourer.
Unfortunately, it is this theory, first peddled by a section of the media, that is now being used to target and endanger the more critical section of it. Soon after the prime minister's speech, a group of people tried to breach security at the Prothom Alo head office in Dhaka, threatened security guards, shouted slogans against its editor, and wrote "boycott" on the reception wall.
Monday's events capped off two weeks of what, in hindsight, appears to be a coordinated smear campaign in which the same message reverberated off the walls of party echo chambers. It started as a seemingly well-meaning critique of journalistic responsibility, but soon turned into a dizzying drumbeat of Prothom Alo-bashing before, finally, culminating with a call for a ban on the newspaper. From Awami League leaders and activists to loyal university teachers, cultural figures and media personalities, everyone jumped on the bandwagon.
This is where Fact No. 6 enters. For the detractors, Shams is nothing but a scapegoat in a larger plot against the independent press and its rightful claim to investigative journalism. They will not see reason because the whole charade is predicated on that one silly mismatch, and without blowing it out of proportion, their argument is as good as dead. In their warped logic, the antidote to calls for rights is rights-shaming. Give the media some freedom, but make it feel guilty about it. Make it blame itself when those rights are compromised. It serves them when journalists are divided.
The enduring appeal of the DSA – which became evident once again when the law minister rejected calls by the Office of the United Nations High Commissioner for Human Rights (OHCHR) to immediately suspend the law – is because it gives a legal cover to any violation of those rights, earning in the process the label of being "one of the world's most draconian laws" for journalists. The pro-Awami League intelligentsia, which needs to keep up the appearance of being pro-journalists, will tell you that being anti-Prothom Alo is not necessarily being pro-DSA. But right now, both are the same.
In a country that ranks at the bottom of the eight countries in South Asia on the global press freedom index, having slid from the 146th position in 2018 – when the DSA was unleashed – to 162nd in 2022, journalists require unconditional support and legal protection regardless of any journalistic transgression, true or imagined. There is no sugar-coating the suffering caused by the lawfare (legal warfare) being waged against them, the extent of which has been revealed in a recent study by the Centre for Governance Studies (CGS).
According to the study, since 2018, every week has been a DSA week. Every week for four years, a case has been filed by a ruling party activist against more than two persons, with journalists and rival politicians forming the majority of those accused. Even before the Shams saga could come to an end, there have been a number of cases filed against journalists. As I commented in a previous column, "It has been like a political bonfire on which critics and rivals could be roasted, without a bitter aftertaste."
Can journalists still afford to remain divided on the question of their rights? Often, as in the case of Prothom Alo, the crime that victims are accused of is not whether something was done right, but whether what was done right was done with the right motive. It's a slippery slope that can take anything, and anyone, downhill. And it's shocking how easily the whole legal infrastructure can be exploited to punish a journalist if enough "reactions" and interpretations can be manufactured.
Facts, once the prerogative of the media, used to be sacred. Now, they are just fodder in an increasingly hostile war of narratives. This is why journalists must support and protect each other. This is why Shams and all other victims of the DSA need to be brought back at the centre stage of discussion, because individual stories matter as much as collective narratives. Each of those accused and punished under the DSA represent not just their respective organisation, but also the wider journalist community as well as the people they give voice to.
Badiuzzaman Bay is assistant editor at The Daily Star.