Is the EC fighting an unwinnable war?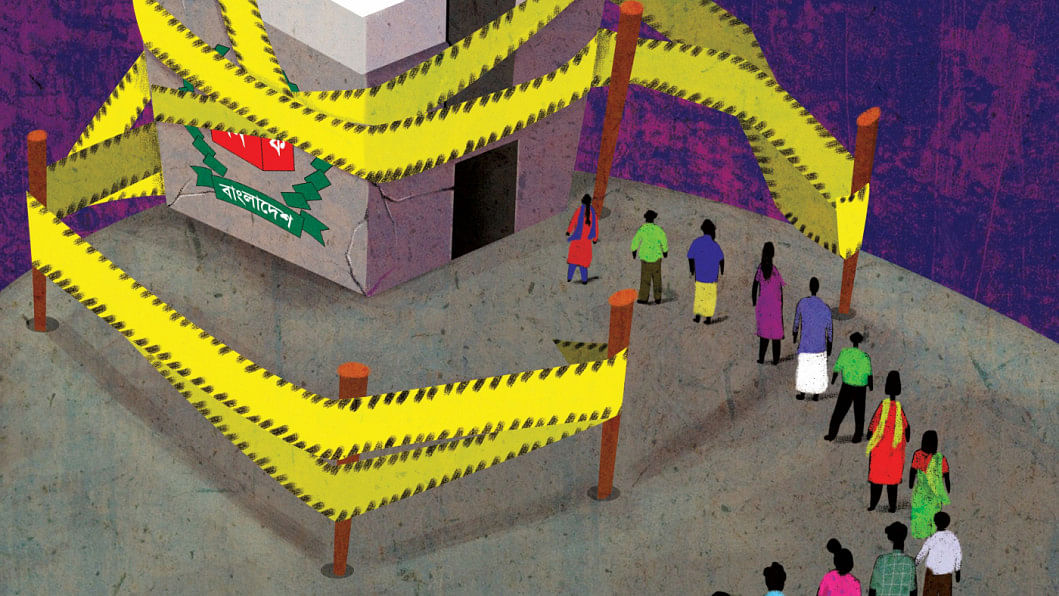 In an extraordinary move on October 12, the Election Commission suspended the Gaibandha-5 by-poll, organised to choose a successor to a late MP who died on July 23. "Unprecedented" was the word used by some to characterise the decision in what was this EC's first brush with parliamentary elections. More optimistic observers saw it as a change of direction for an EC that, until that point, appeared to be cut from the same cloth as the last two commissions, as pliant and excuse-prone if not as blatant.
There is no question about the justification for the suspension of the election. Serious irregularities did occur, including illegal presence of men in polling booths, vote rigging, forcing polling agents out of centres, removal of CCTV cameras, etc. But similar irregularities occurred fairly regularly over the last decade or so, even during this EC's tenure. If every such instance was met with a matching response, perhaps we would have a very different political history. It's vital, therefore, to understand the motive – not why, but really why.
Given the circumstances under which the Gaibandha drama played out, there are at least three possible explanations for why the EC chose to exercise the maximum authority it has at its disposal.
A concession to disgruntled opposition parties?
Yes, opposition parties, not just candidates, of whom all but one (Awami League's, of course) boycotted the by-poll midway through it. The election ensued against the wider backdrop of deep, unmitigated distrust of the EC and its neutrality. A suspension decision – an embarrassment for the ruling party – could improve the EC's standing among opposition parties and restore some of its credibility.
But this is unlikely to work. The opposition camp, including the BNP, which didn't participate in the by-poll, is unlikely to be persuaded by a token concession. If anything, this gives them further proof of the EC's inability to hold fair elections. The BNP secretary general has said as much: "The EC could not conduct a fair election even after exercising all its power. This just validates our position that holding a fair election is not possible under a partisan government."
A warning to field-level administrators?
There has been a lot of talk about the EC's influence (or lack thereof) over field-level administrators who help it hold elections. Last week, in a meeting with deputy commissions (DCs) and superintendents of police (SPs), an election commissioner alleged that many officials harbour partisan bias that influences their work. To that, some officials responded with "rude disobedience". Not long ago, the EC faced similar embarrassment after the public prayer offered by Chattogram DC, a returning officer, for the success of a ruling party nominee.
Although the EC sought to handle these affairs quietly, its reaction after Gaibandha shows that all is not forgotten or forgiven. It held the local administration and presiding officers responsible for electoral irregularities, in a move that will certainly turn up the heat on them. Although some presiding officers have alleged that they were forced to make written statements post-suspension saying the election was "free and fair", it just proves the lawlessness that marked the election in general.
A statement move against the government?
This could be the EC's chance to show the government who, at least ideally, holds the reins in electoral matters. Having been bombarded with allegations of appeasing Awami League in election-related decisions, it is possible that it wanted to change the narrative, although substantive reforms to establish its control over the executive branch are unlikely to be pursued. It was interesting to see how the CEC struck a rather defiant tone in his response to the Awami League secretary general, who questioned the logicality of his decision "sitting in Dhaka" based on CCTV footage of irregularities. He tersely replied: "The EC can suspend an election from anywhere, if it seems to us that it is not being held fairly," regardless of whether the EC is in Dhaka, or Cumilla, or Chattogram, or on a ship.
This comes off as somewhat iconoclastic considering that, on a previous occasion, he appeared to be apologetic after being chastised by a ruling party leader far below the rank of secretary general for objecting to his violation of a code of conduct.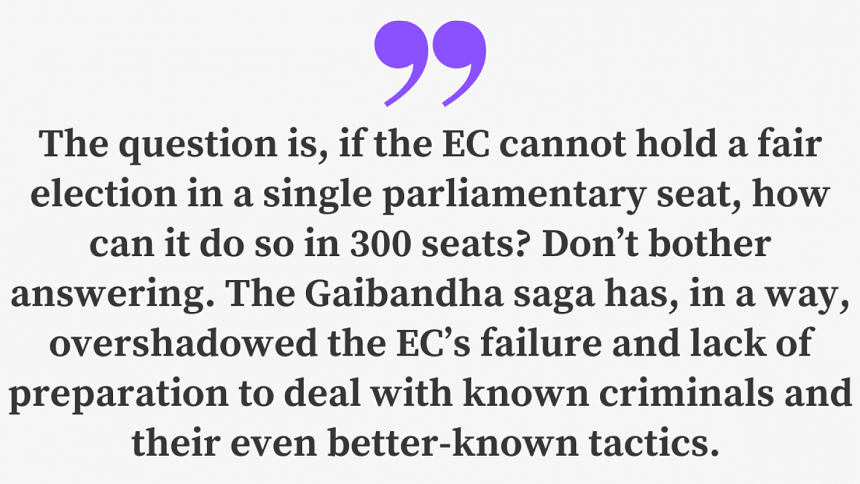 Whatever the motive may be, however, it is clear that the suspension decision is going to be a reference point – but for what exactly? This will be determined by how the EC acts going forward. The first sign to watch out for is, of course, how well it follows up on its claims of irregularities. It has formed a three-member probe committee to identify how the irregularities took place and who were behind them. But anything less than swift justice for all involved would only discredit it further.
Who were these people? In the past, they have been called variously as "ghosts", outsiders, vote robbers, etc. The CEC added two more titles: crooks and criminals. Their collective identity is not unknown, however. That we are still occupied with the semantics is partly because of the unlikelihood of anything serious happening to them or their political masters or collaborators in the local administration, who allegedly gave them a free pass in at least 50 out of the 145 polling stations in Gaibandha-5 (where voting was stopped before suspension).
The question is, if the EC cannot hold a fair election in a single parliamentary seat, how can it do so in 300 seats? Don't bother answering. The Gaibandha saga has, in a way, overshadowed the EC's inability and lack of preparation to deal with known criminals and their even better-known tactics. The BNP, for once, wasn't speaking in hyperbole when it said that Gaibandha shows how powerless the EC actually is. Can it deal with outsiders without the cooperation of insiders – election and law enforcement officials – who are supposed to be its eyes, ears and hands on the ground?
The EC faces a many-sided war, and there are legitimate questions about whether it really wants to win it. But an even bigger question is: Is the war, with its existing rules of engagement, at all winnable?
Badiuzzaman Bay is assistant editor at The Daily Star.