Soft openings, hard politics
These inaugural ceremonies seem strategically timed to precede the potential announcement of the election schedule in November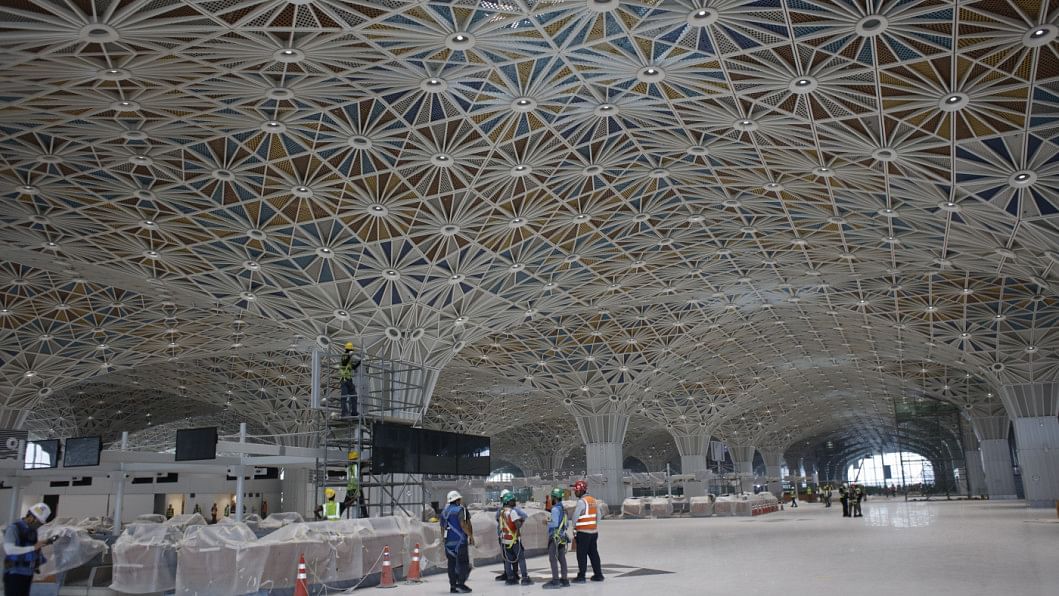 As the political landscape heats up in anticipation of the general election, the ruling Awami League seems to be pulling out all the stops. One outcome of this strategy is: a term mostly used by businesses to slowly roll out products or services is now part of our politics, or more specifically, electoral politics.
Meet soft openings.
On October 7, Prime Minister Sheikh Hasina soft-launched the third terminal of Hazrat Shahjalal International Airport in Dhaka. Reportedly, about 90 percent work of the extension has been completed, with it slated to be fully operational at the end of next year after the completion of systems integration and calibration. Although some services are already available, and more will be before it opens, the terminal is still a year or so away from being passenger-ready. So why has the inauguration been brought forward?
You could say this is how soft or partial openings work. Corporations, by testing a new offering with a select group of customers, use the opportunity to improve their product and assess possible responses to a hard launch on a larger scale. But the actual reason in this case, according to a Prothom Alo report published last week, is the approach of the general election.
Besides the third terminal, the Awami League government has a host of other mega projects – either nearly complete or nearly ready for a phased roll-out – lined up for launches throughout October. The objective is more celebration than inauguration. First among them was the official handover of the first batch of uranium to the Rooppur Nuclear Power Plant on October 5, which marked a historic moment for Bangladesh as it became the 33rd nation in the world to be using nuclear fuel. The plant itself, it should be noted, is still some distance away from being in a position to supply energy to the national grid.
In the coming days, we are about to see the inauguration/celebration of the commencement of train services on the Dhaka-Bhanga rail route via Padma Bridge (October 10), extension of the Dhaka metro rail from Agargaon to Motijheel (October 29), and opening of the Bangabandhu Sheikh Mujibur Rahman Tunnel under the Karnaphuli river in Chattogram (October 28). Some 140 bridges and 12 overpasses will also be launched simultaneously on October 22. The Chattogram-Cox's Bazar railway route is another possible entrant in this list.
These inaugural ceremonies seem strategically timed to precede the potential announcement of the election schedule in the first week of November, after which any launch of development projects would be considered a violation of the electoral code of conduct. Clearly, Awami League wants to use the vibe generated by these launches to soft-launch its own election bid. The hope is that these impressive projects, covering various sectors including energy, transportation, and infrastructure, will create a sense of accomplishment and optimism among party loyals and undecided voters, if there are any. The ruling party also intends to position BNP's ongoing movement for the government's resignation as a sign of its failure and lack of moral justification, juxtaposing this with its own developmental successes, thereby trying to shift the narrative.
At the soft launch of the third terminal, the PM seemed more than willing to share her government's achievements as well as an ambitious vision to build the next international aviation hub in Bangladesh. It was almost as if she was reading from their next election manifesto. Expect to hear similar gloating and pledging in the other events as well. There is little doubt that the ruling party's achievements in infrastructure and development will once again be the key flank of its re-election campaign.
This is, however, unlikely to deter BNP which is apprehensive, perhaps not without reason, of any talk of development from its rival as it sees this as a ruse to deflect attention from the more critical issues of concern, such as the ever-shrinking space for democratic practices in Bangladesh, disenfranchisement, astronomical prices of commodities, etc. It is especially concerned about the government's suppression of its protests and harassment of party activists. By all indications, BNP may intensify its one-point street movement in October, making it a critical month for the opposition as well.
Meet hard politics.
If past trends hold, this is where the battle will be fought and won eventually, with both parties locking horns on the streets and sizing each other up, BNP with its newfound determination and a growing and increasingly emboldened supporter base and Awami League with its bottomless arsenal of legal and administrative tools. Perhaps to turn up the heat on BNP, at a recent press conference, the prime minister blasted those casting doubt on the effectiveness of the current electoral process – surprisingly to some who had expected a more conciliatory tone amid all the pressure from Bangladesh's Western allies for a free and fair election. There was no hint of any dialogue on the issue of a neutral election-time government either.
How do you juxtapose this uncompromising approach with the apparent positivity surrounding the soft openings? Any show of confidence on the part of the government seems to belie deep-seated tensions about how effective those grand events and gestures will really be in swaying voters or ensuring its continued grip on power. Regardless of what happens in the coming months, however, Awami League appears set on pursuing a mix of soft and hard approaches while BNP, in the absence of alternatives, is left to pursue hard approaches only.
It is a high-stakes political showdown that will ultimately be decided at the ballot box, if a fair and participatory election can indeed be held.
Badiuzzaman Bay is assistant editor at The Daily Star.
---
Views expressed in this article are the author's own.
---
Follow The Daily Star Opinion on Facebook for the latest opinions, commentaries and analyses by experts and professionals. To contribute your article or letter to The Daily Star Opinion, see our guidelines for submission.