Protect Rohingya women, children from sexual exploitation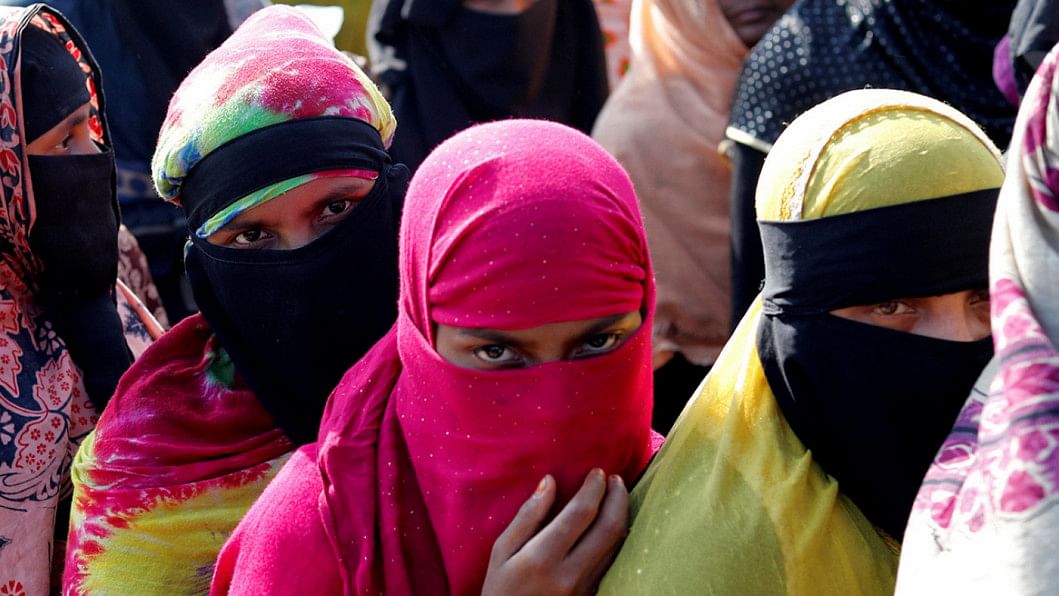 More than a million Rohingya refugees who fled Myanmar over the past few decades are living in sprawling and over-crowded camps in Bangladesh's Cox's Bazar. It is safe to assume that a significant percentage of these refugees are women and small children – given that men and boys were the major target groups of the Tatmadaw – although presenting a figure is difficult as such data is scarce.
Rohingya women have survived brutal gang rape, mutilation, unspeakable torture, and murder of their loved ones – including their children – before their eyes, when the Myanmar forces unleashed their atrocities on them with the intent of ethnic cleansing and genocide over decades, with one of the biggest attacks taking place in 2017. Yet, these women survived; their resilience overcame their helplessness, and they embarked upon a journey to Bangladesh in search of safety. They came here with scarred souls; their horrific experience in the Rakhine state left long-term psychosomatic impacts on them that include conditions like post-traumatic stress disorder, depression and panic attacks. Unfortunately, for these women, respite was not to be found in the camps inside Bangladesh.
Once inside the refugee camps, Rohingya women face a different set of problems – which includes sex trafficking. Many of these women have lost their fathers, husbands and sons to the Tatmadaw attacks, and the fathers and husbands of some others had previously fled to East Asian countries, including Malaysia and Thailand, seeking a better life abroad. For these women, having to survive without a male protector and breadwinner, inside the cramped camps, in a patriarchal and conservative social structure, is very difficult. Without access to economic opportunities, yet left to fend for themselves and the remaining members of their families, these women are often tricked into sex trafficking by unscrupulous individuals.
Take the case of Halima, whose plight was highlighted in a 2017 BBC report "Rohingya women in Bangladesh face 'forced prostitution.'" When 21-year-old Halima came to Bangladesh with her neighbours, without any knowledge about the whereabouts of her family, she was penniless and hungry. A man offered her food and told her that having lost his wife, he was looking for a bride. He told her that he wanted to marry her. Halima bought his words at face value; such must have been her desperation. At the house where Halima was taken by the man, Halima found another seven-eight young girls like herself, and all of them were forced into sexual slavery. Halima was unpaid, and was only provided with three meals a day.
Later, although she was rescued, she chose to remain a sex worker because she had no other way of earning a livelihood. "I want to go back to praying five times a day, having meals with my family… I want the life I had before with my family in Myanmar," Halima told the BBC.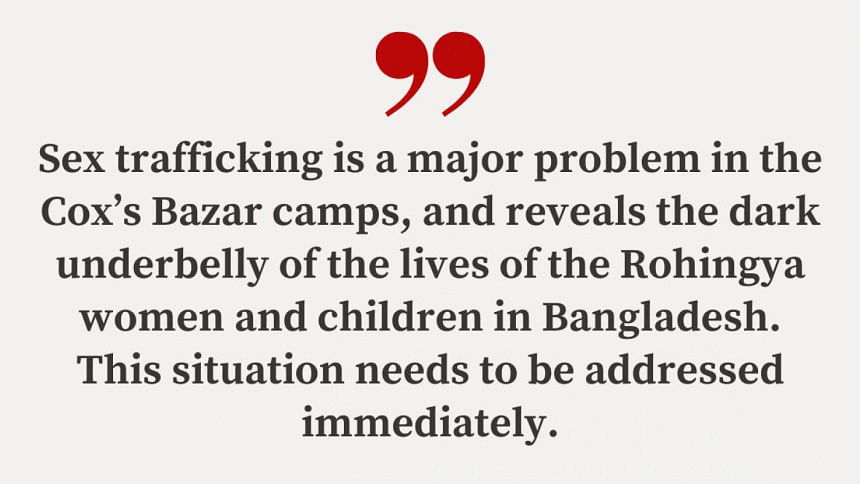 There are many more Rohingya women who have been forced into prostitution by hustlers. Many of these women work in Kutupalong, in Cox's Bazar's Ukhiya upazila. The sex trade hotspot in Kutupalong is the largest in the camps, with more than 500 sex workers earning livelihoods there. Apart from this, the sex workers are often transported to hotels and guest houses in the greater Cox's Bazar area for jobs. Since the nature of the job is clandestine, and the women cannot tell their families and communities what they do for a living, they resort to lying, saying they are going to get medicine or visiting someone outside the camp. According to a report published by PBS, the hustlers have an understanding with the army personnel posted at the checkpoints surrounding the camps, which enables them to smuggle Rohingya women and girls in and out when required.
What is even more alarming is that the demand for children, both boys and girls, are increasing among the clients, as reported by Sky News, in a report titled, "Pimp says Rohingya plight 'good for business.'"
For those women who have been forced into this profession by their husbands to earn a quick buck – they can keep between 80 cents and USD 1.20 per client on an average, after giving the hustlers their cuts – or those who have been tricked into this profession, seeking justice is not a viable option as they hardly have access to Bangladesh's formal justice system. The loosely-tied mechanism that is in place at the camps to address grievances are not women-friendly and are more focused on managing the situation rather than delivering justice. It is basically in the form of a body involving a local Rohingya leader, called majhi, along with representatives from mosque committees and government officials to monitor individual camps, and it is they who manage the system. Often, the women who have dared to speak up have found no solution. The Humanitarian, in a report, quoted the protection and rule of law coordinator for the International Rescue Committee (IRC) in Bangladesh, Patrick Sooma, as saying, "The informal system often fails to provide adequate justice for women."
And for the Rohingya women who are trafficked abroad and sold into sexual slavery in India, Nepal, Middle East and East Asia, among other places, justice remains a far-fetched idea.
Sex trafficking is a major problem in the Cox's Bazar camps, and reveals the dark underbelly of the lives of the refugees in Bangladesh. This situation needs to be addressed immediately.
First of all, the government needs to ramp up security around and inside the camps so that women are not coerced into this profession by hustlers or their families, and the women and children cannot be smuggled outside the camps. Secondly, the government and humanitarian agencies working in the field need to make sure that Rohingya families have access to the basic essentials. Then, the government and humanitarian agencies need to put more focus on the education and empowerment of Rohingya women so that they can become more aware, identify the threats, and make informed decisions – be it about earning a livelihood here or finding opportunities abroad.
Rohingya women should also be provided with adequate counselling and healthcare facilities. While some NGOs and humanitarian agencies, along with the government, are working in these areas, more needs to be done, with a structured and holistic approach. Most importantly, the government needs to create a sustainable and structured justice system for the refugees so that the Rohingya women feel confident to seek legal recourse for the persecutions they have faced inside the refugee camps.
But these are only stopgap measures. The most important step in ending the plight of the Rohingya women and children at the refugee camps has to be taken by the international community, who needs to find a suitable and sustainable rehabilitation solution for them. These women and children need to be empowered with education and confidence so that they can exercise their own agency and help themselves and other women from their communities find better lives. And the role of the international community here is paramount. Bangladesh alone cannot find a sustainable solution to rehabilitate Rohingya women and children.
Tasneem Tayeb is a columnist for The Daily Star. Her Twitter handle is: @tasneem_tayeb