When will urban planning get its due importance?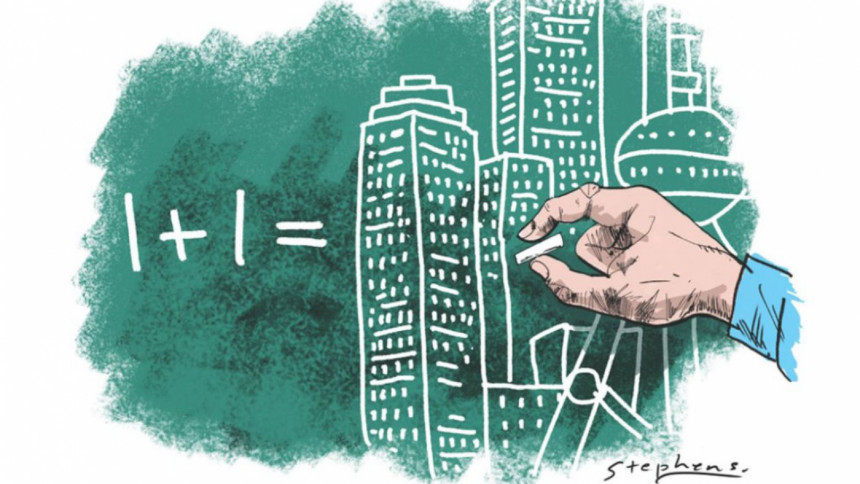 The share of Bangladesh's urban population reached 35 percent in 2018 with a total urban population of about 58 million, which is expected to reach 80 million by 2030. Geographically speaking, people living in urban areas occupy only 11,000 square kilometres, or 7.5 percent of the total land area of the country.
The highest rate of urbanisation has taken place in only a few urban centres due to their living advantages. About 24 million people or 40 percent of the country's population live in its four biggest cities, Dhaka being the leading among them.
Although in terms of physical space, urban areas occupy a small land area, in terms of gross domestic product (GDP), urban economic activities generate over 60 percent of the country's GDP. Therefore, proper planning of our cities and towns is of crucial importance for the healthy living of its inhabitants.
To dig into the history of town planning in Bangladesh, we need to go back to the post British era. A town planning cell was established in the early 1950s under the Ministry of Public Works to look after the functions of town planning. The cell planned residential, commercial and industrial areas in Dhaka, namely, Dhanmandi, Azimpur and Motijheel residential areas, Tejgaon industrial area and Motijheel and New Market commercial areas.
Local communities in several locations of Dhaka planned the internal roads of their areas themselves. These were in Segunbagicha, Kalabagan Lake Circus and Natun Paltan Line, where local people agreed on the street patterns and locations of schools, mosques and shops. Similarly, a community association in Lalmatia Residential Area with the support of public works ministry designed a comprehensive area plan which included street patterns, locations of schools, playgrounds, mosque, shops, etc.
To formalise town planning functions, Dhaka Improvement Trust was established in 1956 which was eventually renamed as Rajdhani Unnayan Kartripakkha (RAJUK) in 1987. The Housing and Settlement Directorate (HSD) was established in 1958, Chittagong (now Chottogram) Development Authority in 1959, Khulna Development Authority in 1961 and the Urban Development Directorate (UDD) was created in 1965. The Rajshahi Town Development Authority was created in 1976 and National Housing Authority (NHA) in 2000.
The Town Improvement Act 1953, the East Bengal Building Construction Act 1952, Pourashava Ordinance 1977 and different City Corporation Acts, National Housing Policy 1993, Upazila Parishad Act 1998, and National Urban Sector Policy 2011 provide the basis for town planning in Bangladesh.
Between 1959 and 1961, British town planners helped develop the master plans for Dhaka, Chottogram and Khulna cities. A separate master plan was prepared for Narayanganj, which was already a vibrant industrial and commercial town. The plans followed a zonal approach and divided the cities into several land use zones which were to be well connected by adequate road networks and serviced with infrastructure facilities such as water treatment plants, fire stations, sewerage treatment plants, railways, truck and bus stations, marketplaces as well as recreational facilities.
In the early eighties, UDD in a bid to ensure planned development of district and sub-district (Upazila) towns, prepared physical plans with the involvement of professional town planners, engineers, architects and socio-economists. The UDD prepared 392 master/land use plans for district and Upazila centres. The Local Government Engineering Department (LGED) also prepared plans for many municipal towns. It prepared plans for 221 Upazila towns and 25 district towns.
The town planning discipline became more flexible since the Town and Country Planning Act, 1968 was introduced in Britain. The Act proposed a two-tier hierarchical planning system beginning with the development of a structure plan for the whole city followed by detailed area plans. The structure plan is broader in scope and more flexible and strategic in nature, while the local plan is more rigid and detailed at the residential or commercial area levels.
In 1995, RAJUK prepared a 20-year plan for Dhaka city called Dhaka Metropolitan Development Plan that included analysis of potential growth options, a structure plan and detailed area plans. Similar plans were developed for Chottogram and Khulna cities. A new 20-year Dhaka Metropolitan Development Plan is now being prepared.
The Sustainable Development Goal (SDG) 11 is dedicated to making cities and human settlements safe, inclusive, resilient and sustainable. The need for better planning and management of towns and cities were strongly emphasised in the United Nations Conference on Housing and Sustainable Urban Development which took place in Quito, Ecuador, from October 17-20, 2016, commonly known as HABITAT III. Member States of the UN, including Bangladesh, adopted a "New Urban Agenda" during this conference for re-establishing stronger commitments towards healthier, more functional and environmentally sound urban spaces.
We have to accept that urbanisation will increase in future, but unplanned growth of cities and towns is not what is desirable. Urban areas must be competitive, liveable and sustainable. The town planning process must be well coordinated and implementation of plans need to be more harmonised. Otherwise, we will continue to see piecemeal development of roads, drainage, telephone and gas pipe lines, water and sewerage lines, etc.
As part of urban poverty reduction measures, affordable low-income housing schemes are required. At the same time, affordable educational and health facilities are necessary for the poor. It is important to note that about 35 percent of urban slum children cannot afford to attend primary schools—given the associated additional expenses.
Meaningful decentralisation of local administrations is a necessity recognised by most town planners. An urban local government body must have adequate independent planning capacity. Oftentimes, a ready-to-be-used plan is handed down to local governments—in which they did not have much say. This doesn't have to be the case. Local government bodies and citizens should have more input in the planning process.
---
Dr Nawshad Ahmed works as an economist for a World Bank project. He previously worked as a UN official in Bangladesh and outside the country.
---
Follow

The Daily Star Opinion

on Facebook for the latest opinions, commentaries and analyses by experts and professionals.
To contribute your article or letter to The Daily Star Opinion, see our

guidelines for submission

.
---