Fires in Old Dhaka: Can a Phoenix of community participation rise from the ashes?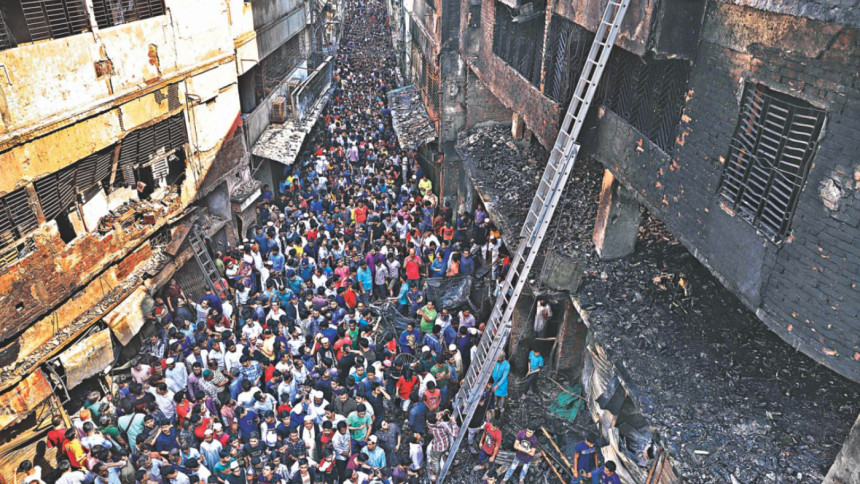 Dhaka is shocked once again by the terrible news of an inferno engulfing the famous Chawkbazar. Although 10000 miles away, I am affected by it nonetheless. In the year 2010, the Nimtoli fire incident took 124 lives. The nation was shocked, and elegies were written. However, few wanted to explore why the co-existence of chemical warehouses and residential units is so rampant in parts of Old Dhaka from the perspective of urbanisation and megacities. I was intrigued, and so were some of my fellow researchers.
We went to Nimtoli and Armenian Street and had extensive discussions with the locals about fire safety issues in the locality. Summary of our findings indicated that "Fire hazard risk was a result of storing and handling flammable chemical products in mixed-use buildings, the structural inefficiency of buildings for fire safety and a lack of awareness of the building users and occupants regarding fire safety rules and safe handling of chemical products" ("Fire Hazard Risk Assessment of Mixed Use Chemical Storage Facilities: A Case Study of Chemical Warehouses in Old Dhaka." Journal of Bangladesh Institute of Planners). Looking back, I firmly believe that the most crucial reason behind the repeated infernos in Old Dhaka is the lack of community awareness and involvement around fire safety and handling of chemical substances. It is common knowledge that residential buildings that are also used as warehouses for chemicals or many other commercial products are dangerous for public safety. The question is, why this common knowledge is not incorporated in the everyday practices of the city dwellers in Dhaka.
In the post-90s world of neo-liberal economic growth, profit maximisation and valorisation of immaterial qualities are driving the daily life in mega cities like Dhaka. Old Dhaka is related to the rest of the city through a series of exploitative relationships of profit and immaterial qualities. We fetishise its historical value, romantic narrow alleys, cheap products, and cultural worth during Sakrain or other religious-cultural festivities. At the same time, it is described as old, congested, and even uninhabitable because of gross violation of the city planning codes. This dualistic representation of Old Dhaka has robbed it of the value of its inhabitant's everyday lives.
When we look at the narrow alleys of Old Dhaka and the numerous shops, storages, and artisan-style factories of counterfeited products we see the symptoms of the more significant issue of "informality" in the city. The dangerous mixed-use of built structures happens because of the potential profit maximisation and an absence of safer and better alternatives. Unfortunately, most of the efforts to deal with Old Dhaka's planning problems have framed the structural code violations only through the frame of "illegality" and refuses to acknowledge the role of "informality". Safe alternatives for relocation do not take into account the world-making factors (e.g. proximity, kinship, history, sense of belonging, livelihood) that turns spaces like Chawkbazar into places of bustling economic zones (often informal). Henceforth, we see decades of failed negotiations with businesses for relocating polluting industries like the tannery or the chemical storages and shops from the locality.
The approach towards fire safety in Old Dhaka so far has been highly governmental which follows the existing laws and regulations in place. While laws and policies give us baselines for fire safety, these are not well equipped to guide us in dealing with everyday life in a place like Chawkbazar. Going back to the summary findings of our research on Nimtoli and Armenian Street of Old Dhaka, the underlying reason for violation of building codes and fire safety regulations is the lack of knowledge and sensitisation of the community about fire safety and chemical storage. To create fires, one needs a spark and flammables and to escape from the fire, people need a fire-resistant escape route. Many chemical products used in our everyday life are highly flammable, and in majority of the cases, buildings of Dhaka do not have escape routes. This knowledge of fire safety is not widely discussed and people come across it only after something has happened, and lives are lost. In this city where every square foot is equivalent to gold, it is not so hard to understand why a homeowner will rent out their damp and dark first-floor unit for storage purposes although it is illegal to do so. The knowledge about fire safety is inaccessible, and this applies to the entire city.
At this point, one might ask why this op-ed if the issue is public awareness. One might print a few posters and be done with it. But, the risks of fire hazard are created in our everyday life and community participation and monitoring is the key to prevent further tragedies like Nimtoli or Chawkbazar. One of the strengths of the Old Dhaka communities is their ties and kinship. This tie can be a crucial element in raising awareness about fire safety.
Dhaka has a long history of citizen activism and partnerships. In the case of ensuring fire safety and safe handling of chemical storages, community participation will be crucial. To prevent any future blaze, we need every homeowner and every citizen to come forward and resist the urge to cash the easy cheque. Issuing a couple of posters in public spaces will not suffice. We need to start a discussion around the bigger problem of what kind of city we want to live in and how to make its informal practices safe for city inhabitants. The discussion must include community members as active participants. Safety begins in our homes and everyday lives, and planners and city officials might want to tap into the resource of kinship.
---
Nushrat Jahan is an Urban Planner, and a Planning PhD student, University of Toronto.
---
Follow

The Daily Star Opinion

on Facebook for the latest opinions, commentaries and analyses by experts and professionals.
To contribute your article or letter to The Daily Star Opinion, see our

guidelines for submission

.
---