IN MEMORIAM | MASUD SADIQUE
Tribute to a patriot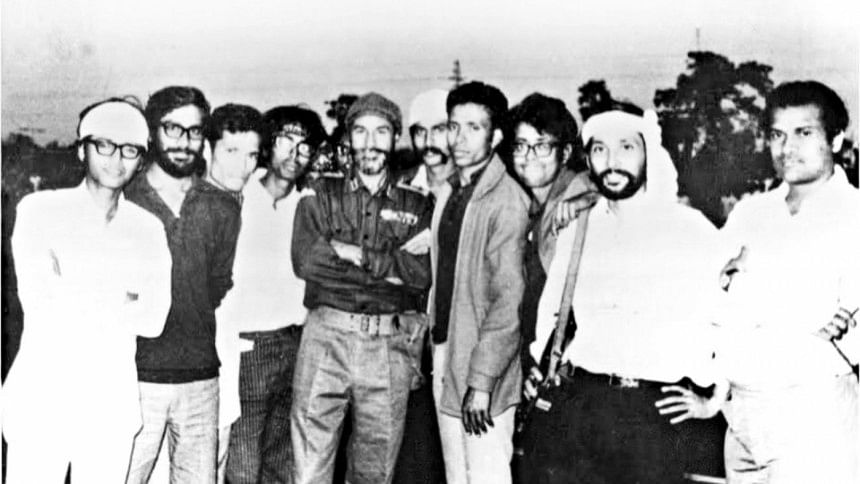 Masud Sadique (Chullu bhai), who left us on October 16, was a freedom fighter. While we all occupy multiple identities in our lives, some stand out more sharply, and are more cherished, than others. For most of the people engaged in the Liberation War of 1971, it is that experience alone that perhaps defines them more than anything else. Many of them have gone on to become successful businessmen, teachers, public intellectuals, professionals, civil servants, human rights activists, cultural personalities and politicians; some went abroad, and some returned to their old haunts and withdrew into the quiet folds of family and faith. But every single one of them recalls, and fondly relives, those "golden days" (as novelist Tahmima Anam calls them) when the better angels of their nature drove them into desperate acts of sacrifice, courage and commitment. For a brief shining moment they had commanded history, became its owner and not its object, and changed it with a moral clarity and a collective vision that was as innocent as it was inspiring.
Chullu bhai reflected the best of that time—what we can justifiably call "our greatest generation" (the term Tom Brokaw used to describe the American soldiers who fought against the Nazis in Europe). He was willing to die for his country and the cause of freedom in which he fervently believed. Perhaps, even more profoundly, like so many other unlikely, even at times reluctant, revolutionaries, he was willing to kill for those purposes. For young men and women who typically cringed even at the thought of violence and, in all likelihood, were philosophically opposed to it, to take up arms against a ruthless enemy, without any military or psychological preparation for it, remains an incredible testimony to their passion for their country and its people.
I will leave it to others more competent, more directly involved, to comment on Chullu bhai's skills and resourcefulness in combat, or about the exploits of the justifiably famous Crack Platoon to which he belonged. But there is absolutely no doubt that the group's operations in Dhaka city rudely shook the "normalcy narrative" being peddled by the Pakistani generals, and also helped to shatter the aura of invulnerability that, as Frantz Fanon had argued, kept colonised people in thrall, fear and defeat. Consequently, its role in the war cannot, and must not, be judged in quantitative terms only, or merely through reciting the details of its various "actions". Every movement needs stories, whispers, folklore, and legends which bind the people together, sustain hope, and encourage confidence in the symbolic battlefield of the mind (where most wars are won and lost). These intrepid soldiers provided those elements to us. The people of Bangladesh dared to believe, because these freedom fighters dared to continue. Chullu bhai, as an integral part of that effort, deserves to be called our hero.
When he was captured, he did not buckle. He endured unspeakable cruelties that were inflicted on him. But, while the Pakistani military could torture his body, they could not break his will, or corrupt his honour. That, by itself, is remarkable. But what makes it even more so is that he was never bitter, or ever demanded revenge. I suspect that if some of his tormenters were presented to him, Chullu bhai would probably shake his finger at them and say, "what you did was wrong" and walk away, fully convinced that being reminded of a person's own evil would be the ultimate punishment he could impose on a human being. The challenges of captivity could not tarnish the simple heroism of his ethical integrity.
The true nature of his nobility was demonstrated on a daily, routine, mundane basis. It consisted of the many things he did, which he did not have to. He did not have to be compassionate towards the less fortunate, but he did, demonstrating the largeness of his heart in myriad and surreptitious ways. He did not have to be so thoughtful and supportive of those who were inconsequential and of no practical use to him (like me, for example), but he did, showering them with the gift of his praise and affection, and the occasional basket of the best fruits one could find anywhere. He did not have to remember those who may have played only minor roles in his life (my father was part of his defence team during his 1971 court trial), but he did, and always referred to him as chacha jan to indicate the intimacy and respect he wanted to convey.
But his biggest acts of heroism were contained in his steadfast refusal to compromise on who he was. He remained "old style", self-effacing, classy. What distinguished him from almost anyone else, and what he exemplified, perhaps exuded, was sharafat—his refinement of dress and comportment, his unfailing courteousness (often bordering on courtly elegance), his softness of voice and temperance of speech, his commitment to fairness and the moral imperative, his embrace and celebration of the finer things in life, his transparent sincerity and beguiling charm, his child-like simplicity and delicate humour, and his personal warmth and graciousness that were as spontaneous as they were lavish.
In a time and place where many people cultivate interests rather than friendships, seek attention through conspicuous consumption and garish displays of wealth, status and power, and undertake public service for strategic photo-ops or to pursue private agendas, Chullu bhai preferred to look after animals in his home like a caring parent, to regularly feed the birds which rested on his roof top, to grow orchids and tend to plants. (I have often felt that he would have been a worthy follower of the naturalist tradition of St Francis of Assisi, even though he had always been a meticulously observant Muslim).
Till the end Chullu bhai remained fiercely true to himself—a quintessential gentleman who was humble, enlightened, decent, and authentic. He made the world a better place not only by doing what is good but also, perhaps more so, by simply being what he chose to be. Rest in peace valiant freedom fighter, friend, hero.
---
Ahrar Ahmad is Director General, Gyantapas Abdur Razzaq Foundation.
Email: [email protected]
---
Follow

The Daily Star Opinion

on Facebook for the latest opinions, commentaries and analyses by experts and professionals.
To contribute your article or letter to The Daily Star Opinion, see our

guidelines for submission

.
---