In memory of Imtiaz Habib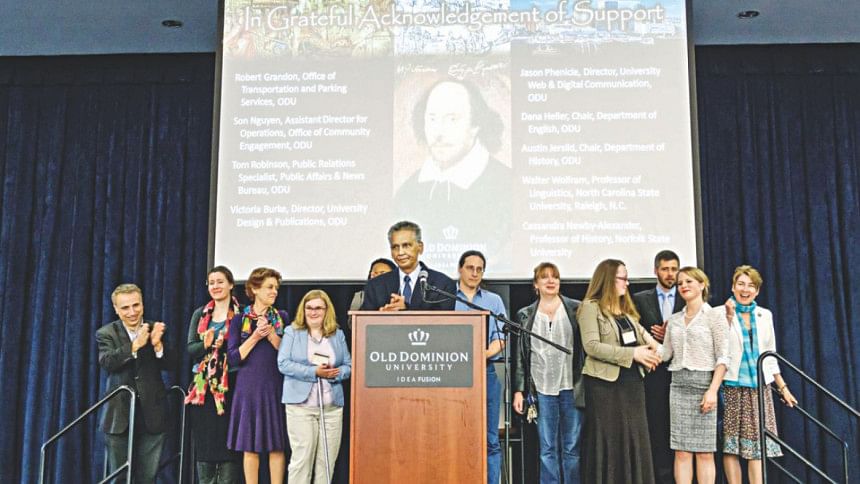 It is with profound sorrow we write this piece about our dear friend Imtiaz Hasan Habib (1949-2018), who died peacefully while asleep in the early morning hours of August 27 at his home in Norfolk, Virginia. As much as the tragic and unexpected news of his death overwhelmed us, it is hard to overstate what a shocking and terrible loss this is to his wife Rosie, son Amit, daughter Reema, two granddaughters and to his friends and colleagues in the academic community and beyond.
As part of a close-knit group of friends, we have known Imtiaz since our teen years. We grew up together, played together, laughed together, cried together, shared our joys and sorrows together, pulled pranks on others together, aimlessly drove through the streets of Dhaka together and drank tea together during our late afternoon adda sessions at the Flamingo restaurant in Purana Paltan.
We could write volumes about Imtiaz's turbulent life filled with adventures and misadventures, about his hopes and despairs, his sense of humour, his egregious bids in games of contract bridge, and many fads and foibles that defined him, and made him both distinctive and adorable. Instead, in this piece, we choose to celebrate a gifted life tragically cut short by destiny.
Imtiaz was a warm, gracious and insightful person, a proud man of deep conviction and rectitude. He was a restless intellect with varied and eclectic interests, and a brilliant, fluid thinker capable of finding influences and connections which would elude lesser scholars. Like many deeply sensitive people, he was also a tormented soul, struggling with his inner self, and chafing at the injustices that he saw in the world. What drove him were his uncompromising commitment to principles as they related to human dignity and fairness, his sincere compassion for others, particularly those less fortunate, and his fervent belief in education and its ability to transform people and the world.
He was passionate about his opinions and worked hard to promote, or defend, what he thought was right. While he did not suffer fools gladly, he always tried to be as understanding as possible, and even when discussions became vigorous, and disagreements intense, he never sought to belittle others, or tried to impose his will on them. He was particular about friendships, and his loyalty to friends was unfailing and spontaneous.
Imtiaz had enviable credentials—B.A. (Honours) and M.A. in English Literature from New College at Oxford, UK. After a brief teaching stint at Dhaka University, he went to the USA and earned his doctorate from Indiana University in Bloomington in 1984. In the United States, he first taught at the University of Nevada in Las Vegas till 1997, then moved to, and remained at the Old Dominion University in Norfolk as Professor of English Literature, until his death.
Imtiaz was an eminent scholar specialising not on typical "local" writers and "native" cultural products but on Shakespeare and excelling in that field. He is recognised as one of the world's leading scholars in anti-colonial empirical race studies of Shakespeare's England.
His legacy as an effective teacher will endure in the academic excellence he always demanded from his students. That's why he would often describe his courses on Shakespeare as "This ain't your granddaddy's Shakespeare." It should be pointed out that he was as rigorous on himself, as he was on his students.
His impressive record of scholarship and quality of his work can be found in several books written by him. Most notable ones are Shakespeare's Pluralistic Concepts of Character: A Study in Dramatic Anamorphism (1993), Shakespeare and Race: Postcolonial Praxis in the Early Modern Period (2000) and Black Lives in the English Archives 1500-1677: Imprints of the Invisible (2008).
Imtiaz published numerous scholarly essays too, mainly on colonialism and race in the early modern period. His works have been featured in the British Library's Exhibition on history of London. He has been interviewed by the Folger Shakespeare Institute in Washington, DC and by BBC for a documentary on "In Search of Shakespeare." His opinion on Africans in Shakespeare's London was published in several American media outlets. Recently, The New York Times cited his work on the "dark lady" in Shakespeare's Sonnets.
Besides his academic specialisation, Imtiaz had other esoteric interests as well, including being an avid student of military history with special interest in naval warfare. As he lived in Norfolk, home to the largest US naval base, he delighted in conducting his friends through the visitor's areas of the sprawling facility, eagerly and knowledgably pointing out the capabilities of the aircraft carriers and submarines moored at the quay.
These are really moments when both words and feelings remain jumbled and stricken. At the end, all we can say is, good-bye dosto. Your sleep did not have to be so final you bloody Shakespeare-wallah. Rest in peace dear friend, while we continue to wrestle with our petty nightmares. And forgive us for not being able to hug you closer to our chest before your departure for "the undiscovered country from whose bourne no traveler returns."
As your favourite tragic hero Hamlet said to himself:
"To die, to sleep -

To sleep, perchance to dream -

Ay, there's the rub,

For in this sleep of death what dreams may come."
---
Ahrar Ahmad is the Director-General of Gyantapas Abdur Razzaq Foundation, Quamrul Haider is a Professor of Physics at Fordham University in New York, Ashraful Huq is the former Chief Executive of the Asian Cricket Council in Kuala Lumpur and Zulfiquar Rahman is an entrepreneur.
---
Follow

The Daily Star Opinion

on Facebook for the latest opinions, commentaries and analyses by experts and professionals.
To contribute your article or letter to The Daily Star Opinion, see our

guidelines for submission

.
---