India-China Relations
One step forward, two steps back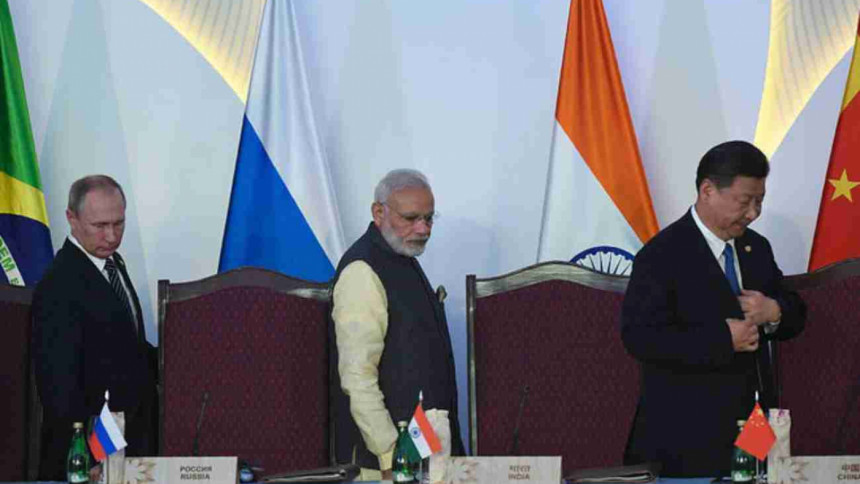 According to market manager Egon von Greyerz, famous for his predictions on quantitative easing and moves in currencies, the overly financialised world, dominated by US investment banks, is now entering its "frightening endgame". If that wasn't scary enough, legendary investor Jim Rogers, founder of Quantum Fund with billionaire George Soros, in an interview with Business Insider CEO Henry Blodget, in June predicted "a market crash in the next few years" that "will rival anything he has seen in his lifetime."
As most industrialised countries continue to struggle, it is developing countries and emerging markets that are increasingly driving growth—for example, 60 percent of world Gross Domestic Product (GDP) and 80 percent of growth are coming from emerging markets, according to James Butterfill of ETF Securities—and none more so than India and China. Experts say that by 2025, China, whose GDP grew by 6.9 percent in the first quarter of this year beating analysts' forecasts and surpassing its annual target, may have up to 700 million people deemed middle class whereas the US now has 200 million.
Because of these tectonic shifts, the International Monetary Fund (IMF) chief Christine Lagarde said that in "ten years it could be possible the IMF's headquarters would move to Beijing", which has been in the US for over 70 years. Overall, the weight that the Chinese economy wields today is well-known. India's performance, on the other hand, has been more modest. That is, until now.
Media reports suggest that Foxconn plans to invest up to USD 5 billion in building new factories, while Samsung will invest USD 623 million to expand its production capacity in India. Chinese mobile phone manufacturers too are flocking to India, which could well be the next "factory of the world." OPPO, Vivo, Lenovo and Xiaomi have already set up plants in the country, intensifying competition in India's smartphone manufacturing sector, and Chinese appliances manufacturer Midea Group is planning to invest USD 123.98 million to set up a factory in Pune.
Tesla too is in talks with the Indian government to establish a factory in India and automaker SAIC Motor Corp is planning to become the first Chinese auto company to establish its factory there. This massive influx of investment by foreign manufacturers, reports Sputniknews, "is of great significance for India's economy, employment and industrial development. If in the past India lacked capital, a developed manufacturing sector and skilled manufacturing workers, the foreign manufacturing inflow is now helping India address the problem, backing up the government's 'Make in India' initiative." And with "Chinese companies also playing an important role," what is happening in India now "is a repeat of China's introduction of foreign investment" that preceded its economic rise.
As the two countries progress, however, their relations seem to be deteriorating more and more. Culminating into a border standoff since mid-June, beginning with Indian troops blocking the construction of a road by China in the disputed area of Donglang, being quickly followed by a major scuffle between the two when Chinese troops entered the Indian state of Sikkim and destroyed two Indian bunkers.
With tensions rising, China, referring to the 1962 war between itself and India, which it comprehensively won, said that India should learn some "historical lessons." India's response came through its Defence Minister, Arun Jaitley, who asserted that "India today is different from what it was in 1962."
What is really surprising in regard to the standoff, however, is that the border between the two countries in the Sikkim sector is well-demarcated under the 1890 Sino-British Treaty, which received subsequent endorsements by past Indian governments, including former Indian Prime Minister Jawaharlal Nehru in a 1959 letter to his then Chinese counterpart Zhou Enlai. India, at present, is disputing China's reference to the 1890 treaty saying that a 2012 agreement between India and China requires the involvement of a third party: Bhutan.
According to Dr Swaran Singh, a professor at the School of International Studies, Jawaharlal Nehru University, "The repeated border conflicts doesn't [sic] do well either to China or India and their reputation as both are rapidly emerging as major global players." Yet, according to The Times of India, Indian National Security Adviser Ajit Doval's meeting with Chinese President Xi Jinping at the summit of BRICS national security advisers "did not yield any breakthrough that could end the current standoff," although the possibility of another India-China war is dim.
Another unfortunate outcome of tensions, meanwhile, has been India's refusal to sign the One Belt, One Road (OBOR) partnership agreement with China during the last OBOR summit in May, on grounds that the China-Pakistan Economic Corridor has encroached onto disputed territory of the Kashmir region. Instead, India introduced its own continent-crossing plan called the North-South Transport Corridor (NSTC), which is a 7,200 kilometre multimodal trade corridor that extends from India to Russia, linking the Indian Ocean and Persian Gulf to the Caspian Sea and more.
But what is once again ironic about this, as Wade Shepard explains for Forbes magazine, is that despite much being written "about how the NSTC will challenge China's BRI [OBOR]...the two initiatives overlap seamlessly and feed into each other...and for all intents and purposes, it is extremely difficult to separate one from the other"; showing both sides that no matter how much they try, their future paths are destined to be linked. 
That is precisely why the inclusion of India into the Shanghai Cooperation Organisation as a full member, along with Pakistan, recently, seemed such a positive step. As that was clearly a step forward in building trust between the two Asian giants. Disappointingly, as has repeatedly been the case, it was again followed by what seems like two steps back in bettering relations.
So what can be done now to reduce some of the tensions created over the border standoff, and how? This is where Russia can come in. During the 1960s, 70s and 80s, India was by far the most important Asian partner of Soviet Russia, and this longstanding friendship between Russia and India provides a bridge between India and China, which is arguably Russia's closest ally today. 
At the plenary session of this year's St Petersburg International Economic Forum, Russian President Vladimir Putin, with Modi sitting right next to him, said, "You know, disagreements always have been and still are part of the fabric of our world. Our task—mine, and President Xí Jinping's and Prime Minister Modi's—is to find streets, two-way streets, despite all these disagreements, rather than get stuck in dead ends."
Using the BRICS initiative as an example, Putin added: "There are very interesting and promising areas for us to work in...We will provide comprehensive support to those who are involved in this because such cooperation will benefit the people of both India and Russia and, actually, the entire region. This will also facilitate the implementation of the Chinese leadership's projects related to the Silk Road." The fact that the president of Russia—one of the most powerful countries in the world—is so willing to mediate between India and China is indeed a good sign, and can only benefit everyone involved, including the region.
But at the end of the day, India and China are both regional superpowers in their own right, and are potential global powers in the making. And, as such, they must be willing to settle their differences themselves, no matter who the mediator may be, or how others may want them to conduct their foreign policies. No matter which path they choose to pursue, however, from a pragmatic point of view, it seems destiny has already decided that either side have only one good option available. That is, "cooperation," as opposed to "confrontation."
---
Eresh Omar Jamal is a member of the editorial team at The Daily Star.
---
Follow

The Daily Star Opinion

on Facebook for the latest opinions, commentaries and analyses by experts and professionals.
To contribute your article or letter to The Daily Star Opinion, see our

guidelines for submission

.
---