How the demolition of a train station changed America
Lessons for Kamalapur and TSC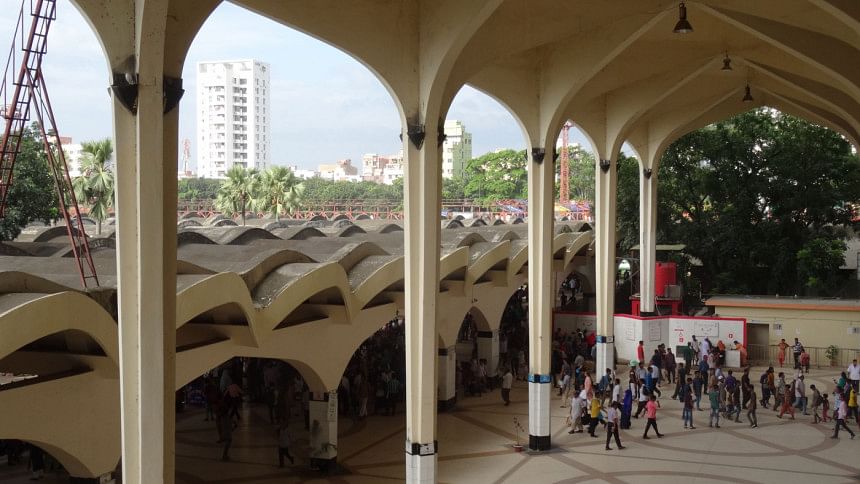 At the heart of the ongoing debate on the potential demolition of TSC and Kamalapur Railway Station in Dhaka is an old philosophical dilemma—how to progress while retaining some loyalty to history, a key concern of many 20th century philosophers, such as Paul Ricoeur. The relationship between progress and history could easily be reduced to one of hostility. If progress or modernisation is seen as a one-directional march towards an improved state of life, things that presumably represent history may be considered impediments to it and, therefore, their removal is justified in the name of progress. What is denied in this falsely simplified equation is the possibility of a symbiotic relationship between progress and history.
This debate has a long record in 20th century urban development. The debate merits a revisit in the context of the current plans to take down such iconic structures as TSC and Kamalapur Railway Station. The experience of the West in the last century could be instructive for urban administrators in developing countries.
Let us consider the contentious case of another railway station: New York's Pennsylvania Station. Designed by the acclaimed architectural firm McKim, Mead and White in 1910, this neoclassical building served, both literally and symbolically, as a gateway to New York City (similar to the role Kamalapur played 50 years later). The largest station in the world at the time of its inauguration, with a concourse longer than the nave of St Peter's in Rome and a light-filled waiting room 148-feet high, Penn Station was meant to be a soaring civic monument to America's technological prowess and rising global stature in the early 20th century.
By the mid-1950s, however, its future became uncertain as train travel declined due to the rise of car and air travel. Yearly financial loss became a headache. While the edifice continued to serve as an urban attraction for architects, photographers, filmmakers and tourists, many observers found its train level, entrances and exits confusing.
Despite protests from leading architects, artists, critics and the public, the demolition of Penn Station began in 1963. No legal tools to prevent the destruction of historic buildings existed at the time in the US. Furthermore, a demolition frenzy marked the post-World War II period in America as rebuilding became a key driver of modernisation. It was an era of what was known as Urban Renewal—an urban "cleansing" policy of demolishing wide swaths of city blocks, dense neighbourhoods, congested housing complexes, "obsolete" historic structures and business districts to compensate for a rapid population and business decline in the city centre, on the one hand, and accommodate new developments and automobile-centric planning, on the other. That was the euphoric era of progress.
Penn Station would have been just another building that was razed and tossed into history's dustbin. But this time, it was different. The loss of the iconic transportation hub, used by millions of commuters and tourists, was a watershed in raising public consciousness on historic preservation in the US. In 1965, President Lyndon B Johnson appointed a special committee to examine the state of heritage protection. A year later (the demolition of Penn Station was complete by then), the US Congress passed the first national policy governing preservation: The National Historic Preservation Act (NHPA). Earlier preservation measures—the Antiquities Act of 1906 and the Historic Sites Act of 1935—had failed to do what the NHPA could begin to accomplish from the 1960s onward.
The law not only helped formalise and professionalise historic preservation as a process but also spawned other useful preservation measures, including the President's Advisory Council on Historic Preservation and the National Register of Historic Places. The National Register created a legal basis for protecting individual buildings, districts and archeological sites across the US that were considered witness to national and regional narratives.
In developing countries today, there is an important lesson to be learned from the American experience of the NHPA. The law empowered American cities and communities to tell their unique stories through the preservation of buildings and sites that they cherish as part of their history. It is a truism that there is no excitement to visit a city filled with familiar buildings, familiar restaurant chains and a familiar business district. There is a reason that people love to go to Rome, Venice, Paris, London, Prague and Kolkata, among many other cities with a strong historic-preservation culture. In the era of globalisation, when global corporations perpetuate urban sameness in the name of smart cities, historic preservation as a unique way of storytelling could be both a cultural draw and an economic boost. Research shows that a city with a unique urban personality is in fact good economics. Heritage tourism bolsters local economies, helps build social capital and creates jobs. Both local and foreign investors are attracted to a unique city because there are spaces for new opportunities and people hungry for experimentation. From Hanoi to Marrakesh, Seoul to Shanghai, I have seen in recent times how cities are making efforts to preserve their historic buildings and neighbourhoods.
Development, insensitive to what it replaces, could be a permanent wound. Old Penn Station's modern replacement, including Madison Square Garden (the venue of the 1971 Concert for Bangladesh) and the adjoining commercial building, has drawn much derision for its lack of imagination. Recalling the civic value of the original station, architectural historian Vincent Scully sarcastically wrote: "One entered the city like a god; one scuttles in now like a rat." Developments can both modernise and traumatise at the same time. Historical memory is a powerful driver of feeling citizenship.
Preservation does not have to freeze a heritage building into a glorified museum and snuff out the vitality of its everyday life. Today, "adaptive reuse" of historic buildings has become a dynamic and economically vibrant alternative to the demolition-and-replacement model of development. Adaptive-reuse projects generally preserve the exterior of a building, retrofit it with modern amenities, and repurpose its interior for a new compatible use. An abandoned factory could become a museum or a housing complex. This way the historic building is protected, while it is infused with a new economic and social life. Adaptive-reuse projects are gaining traction around the world since they offer a win-win situation.
Two of my favourite examples of adaptive-reuse projects are London's Tate Modern (2000) and Cape Town's Zeitz Museum of Contemporary Art Africa (2017).
Bankside Power Station, a mid-20th century oil-fired power station on the banks of the Thames that ceased operations in 1981, was set to be demolished. But community campaign saved the iconic industrial building from the wrecking ball. In the mid-1990s, Swedish architects Herzog and de Meuron transformed the abandoned building into one of the most visited modern art museums in the world and one of the UK's top three tourist attractions. The mammoth turbine hall of the power station became a magnificent, repurposed art gallery. More than 40 million people have visited the power-station-turned-museum since its inauguration in 2000, while generating on average GBP 100 million in economic benefits to London annually.
London-based architectural firm Heatherwick Studio converted a nearly 100-year-old grain silo in Cape Town's Victoria and Alfred Waterfront into what has become one of Africa's best-known museums: the Zietz Museum of Contemporary Art Africa. It is the world's largest repository of contemporary art from Africa. Abandoned since the 1990s and the tallest building in Sub-Saharan Africa, the grain silo's 116 giant concrete tubes were sliced inside to create a huge central atrium and 80 interconnected galleries across nine floors, with a rooftop sculptor garden, restaurant and The Silo Hotel. All of this was made possible without sacrificing the original industrial experience of a grain silo. A derelict building does not always have to be demolished. It can be given a new life. All one needs is a bit of cultural aspiration and a creative desire to take on a challenge.
Development is essential. A city cannot be static. It needs to accommodate population growth and meet economic goals. Infrastructure must be built to modernise a city. But all of this is possible without sacrificing the buildings and sites that serve as symbols of a people's historical memory. I have written before on why TSC and Kamalapur should be preserved in sync with new development plans. These beloved buildings could be adapted to the demands of our time. They do not have to be demolished. They are Dhaka's quintessential stories. We need those stories, maybe with a few new characters and a bit of plot twists.
Adnan Zillur Morshed is a professor of architecture at the Catholic University of America in Washington, DC. He also serves as Executive Director of the Centre for Inclusive Architecture and Urbanism at BRAC University. He is the author of DAC, Dhaka in 25 Buildings (Altrim Publishers, 2017). Email: [email protected]