Apartheid in our neighbourhood!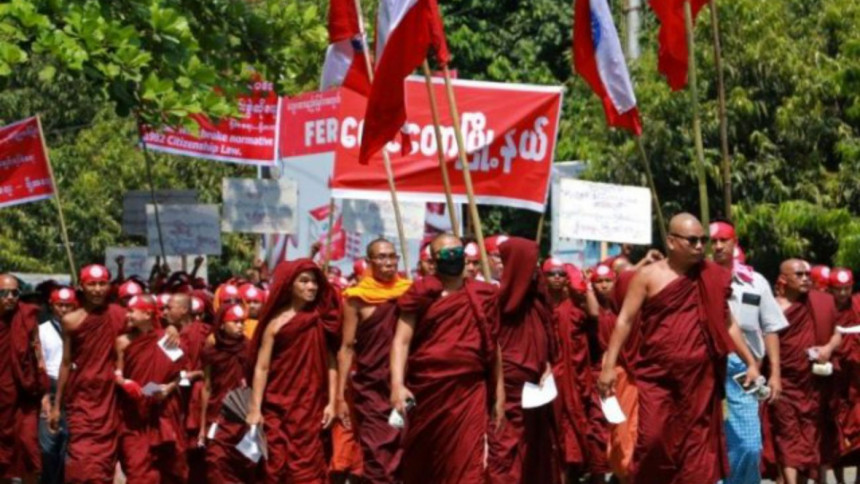 The expression "apartheid", according to the Oxford Dictionary, means racial segregation, especially in South Africa. I am not sure if apartheid has, in real terms, taken leave off the mindset of racial supremacists in that country and also elsewhere in both western and eastern hemispheres. The fact remains that the building and the nurturing of the ethos of a multi-racial society, howsoever lofty it may sound, continues to be a difficult objective to achieve. For the cynical observer of the world scene that is an elusive goal. 
Closer at home, do we witness clear evidence of a new apartheid with attendant marks of racist rage in the atrocities committed on the minority Muslim Rohingya community in neighbouring Myanmar? In this regard, a concerned academic ruefully says, "If apartheid is understood as a political and social system that promotes racial discrimination in favour of a particular community then at the moment no country in the world can compete to fittingly qualify the top spot of an apartheid State other than Myanmar".
To appreciate developments from historical perspectives, in recent years the monks, and the terrorist acts, have been associated with the nationalist 969 movement, particularly in Myanmar. The violence reached prominence in June 2012 when more than 200 people were killed and around 100,000 were displaced. As of 2012, the "969" movement by monks (the prominent among whom is Wirathu) had helped create anti-Islamic nationalist movements in the region, and have urged Myanmar Buddhists to boycott Muslim services and trades, resulting in persecution of Muslims in Myanmar by Buddhist-led mobs. However, not all of the culprits were Buddhists and the motives were as much economic as religious.
According to a Human Rights Watch report, the Myanmar government and local authorities played a key role in the forcible displacement of more than 125,000 Rohingya people and other Muslims in the region. The report further specifies the coordinated attacks of October 2012 that were carried out in different cities by Myanmar officials, community leaders and Buddhist monks to terrorise and forcibly relocate the population. The violence of Meiktila, Lashio (2013) and Mandalay (2014) were notable incidents of Buddhist violence in Myanmar in the not-too-distant past. 
The world needs to take note of the preacher of hate in Myanmar who uses racism and rumours to spread hatred. His name is Wirathu, he calls himself the "Burmese Bin Laden" and he is a Buddhist monk who is stoking religious hatred across Myanmar. This saffron-robed 47-year-old regularly shares his hate-filled rants through DVD and social media, in which he warns against Muslims who "target innocent young Myanmar girls and rape them", and "indulge in cronyism".
"To ears untrained in the Burmese language, his sermons seem steady and calm—almost trance-like—with Wirathu rocking back and forth, eyes downcast. Translate his softly spoken words, however, and it becomes clear how his paranoia and fear, muddled with racist stereotypes and unfounded rumours, have helped incite violence and spread misinformation in a nation still stumbling towards democracy."
It would be easy to disregard Wirathu as a misinformed monk with militant views, were it not for his popularity. Presiding over some 2,500 monks at his respected monastery, Wirathu has thousands of followers on Facebook and his YouTube videos have been watched tens of thousands of times. The increasing openness of Myanmar, which was once tightly controlled under a military junta, has seen a wave of anti-Muslim sentiment spread across the 60 million-strong Buddhist majority population—and Wirathu is behind much of it.
Wirathu is leading the nationalist "969" campaign, encouraging Buddhists to "buy Buddhist and shop Buddhist" and demarcate their homes and businesses using numbers related to the Buddha (the number refers to his nine attributes, the six attributes of his teaching and the nine attributes of the Buddhist order), seemingly with the intention of creating an apartheid state.
Despite spending seven years in prison for stoking religious violence, Wirathu won a "freedom of religion" award in February 2013 from the UK's foremost Myanmar monastery, Maha Sasana Ramsi in London, in the same week that he spread rumours that a Rangoon school would be developed into a mosque.
Wirathu openly blames Muslims for instigating the recent violence. A minority population that makes up just 5 percent of the nation's total, Wirathu says Myanmar's Muslims are being financed by Middle Eastern forces. "The local Muslims are crude and savage because the extremists are pulling the strings, providing them with financial, military and technical power," he said.
Analysts warn that Wirathu's seeming freedom to preach as he pleases—in addition to his influence over other monks, who have also started preaching against Islam—should be taken as a wake-up call to the rest of the world. "If a similar hate movement like Myanmar's '969' movement, which spreads hate speech and hate symbols, specifically against, say, the Jews in Europe, no European government would tolerate it," says Myanmar activist and London School of Economics visiting fellow Maung Zarni.
However, several Buddhist leaders including Thích Nhat Hạnh, Bhikkhu Bodhi, Shodo Harada and the Dalai Lama among others, have condemned the violence against Muslims in Myanmar and called for peace, supporting the practice of the fundamental Buddhist principles of non-harming, mutual respect and compassion. The Dalai Lama said "Buddha always teaches us about forgiveness, tolerance, compassion. If from one corner of your mind, some emotion makes you want to hit, or want to kill, then please remember Buddha's faith. We are followers of Buddha." He said that "All problems must be solved through dialogue, through talk. The use of violence is outdated, and never solves problems."
Maung Zarni, a Burmese democracy advocate, human rights campaigner, and a research fellow at the London School of Economics who has written on the violence in Myanmar and Sri Lanka, states that there is no room for fundamentalism in Buddhism. "No Buddhist can be nationalistic," said Zarni, "There is no country for Buddhists. I mean, no such thing as 'me,' 'my' community, 'my' country, 'my' race or even 'my' faith."
I am not sure if continued oppression of Rohingya minority of Myanmar will foment the so-called Islamic extremism in the region but the premonition does not seem to be unfounded. One would agree with our Prime Minister's observation that the issue is political and has to be solved and settled accordingly. As concerned Bangladeshis we can only hope that the Myanmar establishment and the monks would live up to the real precepts of Buddhism and ensure peaceful coexistence.
---
Muhammad Nurul Huda is a former IGP and a columnist of The Daily Star.
---
Follow

The Daily Star Opinion

on Facebook for the latest opinions, commentaries and analyses by experts and professionals.
To contribute your article or letter to The Daily Star Opinion, see our

guidelines for submission

.
---