Yin and Yang of the Brahmaputra
It is when the water subsides that fates are decided. For one family, last year's catastrophic flood has left behind signs of promise.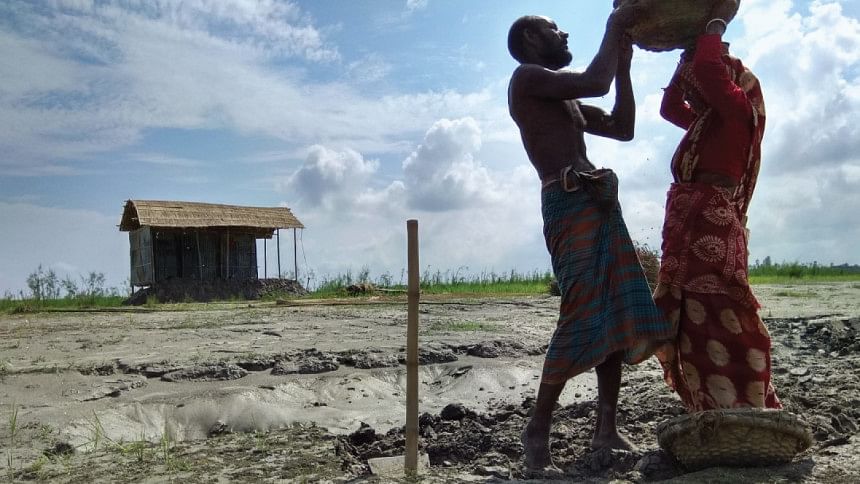 A lone structure is taking shape on a featureless, grey horizon. Two figures work under the beating sun, on an otherwise deserted landscape. One digs, the other carries loads of earth on her head.   
The sky is deep blue. All around there is sand... the dark grey patches where the river has left fertile alluvial deposits, and any stray seed will flourish; and the stark white, devoid of nutrition yet perfect for growing, say, ground nuts. Hints of green are beginning to appear in patches: unmistakable signs of promise.
When we encountered this scene, we were passing by, returning from a meeting in an adjacent island. Taking a break from their backbreaking work, Bashir and Amina (not their real names) told us their story.
Years ago, this was a thriving village. Bashir and Amina lived in it with their seven children, and while it wasn't a glorious life, they got by. In 2011, they lost their home and the only land they owned to river erosion.
For those living on islands in the middle of the river, the loss of homes is almost normal. Every year, the river breaks away large swathes of land from one place, and deposits it in another. Millions in Bangladesh live on these fluid landscapes, and like the land, they are perpetual nomads. They have never had roads, electricity, or much access to government services.
But Ganeshyampur, near the confluence of the Teesta and Brahmaputra rivers in northern Bangladesh, was part of the mainland. Only after 2010 did the area begin to erode.
When Bashir lost his land, he was so dependent on it that afterwards he couldn't pay the minimal rent for a house. The family spent eight years squatting beside a highway. Deprived of their own land to farm, the two have been relying on sporadic work as daily wage labourers. Their dreams of stability have been anchored to the land they lost.
"Every year I come back to see what the prospects are," says Bashir.
The relationships that people have with the river are complex. In a sense, it is nothing less than a parent. It provides land, water and fertility. But the river is also a monster, because in a moment it takes away everything it gives. In July last year, floods destroyed acres of farmland, broke homes, killed livestock and even swept away children.
Yet, when the water subsides, it often leaves behind the promise of rebirth. Last year's flood left more sediments on Bashir's land, and the water receded to a distance of three kilometres away, convincing him that it was time to start building.
After five days of toiling under the beating sun, Bashir and Amina had raised a structure.
Now, a few months on, several others have also settled in the vicinity. This is a community of mavericks. Being one of the first to settle the land means that they must build everything from scratch. There is no sanitation or access to clean water until somebody sinks a tube well or builds a latrine.
Bashir has improvised a latrine, but for water he must walk to a neighbour's house almost two kilometres away.
They have added two more huts to the first: a kitchen and a room to accommodate the family (three sons and a daughter, Nolok). Nolok is 30 but her parents cannot marry her off because of the stigma of her mental illness. Her mind is apparently a child's.
The exile has exacted the worst toll on Nolok. Having lived for years in poverty without any government support and without access to social services or healthcare, Nolok hasn't had the protections that she might have under different circumstances.
She has one daughter who is a toddler, and is currently pregnant with another child. Rather than joy, Bashir's eyebrows furrow with burden at the thought of these fatherless grandchildren.
Last year, river erosion affected several districts in Bangladesh that have never had this problem before. In Shariatpur, erosion has rendered some 4,000 families homeless, and caused a 2-storey health complex to crumble. In Manikganj, hundreds of homes and at least one school were swallowed by the Padma. Even smaller rivers like the Nabaganga have uprooted hundreds of families.
Landscapes that are prone to erosion, especially the areas not attached to the mainland, are in a sense detached from state mechanisms. The Jamuna is the widest river in Bangladesh, 12km at its maximum. Getting from the mainland to some of the remotest islands takes upwards of four hours, assuming a boat is ready and waiting.
The Bangladesh government has significant funds allocated to rehabilitate river erosion victims every year, and to check river erosion. Then there are NGOs bringing in adaptive solutions—like Friendship's hospital ships. Perhaps Nolok's children will not see the kind of vulnerability that she has experienced. But with some 68,000 displaced each year by river erosion, there needs to be a national strategy to respond to the question: how do we extend care, protection and opportunity to families who are vulnerable and rendered landless by these results of climate change?
At least for the next few years, Nolok and her family have the security of a home. Her children will not be spending this chilly winter on the edges of a highway. The ground nuts that Bashir's family has planted on about six decimals of land nearby are now a few weeks from harvest. They might harvest up to two maunds (75 KG), depending on their luck and skill, which would fetch about Tk 15,000 in the market—a significant boost.
But the sandbanks they grow on serve as a reminder that the river, though out of sight, is never far.
Naushad Ali Husein is a senior executive at
Friendship, an NGO.