Lessons to still learn from the 'Meena' cartoon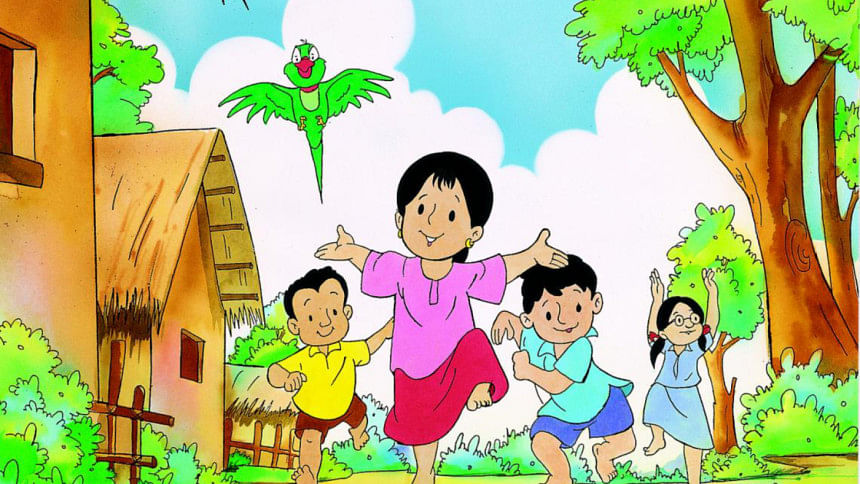 The generation of the 90s where I belong to has grown up with a very popular group of cartoon characters: Meena, Raju, and Mithu. It was a time when the social norms of the entire world were undergoing major changes. In that important era, this cartoon played an important role to expose many social problems through some dialogic animations, creating awareness, and giving solutions to those problems. I wonder, why the current government is not taking such initiatives to solve many contemporary social issues.
Personally, I was very fond of this cartoon series and it has influenced me a lot. In my childhood, I had a belief that those characters were real. They were always in my mind even if I was sleeping or attending a class in school. I personally dreamed of growing up in the role of Raju, a loving brother of a caring sister.
At that time, thousands of superstitious beliefs, cultural orthodox, and shameful social customs were victimising people in the rural areas of South Asian countries. Even urban women were not free from those barriers of the twentieth century. In that circumstance, an animated cartoon character "Meena" was introduced with the help of UNICEF where the character "Meena" was completely different from the erstwhile girls because of her progressive thoughts and activities.
Through a long-term field research done by UNICEF Bangladesh, this "Meena" character, with all other supporting roles, created a meaningful story. At first, they came to Ram Mohan, one of the most popular cartoon artists in South Asia, also known as the father of Indian animation. He was requested to create a face that could be acceptable to everyone. After hard work, Meena appeared in his painting. Hannah-Barbara's studio in Manila, Philippines, featured its several early-stage episodes. Rest of the episodes were created at Ram Mohan Studio in India and this series was directed by Ram Mohan himself.
Although there were no other satellite channels in Bangladesh except Bangladesh Television, the story and the message of this cartoon reached not only every corner of the country, but other places around the world as this was translated into Bengali, English, Hindi, Nepali, Urdu, Pashto, Portuguese, etc. In a research of UNICEF, it was found that 95 percent of Bangladeshi people knew about "Meena" and her activities in the 90s. This cartoon was a remarkable success.
In the cartoon, Promita Ganguly voiced the character of Meena in 2005 when she was in class seven. "When the rains are high during the flood, we put a wicker in the canal or pond water, so that we can understand how bad the flood is. This is what I learned from my father"—this is one of the dialogues that Meena uses in the cartoon. Raju's voice was given by Abrar Sajid when he was in class one, and Mr Kamal Ahsan, a performer on stage, radio and television, gave Mithu's voice which was quite popular among the audience. "My name is Mithu," this was the famous dialogue of Meena's sweet and naughty bird.
The children in the 90s were forced to obey the rules imposed by society even if they were illogical and unjustified. Arguing, defending and opposing elders were considered ill-mannered behaviour. Giving opinions when elders were talking was not seen positively—so children couldn't go into any conversation to express their thoughts. If it was about girls or even women, they were not allowed to talk about equal rights. It was challenging for them to go to school and to be educated. Somewhere it was prohibited! Through Meena's message, it was possible to point these out and try to change the psychology of the society.
This is why children of that time grabbed it enthusiastically. They went into it deeply. I still remember how much I was worried when I saw "Meena" being stopped from going to school. Seeing "Meena" upset, many children of our time cried—even our uneducated village mothers thought Meena should go to school. This was the change created by a simple cartoon character, Meena.
She was a representative of those extremely brilliant rural girls who had merit but were stuck like caged birds. When "Meena" was barred from going to school, she sent Mithu secretly to learn school lessons so that she could learn from Mithu later. Mithu was a parrot who was intelligent, conscious and helpful, so "Meena" took Mithu wherever she went. Meena's passion for learning inspired many girls to go to school.
Mithu came back from school learning the counting table of 3 and taught Meena. While Meena was practicing, she realised that they had six hens altogether. She was so happy about it. One day she found that one hen was missing. Immediately she informed her family and her family was able to prevent the loss of one hen. Most people realised that sending a girl to school not only benefits her, but also her family, her society and her country. This is why Napoleon said, "Give me an educated mother, I shall promise you the birth of a civilised, educated nation."
This is how the animated sequel, "Meena", changed the perception of the society. Equal rights, ensuring the health facilities for everyone, the importance of washing hands before meals and after using toilet, preventing dowry, sexual harassment in the streets, benefits of modern medical systems, HIV contagiousness, warning of traditional and domestic methods of ancient times, immunisation, children's sports, delivering babies right way, social superstitions, importance of breastfeeding, and what not, were highlighted for creating awareness through this cartoon sequel. This way, it was possible to make a better society.
This cartoon is still inspiring our children to go to school and get them interested in education. The lesson that parents take months to teach their children, this cartoon managed in only one episode. As this was quite popular not only at that time but also today, Google launched a game in their play-store named "Meena Game". Sometimes BBC also broadcasts some of its episodes to inspire school-going children.
However, if such a positive change could be made through a simple cartoon character in one of the underdeveloped regions of the world, why not create such a character to solve some social problems happening today? Rape, killing innocent people, misuse of student politics, etc., could also be solved this way, I believe. It is high time to think about it.
Hasan Al-Mahmud was a Fulbright Teaching Excellence and Achievement (TEA) Fellow, Fall 2018, Montana State University, USA.