How do we improve maternal health of garment workers?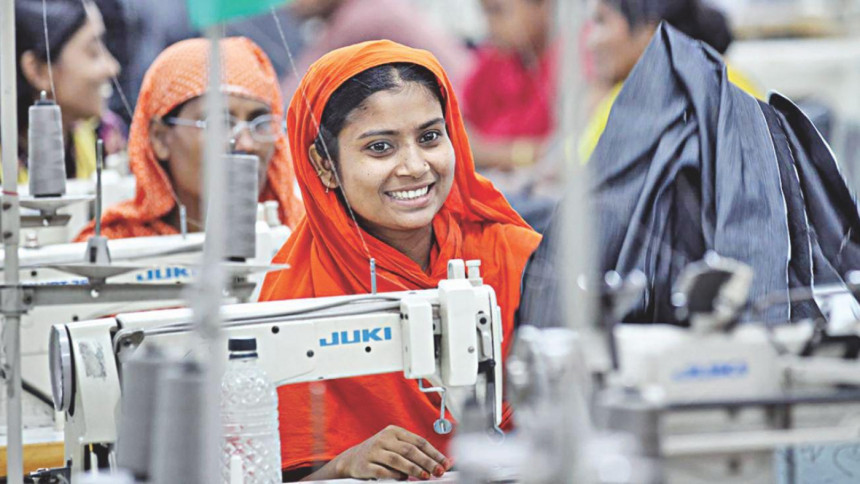 The influx of millions of female workers to work at the garment factories has created unique health challenges, issues and needs that have mostly remained unstudied and unaddressed. This industry now employs over four million workers, of whom around 70 percent are thought to be women, mostly young. Being a fairly new sector that burgeoned over the last three decades, many of the factory settings and management are not yet well-prepared to accommodate the health needs of these young female workers particularly with regard to their reproductive and maternal health issues as well as the growth and wellbeing needs of their newborns and children.
Questions that we may ask about these women of reproductive age include: a) are they receiving pre-natal care? b) how are they breastfeeding their infants? c) are there nursing rooms or breaks in the factories? d) are they receiving education on reproductive health? e) is there workplace modification or accommodation for pregnant workers? f) is there paid maternity leave? g) are there childcare facilities in or around the factories?
We know very little about the status, needs, access, and barriers of these women in terms of their reproductive and maternal health. For example, exclusive breastfeeding and access to paid maternity leave have been advocated by all international health organisations and national governments, particularly in the developing countries where infant mortality rate is still high. One of the key goals of World Health Organization (WHO) is to improve maternal and child health by increasing breastfeeding habit and practice among women in developing countries. Exclusive breastfeeding, with no supplementation such as formula or other foods, for the first six months of life has been shown to be the most effective strategy for saving lives among children from low income groups.
Bangladesh still has one of the highest infant mortality rates. According to World Bank, there were 26.90 infant deaths per 1000 live births in 2017. The country is currently ranked 7th with the greatest number of preterm births (424,100). Bangladesh also faces a big burden of malnutrition—more than 54 percent of preschool-age children, equivalent to more than 9.5 million children, are stunted, 56 percent are underweight, and more than 17 percent are wasted. This is concerning because malnutrition is associated with immune and learning deficiencies.
A recent survey conducted by a team of University of Texas medical and public health students, in collaboration with Centre for the Rehabilitation of the Paralysed (CRP) and led by this author, attempted to generate preliminary data on some of these vital issues among garment workers. They reported that 90 percent of the garment workers are married and 84 percent of them are sexually active. However, only 62 percent reported to be using some sort of birth control methods. More than 90 percent of workers reported to have been pregnant at least once, and 80 percent of babies were born at home. Garment workers reported on average 3-4 pregnancies. Only 37.5 percent of these workers reported to have exclusively breastfed. Even less are the numbers of women who reported exclusive breastfeeding for at least 6 months, the recommended time by WHO for breastfeeding. Additionally, it was found that only 50 percent of garment workers reported to have access to paid maternity leave. The full-length report of this research study is to be published soon in a scientific journal.
These findings show the immense need related to reproductive and maternal health among millions of working women in this sector. There is plenty of room to increase the use and uptake of birth control methods in this population. Factory-based education programmes and supply of subsidised effective birth control measures may be undertaken by factory management. Also, the very high rates of pregnancy among this population should encourage the factory owners to formulate more policies and programmes to accommodate expecting mothers and create provisions of light duty or modified work. Human resource policies must include provisions of offering paid maternity leave.
Breastfeeding in the workplace helps save money for companies in several ways. Studies have shown that mothers who can nurse their babies at the workplace are less absent from work, thus decreasing cost due to absenteeism. Furthermore, employers who allow breastfeeding in the workplace can retain trained and essential workers, thus having a smaller turnover, and their workers have a higher sense of ownership and loyalty to the company for which they work. Breastfeeding is beneficial to both maternal and infant health as well as for the company.
Many women will avoid receiving prenatal care in factory-run clinics due to the fear of being encouraged to leave the job due to decreased productivity. Many of these women live in constant fear that they will lose their jobs, and many are encouraged to quit and reapply for their job after pregnancy as there is inadequate maternity leave regulation and application. The length of maternity leave has been reported to be associated with improvements in mental health and duration of breastfeeding in industrialised countries.
The factory work environment must be made mother-friendly by taking simple measures such as creating child care sites close to the factory and giving more breaks to nursing mothers. Assigned nursing rooms and milk bank have been tried in some countries on a similar population. The option of paid maternity leave should not be considered a luxury for an industry that is this country's main foreign exchange earner. However, if a three-month full-paid leave is not yet a practical possibility, partial pay option with gradual re-entry to work can be an alternative. A gradual-return-to-work programme with reduced pay for mothers, who can keep on working while raising children, can be organised. Similarly, light-duty work arrangement can help expecting mothers to remain employed without losing their much-needed wages for the whole term of pregnancy.
Garment factories are part of a global market and Western companies should participate in creating safe and socially responsible factories in Bangladesh. The health and future of millions of unborn babies and infants may be at stake if their mothers in these garment factories are not well taken care of.
Dr Hasanat Alamgir directs the Doctoral Program in Health Policy and Management at New York Medical College, New York. He has led and published several research studies on Bangladeshi garment workers, and also evaluated the Alliance for Bangladesh Worker Safety's fire safety training programmes.